Recently I have been craving salad

a lot

and it is not because of the season and the lingering warm weather. I have also been craving fresh fruit and vegetables in general

a lot

. As good as they look at the market right now and despite the fact that it is the season for eating fresh and local produce, I am craving fruit and salad for an entirely different reason. In two weeks I fly to India. Today I got the last of my shots (the third for rabies and one for polio). Last week I purchased travel insurance and the week before I picked up my visa from the Indian consulate. I am ready. For months I have been saying that I leave at the end of September and now the end of September is only two weeks away.

There are a million things that I am looking forward to - everything from taking tours of spice farms in the south to trying to sneak into Bollywood studios in Mumbai. My notebook has become a maze of lists. It is easy to get lost reading about the richness of Indian culture and how much time one needs to navigate the country. However, buried beneath all of my excitement I know that there is something that I am going to miss a lot: salads and the fresh fruit and vegetables that compose them. As all of the information I have read so far has taught me: "boil it, peel it, or leave it." India is going to be a whirlwind of a tasting adventure and to make sure that I don't miss uncooked greens and produce I am trying to eat as much as I can before leaving Munich. To my luck, it is the season.

This tomato salad is nearly identical in concept to the nectarine and tomato salad I made earlier this summer. However, the flavours are quite different. Instead of basil I used rosemary and instead of nectarines I used plums. This salad is perfect for a light lunch or as a side to grilled meats or vegetables. Eat it while the tomatoes and plums are still local!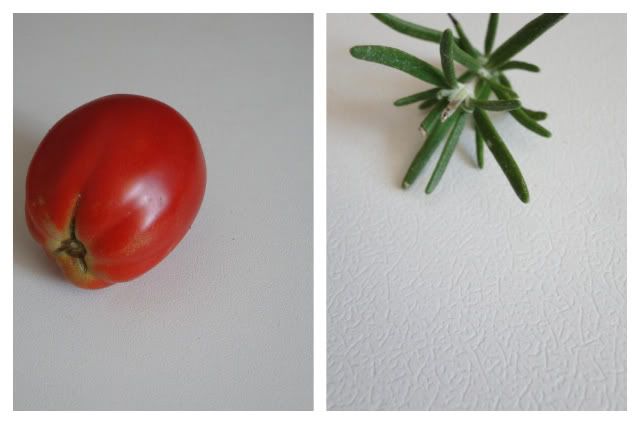 Plum and Tomato Salad





adapted from

L.A. In Bloom



serves one





Ingredients



one large tomato
a handful of small plums or 1large ones
a small sprig of fresh rosemary
1 tbsp lemon juice
1 1/2 tbsp extra virgin olive oil
sea salt
black pepper



In a bowl combine the lemon juice and olive oil. Chop the tomato and plums into large chunks and add to the bowl. Toss well while you chop and add so that the tomatoes and plums are well coated in dressing. Add finely chopped rosemary, sea salt and pepper to taste.





Guten!