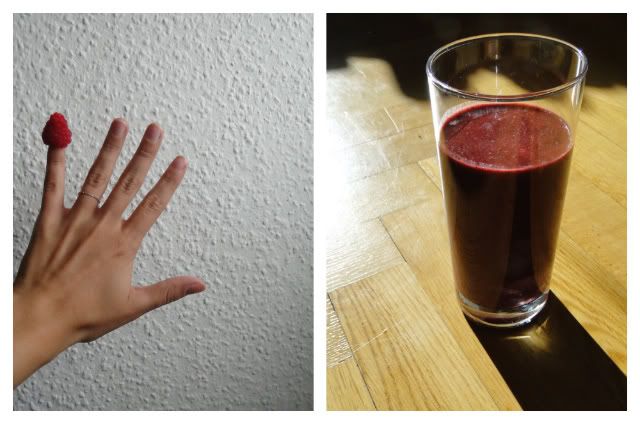 On the theme of breakfast, I have been missing making my own. India is certainly spoiling me with fresh juices (tonight I had a cucumber, mint and lime juice along with some Keralan prawns). However, I cannot help but miss my breakfast smoothies. You know, the type of smoothies that you can pack with flax seeds, or hemp powder, or bee pollen, or spinach, or anything else that is healthy and less likely to appear in your meals later in the day?

Raspberries and almonds belong together and combined they certainly make an addictive smoothie. Most days I like to keep things simple and let the two just do their thing; however, feel free to add (just don't subtract). Once again, this is more of a formula than a recipe, but the more that I cook the more that I believe that formulas, rather than recipes, make the best meals.




Raspberry and Almond Smoothie





Serves 1-2





Ingredients



1 cup raspberries, fresh or frozen
1 frozen banana
1 very generous tbsp of almond butter
1 cup water



Optional additions:



1 tsp bee pollen or honey
a pinch of cinnamon
1 tsp ground flax seeds
1 Medjool date (make sure to finely blend)



In a blender combine all of the ingredients. Garnish with some finely chopped almonds if you wish (I am normally much too lazy/hungry in the mornings). Serve and enjoy.





Guten!