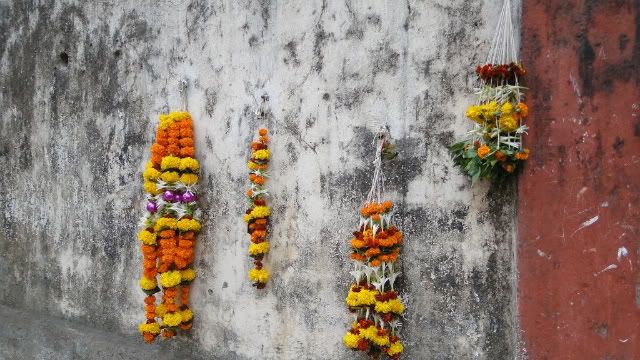 I have appropriated the name of one of my favorite blogs for this post as it describes much of what I saw in India to a tee. India is certainly in bloom (and not just booming as the news reports). Flowers are seriously everywhere. These petaled beauties made frequent appearances in ancient Indian literature and they continue to appear in contemporary society today. Everywhere. They are sold outside of temples and then used in Hindu rituals and pujas. I even saw a monkey eating them and a dog wearing them. I've seen cars dressed in fresh flowers and tress dressed in garlands of dried ones.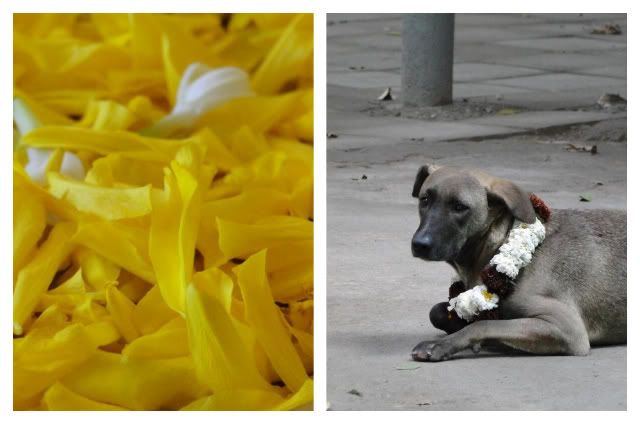 A lot of the flowers that one sees are marigolds, but other types always end up in the mix. However, both the dog and the monkey seem to have been able to find some of the few garlands without marigolds.
The garlands are practical for travelers as well as as they do not require one to lug around a vase. They are also a nice way for hotels to greet guests.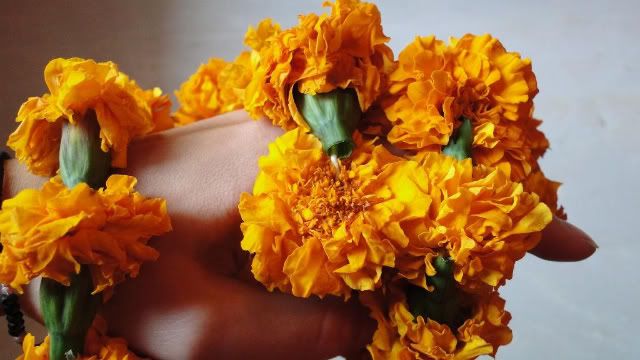 Large cities have wholesale markets where marigolds and their cousins spill out into the streets. In Mumbai there is the Dadar Flower Market. Foolishly I never visited, but to my defense it opens at 4am and disappears around 8am. Also, it gives me an excuse to go back to visit. If you ever have a flight that arrives in Mumbai early in the morning, you might want to ask the taxi driver to swing by the flower market on your way into town.

I have always been one for fresh flowers and plants. Spending time in India has only strengthened this. My apartment in Munich is currently dotted with glasses and jars with flowers. They help to keep the winter blues away. I may not yet have a green thumb, but Munich has no shortage of cut flowers to tied me over until I finally manage to grow one.