I think by now it is quite obvious that breakfast is my favourite meal of the day. When I was living in Berlin my sister came to visit. I made us sweet potato hash and fresh smoothies. We made pancakes and poached eggs. We ate good German breads and cheeses. This was all in the morning before she went off exploring and I went off to work. We're talking breakfast and not brunch. "Do you eat breakfast like this every morning," she asked. Well, yes. I once worked at a restaurant whose motto is that life is too short for bad burgers. I feel the same way about breakfast.

I may have books to read and texts to write, but this past week I have mostly focused on getting my groove back in the kitchen. And what a delicious week it was. I thought that I would share some of my breakfasts. A recipe or two will follow next week.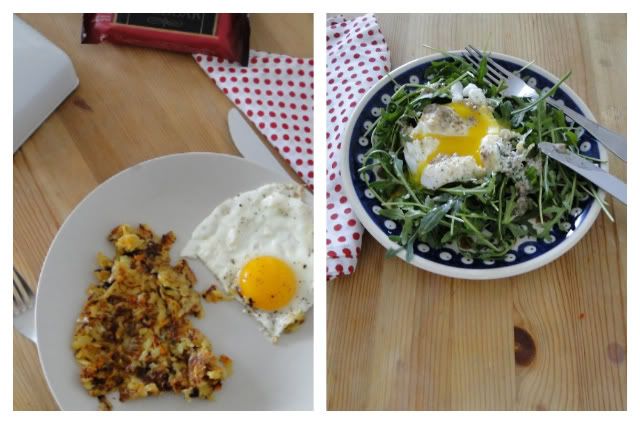 A Week of Breakfast
bircher muesli with amaranth and coconut milk


homemade banana bread with coconut oil and dark chocolate


homemade granola with olive oil, maple syrup, goji berries, almonds and pumpkin seeds
baked apples stuffed with wheat berries, dried cranberries and almonds

quinoa with nuts, dried fruit, cape gooseberries and maple syrup

fried eggs and potato hash

a poached egg on arugula with a parmesan and anchovy dressing



May your weekend be delicious!