>> Sunday, March 11, 2012 –  recipe
I really like dumplings.

I know that such an introductory line is rather obvious and not all that exciting, but it is true. I really, really like them. It might have to do with the fact that you dip them in a sauce. A friend of mine once made the claim that anything that is dipped in sauce is much tastier than anything that is not. It isn't about the sauce, she said, it is about the act of dipping. Or it might be because you can stuff them with anything which means that biting into a dumpling is the adult food equivalent of a child opening a loot bag at the end of a Birthday party. Surprise!

Or it might be because half of my family is Polish which means that I grew up eating a lot of pierogies. A lot. And dumplings could easily be a not-so-distant cousin of pierogies, but they are not pierogies which makes them that much more interesting and foreign. Also, I grew up listening to the stories of my dad and his siblings. They used to bring kielbasa sandwiches to school and so at their high school one could always smell their way to the locker of a Gora. So clearly pierogies, and most Polish food, was never allowed to be cool. Delicious and stick-to-your-ribs comforting, yes. Cool, no. Dumplings, on the other hand, are quite hip. They involve chopsticks instead of a knife and fork and they come with a small and tidy serving dish filled with dipping sauce (and it is often a very nice dish) as opposed to a mountain of sour cream and sauteed yellow onions. For the record I like pierogies a lot and I often ask my Babchai to make them, but I think that dumplings are just more exciting.

So yes, I like dumplings.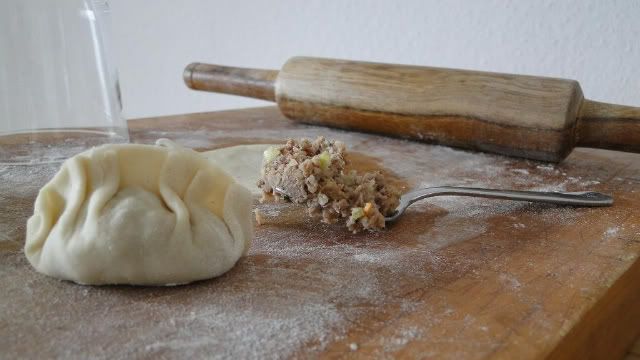 And duck and oyster mushrooms together make very fine dumplings. They took over my kitchen the other day, but I also made a bunch of vegetarian dumplings stuffed with savoy cabbage, cilantro, mushrooms, carrot and ginger. They were also quite tasty, but if you eat meat then pass on the veggie option and go straight for the duck.

I could not tell you exactly how much this recipe yields as I am sometimes quite messy it comes to measurements. That said, leftover filling can always be added to some friend rice and leftover dumplings can be stored in the freezer.


Duck and Oyster Mushroom Dumplings





ingredients






five-spice roast duck



1 duck leg
coarse sea salt
a small piece of ginger
1/2 tsp Chinese five spice




dumpling filling



1 duck leg, roasted
1/2 cup oyster mushrooms
1/4 cup fresh cilantro
1 tbsp tamari
a small piece of ginger
1/2 tsp red chili flakes
2 green onions
freshly ground black pepper
pinch of sea salt

oil for pan frying

1 pack dumpling wrappers or homemade dumpling wrappers





Preheat the oven to 325F/170C.





Rub the duck leg with coarse salt and Chinese five spice. Finely grate the ginger and also rub on the duck. Place in a roasting tray, with the fat side down, and then put the tray into the oven. Roast until the meat begins to fall off the bone, about 1 hour. Remove from the oven and let cool.





Coarsely chop the mushrooms, ginger and green onion. Once the duck has cooled, carve the leg and then throw the duck meat, mushrooms, green onion, ginger and cilantro in a food processor. Pulse until everything is minced. Place mixture in a bowl and mix with the tamari, red chili flakes, salt and pepper.





Assemble the dumplings. Fill a small bowl with water and keep by your side as you assemble the dumplings. Place half a generous tablespoon of filling in the center of each wrapper. That said, resist the urge to over-stuff the dumpling. Wet your index finger with water and then moisten the outer edge of one half of the wrapper. Fold the dumpling in half and pleat the edges along one side. Press the two sides together and seal tightly. Gently flour a dish and place the dumplings on the floured dish as you repeat with the rest of the filling.





Heat some cooking oil in a large pan over medium-high heat. Place a few dumplings in the pan, making sure they are not overcrowded and that they all touch the bottom of the pan. Cook for 2-3 minutes or until the bottoms are golden. Then add 1/2 cup water and cover the pan with a lid. Once the water has evaporated reduce heat to medium. Flip the dumplings and let cook until the other sides become golden brown and crispy. Remove from heat and repeat with the rest of the dumplings.





Serve dumplings right away with dipping sauce.



* * * *


Dipping Sauce



2 tbsp soy sauce
1 tbsp rice vinegar
a dash of freshly grated ginger, optional
a pinch of red chili flakes
1/4 tbsp honey, optional



In a small bowl, whisk together all of the ingredients for the dipping sauce.



* * * *

Homemade Dumpling Wrappers





from

Use Real Butter

2 cups all purpose flour
1/2 cup water

When the duck is roasting make the dumpling wrappers if you aren't using store-bought. Put the flour in a food processor. Add 1/4 cup warm water and pulse. While the food processor is on, slowly add the rest of the water and pulse until a dough forms. Remove dough from the food processor and place on a slightly-floured work surface. Knead the dough until smooth. The dough should be firm and not sticky. Cover it with a wet tea-towel and then leave to rest for about 20 minutes.

Once the dough has rested, flatten the dough into a dome and then cut into strips that are about 2 inches wide. Shape each strip into a long cylinder and then cut the cylinder into pieces that are about 3/4 inch thick. Roll each piece until it is flat and is in the shape of a circle. Use a glass or circular cookie-cutter to help get a round shape.

Wrap any leftover dumplings wrappers in plastic and store in the freezer.

* * * *
Guten!