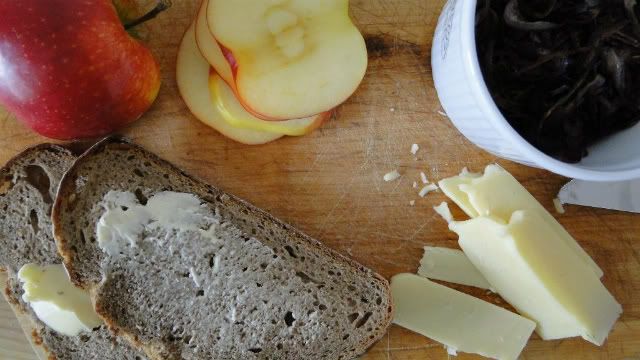 It took me a long time to learn just how good a grilled cheese sandwich can be.

I don't really recall eating grilled cheese at home as a kid, but I do remember it making the rounds at gatherings after my hockey games. However, back then I remember the cheese being packaged and the bread being white, two things that my mom taught me to eye suspiciously. Grilled cheese sandwiches were often accompanied by potato chips and because I was occasionally allowed to eat plain potato chips (! ! !, I blame my adult obsession with potato chips on this), I ignored the grill cheese and went straight for the chips.

I truly believe that good food and good flavor combinations can be life changing. Trying different versions of familiar foods - such as dried apricots without sulphates or homemade mayonnaise - can really shift one's perspective and taste preferences. I experienced this when I tried my first

good

grilled cheese sandwich. A close friend was working at an organic grocery store that made grilled cheese sandwiches for lunch. The bread was brown and freshly baked, the cheese was aged and local and the meeting of the two was made all the merrier with oregano and some red chili flakes.

A grilled cheese sandwich is so basic that it really does not require a recipe. The concept is simple. Use good bread, good cheese and lots of butter. From there you can get creative by mixing different types of cheese, herbs, spices and veggies. How about a grilled cheese sandwich with goat cheese, roasted red pepper and arugula? Or one with roquefort on raisin bread, or dried-fruit and nut bread? Or an assortment of cheeses (like smoked gouda, aged cheddar and harvati) and lots of lots of red chili flakes. Just don't use the cheese that comes in individually wrapped packages that has the texture of plastic.

I have written before about my favourite cheese and fruit combinations for sandwiches and one combination is just made for grilled cheese. Now when I think of a grilled cheese sandwich I think of one with cheddar, slices of tart apple and caramelized red onions.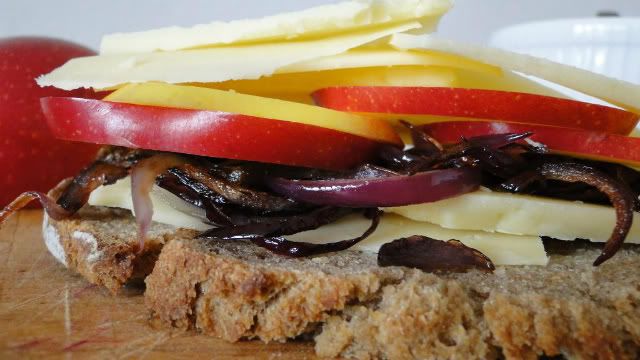 Cheddar, Caramelized Onion & Apple Grilled Cheese





adapted from the

L.C.B.O.'s Food & Drink Magazine



makes 2 sandwiches





ingredients



2 tbsp butter (or ghee)
1 small red onion, thinly sliced
pinch of sea salt
4 slices of sourdough
100g white cheddar, preferably aged
1/2 tart apple, thinly sliced



In a frying pan over medium-high heat melt 2-3 tbsp butter or ghee. Once it sizzles add the onion and a generous pinch of sea salt. Stir every couple of minutes until the onions begin to soften. Reduce heat to low and cook until the onions are caramelized, about 10 minutes, stirring occasionally.





Slice the cheddar into medium pieces. Butter one side of each bread. Place a few slices of cheddar on top, then top with caramelized onions, slices of apple, more cheddar and another piece of bread, butter-side out.





Heat a large frying pan over medium heat and add sandwiches. Add more butter to the pan if needed. Cook until the cheese melts on the bottom and the bread becomes golden, about 3-4 minutes, and then flip. Press down with a spatula to help the sandwich stick together. Cook the other side for another 3-4 minutes and then serve right away and with ketchup if you wish.





Guten!