Oh Europe, you have certainly adopted this little Canadian and have made her feel at home.

You have taught me about Christmas markets, Bavarian beer versus Belgian ales, white asparagus and sourdough bread. You give me pretty much all that I could possibly ask for, but there is an exception. And it is a big exception: Mexican food.

I have confessed my love for black beans here before. Regarding the pro or contra cilantro debate, I am a big pro. I like my chocolate spicy and I like my tortillas made from corn (although I often have to settle for wheat due to availability). I like scrambled eggs with salsa. In fact, I like almost anything with salsa. I like Mexican and I like Tex-Mex; I just don't like what passes for Mexican food in Europe. There are a few okay options in Berlin, but that is probably only because a few North Americans like me got fed up with the situation and decided to do something about it (and make note that I used the word okay as opposed to revolutionary good). Sadly there are no okay options in Munich that I know of. Thank goodness there is at least a Mexican grocery store (that sells canned chipotle in adobe sauce and Mexican wrestling masks).

So huevos rancheros combines two of my biggest loves: breakfast and Mexican food. That said, don't hesitate to make this for lunch or dinner instead. The basic idea is quite simple. Fry some eggs and then serve them on tortillas with lots and lots of salsa. If tomatoes are in season, go for fresh salsa. If not, cook up some salsa on the stove. That's it. You can eat huevos rancheros with some black beans or re-fried beans, sour cream, and guacamole or sliced avocados with fresh lime juice and cilantro on the side (which I recommend). You can add some cheddar or another cheese of your choice (which I also recommend). If you can, use corn tortillas. If you happen to live in Germany where all of the stores are closed on Sunday (which happens to be your preferred day for big breakfasts) and you only have wheat tortillas in your pantry, then use wheat ones instead.

I find one egg and one tortilla (with lots and lots of sides) to be enough, but increase the recipe to 2 eggs and 2 tortillas per person if you wish.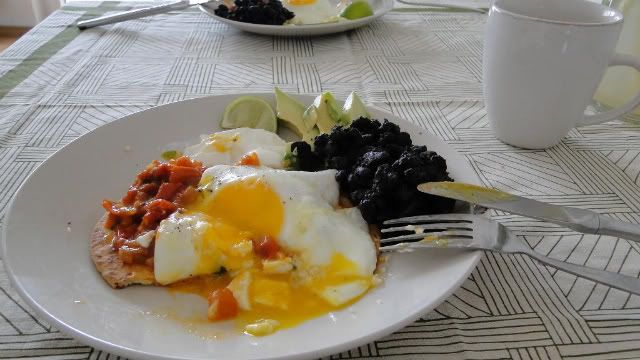 Huevos Rancheros





serves 2





Ingredients



cooking oil
2 tortillas (the smaller ones preferably)
1 small onion
4 small to medium tomatoes
1 small garlic clove
1 small fresh chili of your choice or 1/2 tbsp canned chipotle in adobe sauce
a pinch of ground cumin, optional
sea salt
1/4 cup fresh cilantro
a knob of butter
2 eggs



Optional, but recommended



warmed black beans, or re-fried beans
sour cream
slices of avocado with fresh lime juice, sea salt and cilantro, or guacamole
chopped cilantro
fresh lime, wedged
cheddar cheese, grated



Preheat the oven to 250F/ 130C/ Gas mark 1/2.





Coarsely chop the onion, the tomatoes, the garlic and fresh chili pepper. In a small pot over medium heat add a splash of cooking oil. Add the onion and then the garlic. Once fragrant add the tomatoes, a generous pinch of salt, cilantro, fresh chili or chipotle and cumin. Bring to a simmer and then reduce the heat. Stir occasionally and let cook until slightly thickened.





While the salsa cooks, heat a splash of cooking oil in a large skillet over medium-high heat. Add a tortilla (if you skillet is big enough add 2) and cook about 1 minute until the bottom is slightly browned or air bubbles form inside. Flip and repeat on the other side. Transfer the tortilla to an oven-safe-dish and keep warm in the oven. Repeat with the second tortilla.





In the same skillet add a knob of butter (or a splash of cooking oil) and fry both eggs sunny-side up (you want a runny yolk for huevos rancheros).





Assemble on separate plates. You can spoon a little salsa on the plate, or just add the tortilla first. Add salsa to the tortilla and then top with a fried egg. Serve as is, or top with more salsa and some shredded cheddar cheese , or garnish with cilantro. Top with some squeezed lime juice as well if you wish. Or, eat with generous servings of sour cream, black beans and avocado. Don't be afraid to add and add.





Guten!