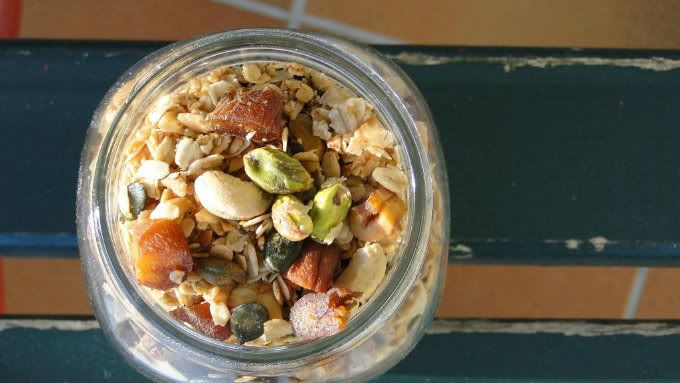 I've made it. I'm done. My thesis is handed in, my applications are in the mail and my suitcase is packed. Shortly I'll be headed to the Munich airport to catch a flight to Naples.
And this is where things get tougher and a little more emotional. Complicated, even. I live in Munich. If you know anyone who watches football (or soccer depending on your geography and word preference) or if you read the news, you probably know that Munich hosted the Champions League Final on Saturday night. It was red against blue, Bayern Munich against Chelsea. Every year the final is held in a different European city as no one can ever predict which two teams will make it to the end. Games before Bayern Munich had even made it to the finales everyone knew that the final would be played in their stadium, in their city. The prize was big. And so were the incentives.
If you follow sports or have read the news, then you know how the story ends. Tragic for the reds and glorious for the blues. There was a goal in the 83rd minute. Munich, myself included, was ready to take to the streets and celebrate. But minutes before the game was up there was an equalizer. there there was overtime, a penalty shot and then a save. There was more overtime. Then, finally, there was a shoot-out.
I guess my confession is clear by now. I am a football fan. A heartbroken one. I am a Bayern Munich fan. Years ago I could have never predicted this. I was just a regular Canadian. I played hockey. I casually followed the local team (Ottawa and then Toronto and then, at last, Montreal) as I moved from one Canadian city to another. However, my interest in hockey faded throughout the years. The highest point was probably when I was about 9 and the captain of a girl's hockey team in the suburbs of Ottawa.
Then I became a Francophile and I was slowly en route to becoming a football fan. Allez les bleus! This was my first exposure to the world's most popular sport. I watch the World Cup in 2002 for the first time and I have memories of Koreans driving around Toronto in the back of pick-up trucks with large flags and loud horns. And then Little Portugal went mad when Brazil won and every second person in the west end of Toronto suddenly seemed to own a Brazil t-shirt, headband, or pair of flip-flops. Then there are the memories of the 2004 Eurocup when Greece beat Portugal in the final. Once again Little Portugal went mad, but this time because Greek fans were leaving the Danforth (Toronto's Greek town) to literally beat up the Portuguese (and vice versa). I spent the summer of 2006 in Germany - the same summer that Germany hosted the World Cup. I was a goner. Through watching the national games, I began to pick up on who plays for which club, who has a rivalry against who, who has a reputation for diving and how Zizou shoots the ball when he is nervous and the pressure is high (bottom left). I also developed a crush on the captain of the German national team and that summer my interest in football when from French to German.
Anyone can play football. It is the world's most accessible sport. Even the United Nations wishes that it could be more like the World Cup. See what Kofin Annan says about it. Only a ball is needed. Two nets help, but anything can mark a net (branches, empty bottles, anything). A field is nice, but a semi-quiet street will do or a parking lot. Most weather conditions welcome the game (other than extreme temperatures of course) and the objective is simple: get the ball in the net. But after than anything can happen and how complicated and dramatic it can get! We are taught that the best team should win, but this doesn't always happen. Sometimes fouls happen. Players collect yellow cards or a red one and referees suddenly have a say in how the game goes. Sometimes players just get nervous. Out of nowhere the dynamic of the game can change. And then the teams we don't expect to win become the best teams. It is confusing. It is complicated. It is unpredictable. Most of all, it shows how arbitrary adjectives like "best" are. Even a simple sport (and by simple I mean one that has rules understandable by all - hint, hint cricket) is full of grey zones and blind spots. But nonetheless, there is something magical about watching a game with millions of other fans and believing in a team. It is contagious. When the team wins you have new neighbours to celebrate with and when they lose you and your post-game-depression are never alone. It all comes down to 90 minutes, but luckily there are always more games to play and new seasons ahead.
Okay, now you deserve some really good granola for having listened to me confess my love for football. This post isn't just about football, or winning or losing; it is about how we get through things. It is about pick-me-ups and what we turn to when we are short on time or short on energy or even hope. I have posted a recipe for granola before - one that skips the butter or oil of any sorts and goes straight for the maple syrup and a few spices. Emergency Survival Granola is a different type of granola. I admit that the name may sound a tad dramatic, but I also admit that this granola is really good. Always. It is made with a generous amount of coconut oil and maple syrup. It has pistachios and dried apricots. Pistachios and apricots are quite the match and together they make pretty much everything better - even post-game-depression. It also has cashews just because.
In fact, I am proud of myself for not eating this granola three times a day. Okay, so I have eaten it three times a day, but only a few times. I swear. And it was never instead of meals. I swear it was just seconds or thirds for breakfast one time and then multiple snacks another. But the point is that I have resisted the temptation of only eating granola and nothing else because that temptation does exist. It is a strong one. Also, this granola is always reliable. It will take the edge off when you need a snack and are pressed for time, or when you just need to nibble on something delicious, comforting and homemade. Thomas Mueller, feel free to drop by for some granola anytime. I'll even make some homemade yogurt . You are welcome to bring Alaba and Badstuber. And maybe even Gomez (although the person I share this apartment and my granola with might not agree).
Emergency Survival Granola
(Coconut-Maple Granola with Pistachios and Apricots)
makes about 9 cups
4 cup rolled oats (not instant)
1 1/2 cups coconut flakes
1 cup dried apricots, coarsely chopped
Preheat oven to 300F / 150C / gas mark 2.
In a large bowl mix together the rolled oats, pumpkin seeds, pistachios, coconut flakes and cashews. Feel free to chop the nuts, but I prefer to keep them whole so that the granola has diverse textures. Add the salt, cinnamon and cardamom.
In a small saucepan mix together the coconut oil and maple syrup over medium-low heat. Once the coconut oil is melted and the two are combined add to the bowl of oats. Mix well to combine.
Line a baking sheet with baking paper and spread the mixture on the baking sheet. When baking, remove every ten minutes to stir. Bake until well toasted and golden brown (about 35-45 minutes). Transfer the granola to a bowl and stir in the chopped apricots.
Store in an airtight glass container.
und mia san mia auf jeden Fall!