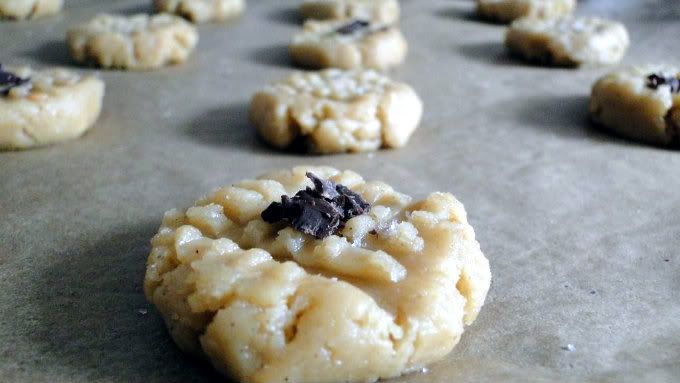 I am not a big cookie person. Growing up with my mom I don't recall many homemade cookies and from visits to my Dad's I have memories of only a bag of President's Choice chocolate chip cookies that he would keep on top of the fridge. I was never really tempted by that bag. Dinners with my Nana and Poppy would often end with a bowl of sorbet and some shortbread cookies, but those were fancy English cookies that came in a nice tin. I have lots of memories of homemade pies and cakes, but less of cookies.
They say that all cooks should have a really great chocolate chip cookie recipe in their repertoire. Unfortunately, I was always more into the dough than into the cookies and have never really found a recipe that I like as much baked as I like it raw. Call it one of my food dirty secrets if you like.
On Paper Doll Parade I have written about cookies once and those were Heidi Swanson's Carrot Oatmeal Cookies.
I do like cookies but not necessarily chocolate chip cookies. I like cookies of the nuttier and saltier varieties. Also, I don't have too many cravings to eat them or urges to make them, but when I do I normally find myself over at 101 Cookbooks. But, after making Heidi's healthier interpretation of a classic peanut butter cookie I am feeling more like a cookie person. Or, at least a peanut butter cookie person.
These are really good cookies. I wish I had saved a few so I could be eating one right now, but I was greedy. And so was someone else in this apartment. We both could not resist. Simple trips to the kitchen to get a glass of water or to throw something in the trash would end with one of us leaning against the counter with a full mouth and half a cookie in hand. These cookies are also the type where you can hear someone eating one from the next room so the other one would hear this blissful chewing in the kitchen and join in by eating a cookie or three. They also leave crumbs. Crumbs so good that you end up eating them, even the smallest ones, right off the counter or wherever else they may fall. No, these cookies did not last very long.
I want to make these again and again, but I am not going to lie. These are rather expensive cookies. Although they require few ingredients, natural peanut butter and maple syrup start to add up (especially in Europe). You can always make peanut butter, but sometimes even I want to just open up a jar and be done with it. Nonetheless, the whole ingredients, although expensive, are what make these cookies just so good.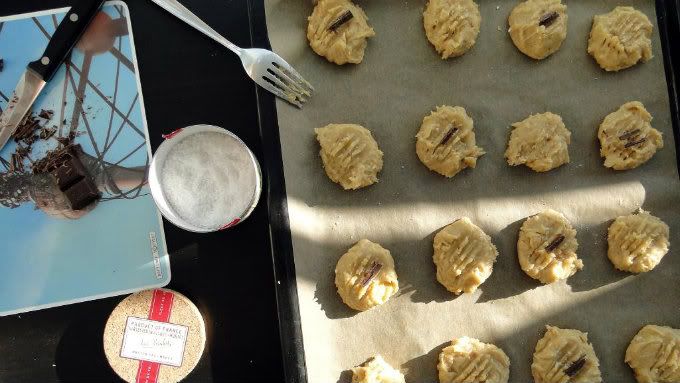 Peanut Butter Cookies
from 101 Cookbooks
makes 2-3 dozen cookies
ingredients
2 cups flour (i used spelt, but feel free to use whole wheat pastry flour or unbleached all-purpose)
1 tsp baking soda
a large pinch of sea salt
1 cup natural chunky peanut butter
1 cup maple syrup
1/3 cup extra virgin olive oil
1 vanilla bean, scraped
a few shavings of dark chocolate, optional
sea salt for sprinkling
Preheat oven to 350F / 180C / Gas mark 4. Line a large baking sheet or a few smaller ones with parchment paper.
In a bowl mix together the flour, baking soda and sea salt. In another bowl mix together the peanut butter, maple syrup, olive oil, and scraped vanilla. Add the flour mixture to the peanut butter mixture and stir until just combined. Put the mixture in the freezer for 5-10 minutes so it chills slightly and is easier to work with.
Using a teaspoon, drop heaping spoonfuls of batter on the parchment-lined cookie sheet making sure to leave a generous amount of room between cookies. Press down on each cookie with the back of a fork. If the batter has been chilled and isn't too loose, then repeat to get a criss-cross. (With my second batch I even kept the batter in the fridge over night so that I could have more freshly baked cookies the next day - do as you wish). Sprinkle each cookie with some sea salt and, if you wish, some shavings of dark chocolate (I added chocolate to half).
Bake for 10-13 minutes until cookies are set, but make sure not to over bake or else they will be dry. Let sit for five minutes and then transfer to a cooling rack.
Guten!