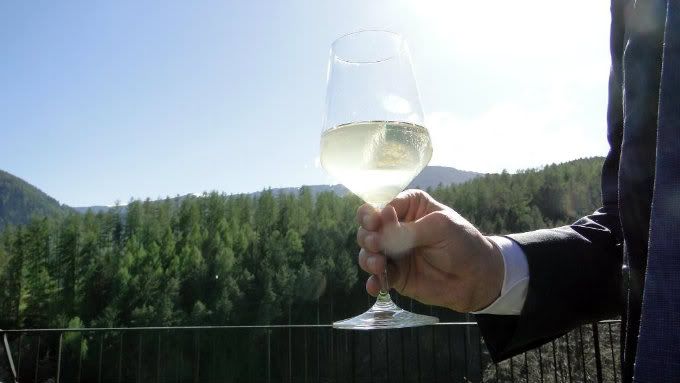 At some point when I was growing up I caught the travel bug. Just like that. It was almost out of nowhere. Neither of my parents are big travelers. Family vacations never required passports and were always planned around activities other than sightseeing (skiing here and camping there).
My first trip to Europe was when I was 11. I was lucky and was invited by my Babchai, my aunt and my uncle on a trip to explore "the old country". We spent two weeks in Poland taking pictures of old buildings, tracking down relatives that we had never met, and trying our best to avoid the tripe that waited for us in the bottom of our soup bowls. I am tempted to say that something clicked during that trip, but I don't think it did. I was still too young and it felt less like traveling and more like meeting the country that you are culturally connected to but know very little about.
The travel bug came on quite strong a few years later when my aunt took me to Mexico. I was in high school and felt beyond lucky to take a week off school (so long math class!) to hang out with my aunt on the beach in Playa Del Carmen. It was already around ten years ago, but I remember a very strong feeling that came from trying freshly made tortilla chips for the first time. It might sound kind of silly, but with a few crunchy bites topped with fresh salsa I realized that there was a whole world out there that I did not know. Tortilla chips were the only chips I was allowed to eat as a child so naturally chips and salsa make me terribly nostalgic. It is like being a kid again and watching 'Wayne's World' with the whole family on a Friday night. And then in Mexico I tasted a tortilla chip that was nothing like the ones I knew. So I guess that eating fresh tortilla chips in Mexico was the gateway drug for me. I was hooked. I felt the need to travel. Everywhere. Always.
Last weekend we were in Italy. A perk of living in South Germany is that Italy is only a three hour drive away and that drive includes a chunk of the Austrian Alps. Coming from Canada, Europe still feels magically small to me no matter how long I live here. I am too North American to not be charmed by living in Germany and being able to drive to Italy for a weekend.
But the part of Italy we were in was the German speaking part: Südtirol in German and Alto Adige in Italian. It was a fascinating mix of languages, cultures and food. I had heard that its food is something special. Mix my chronic case of the travel bug with my obsession with food and I am pretty much willing to go anywhere to eat (and sight-see, of course). I am also a pretty loyal drinker of the region's cocktail: Hugo. A Hugo is prosecco, a few sprigs of fresh mint, and elderflower syrup. Sometimes it has mineral or soda water and a squeeze of fresh lime. With or without the water and lime, it is good. Really good. The Hugo alone had me dreaming of a trip to
Südtirol.
And the trip did not disappoint. There was
Südtiroler Speck (a dry-cured ham), Sh
üttelbrot
(a flatbread similar to knäckebrot made with dried fennel - it is ideal for hiking trips or just long train rides) and Käseknödel (a bread dumpling made with cheese). There was also a magical wedding in a castle as well as a feast and bottles and bottles of local wine to go along.
Before coming back to Munich we spent a day in Bozen/Bolzano. There we heard plenty more Italian which made the weekend trip to Italy actually feel like it was in Italy. We also took advantage of the Italian grocery stores and filled our small suitcase with some edible souvenirs. We brought back some of the regional specialties as described above as well as a few staple ingredients for risotto.
The risotto part of this recipe was inspired by
Südtirol and the grapefruit and porcini part was inspired by my lovely friend Shirin. She is quite the cook and the two of us are completely on the same page when it comes to food. This means that our visits are always delicious. Very delicious. A few weeks ago we went to Little Otik in Berlin. They serve the type of food I could eat everyday. They use local organic ingredients and they put so much love into their menu that it is easy to become obsessed. It only took one meal to give me buckets of inspiration. That and a (intense) craving for icecream sandwiches with mint icecream and homemade cookies.
Shirin told me about a risotto she had at Little Otik that was made with grapefruit and porcini mushrooms. She had recreated a version at home with blood oranges (Shirin, am I getting this right or am I confused? Was it grapefruit at Little Otik and blood orange chez toi or the other way around?). My memory is a strange thing. The times table has no chance with me, but good food combinations are a different story (hopefully the brackets above don't suggest otherwise).
There was another source of inspiration that went into this recipe. My friend Leanne recently wrote about a cabbage and sausage risotto. Boy, was this post a lesson for me. One of her risotto secrets is to use vialone nano or carnaroli rice. She clarified something important. As she writes, all non-Italians think that arborio rice is the risotto rice; however, she has been told emphatically that arborio is not the right rice. I repeat: no arborio.
Last year I posted a recipe for risotto. It is a simple risotto with some vegetables and roasted pine nuts. This risotto with grapefruit and porcini mushrooms is a bit more adventurous. It is a bit sexier. Nonetheless, the recipes are pretty identical minus the stars of the show - grapefruit and porcini - and the staple: the type of rice.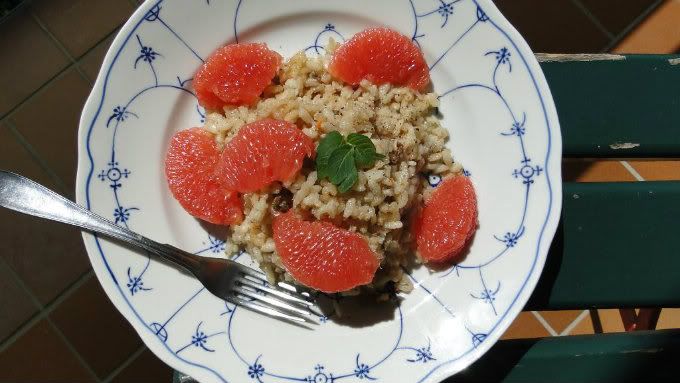 Grapefruit and Porcini Mushroom Risotto
15 grams dried porcini mushrooms
1 red onion, finely sliced
1 cup rice (vialone nano or carnaroli, or arborio if you are in a grind)
1/3 cup grated
pamigiano-reggiano
2 red grapefruits, peeled with the membrane removed
Bring some water to boil in a kettle and then soak the dried porcini mushrooms in hot water for half an hour. Once soaked, drain the mushrooms but reserve the soaking liquid. Squeeze out any access water the mushrooms may be holding.
Heat the vegetable broth in a pot and bring to a simmer.
In another pot heat the olive oil over medium heat and then add the onion. Let soften for about 2 minutes and then add the rice. Stir well so the rice is coated with the olive oil and onion. Add the white wine and stir until the rice absorbs the wine. Once absorbed, add a ladle of the hot broth. Repeat until the rice is al dente. Add the soaking water from the mushrooms and the mushrooms and stir until absorbed.
Turn off the heat and add the
pamigiano-reggiano. Season with salt and pepper to taste. Add the grapefruit, garnish with fresh mint and serve right away.