The Swedish national anthem ends with the lines - In thee I'll live, in thee I'll die, thou North Land. The content of these lyrics reached me years before I learned the words. Although I am not overly fond of subzero temperatures or winters that always outnumber summers when it comes to length, for a long time I internalized these lyrics. I grew up in Canada. My childhood years in Ottawa taught me the importance of long underwear and what kind of snow makes the best snowballs. My years in Montreal taught me that if a coat isn't floor length and down-filled then it just isn't a winter coat.
After a spell in Southern France I somehow became accustomed to moving North. From Montreal I moved to Copenhagen, to Berlin, then back to Montreal and then to Sweden. When I went to Mumbai for a few months in the fall I was patting myself on the back for breaking the spell. I was somewhere warm! Hot, even. But then I came back to Germany. However, I am still kind of proud of myself for living in South Germany just because for me it is kind of South (although come winter I am proven wrong).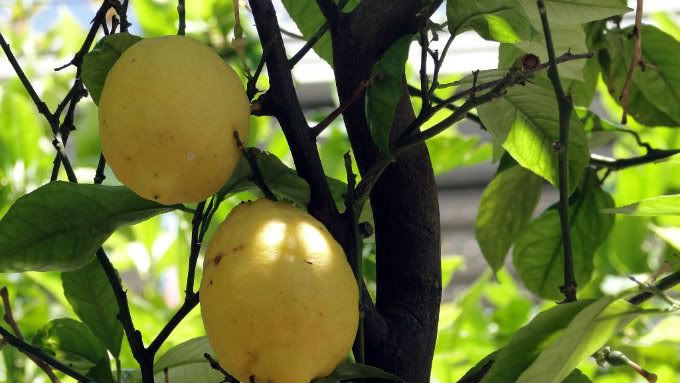 All of this is a recipe for an infatuation with all things further south - particularly what grows south that can't grow north. I remember when I first saw fresh bananas on a tree on a trip to Mexico years ago. Bananas on a tree! I still can't get over it. Locals roll their eyes as I go camera and food crazy over seeing a familiar fruit in an unfamiliar context: growing. In nature. Not at a market or for sale. The same thing happened last week when I was in Campania, Italy. The Amalfi Coast is particularly known for its lemons. This dramatic coastline is home to Monti Lattari which translates as Milk Mountains. The name at first might sound a little silly, but it pretty much describes the region. It is impossibly fertile. On exaggerated cliffs and hills one finds endless amounts of wild rosemary and wild wheat. Lemons and grapes grow side by side. I was stunned and overwhelmed and helplessly charmed.
It is no secret that I love lemons. From lemon curd generously spread on a piece of toasted sourdough or added as a layer to cake to preserved lemons finely diced and thrown into a vinaigrette and from lemon zest added to roasted asparagus to a yogurt cake with lemon (that is really too good to share), I am quite certain that lemons make pretty much everything better. You'll never see my kitchen without lemons.
And along the Amalfi Coast we encountered lemons everywhere - from trees to roadside stands. A hike up the hills brought us to a monastery and inside the chapel was a basket full of lemons and a few bottles of water next to a donation box. We made a donation, took a lemon and then hiked up to the plateau where we met the monastery's own tiny lemon field.
I am sure that it is obvious that it was love at first sight between me and the Amalfi Coast and Campania in general. The lemons alone charmed me, but then the Coast got fresh by offering me wild rosemary and then by interrupting a coastal drive with a herd of goats. And that was just the Amalfi Coast. I want to tell you about the pizza in Napoli and a visit to the buffalo out on the plains to eat freshly made mozzarella and gelato made with buffalo milk. Oh and the yogurt. I also want to tell you about the lemon granita I ate on the streets of Napoli and the edible souvenirs that I filled my suitcase with.
But I am on the road again. Tomorrow I fly to Sweden for two weeks and then I am sneaking back to Southern Italy for a weekend in Bari. I am sure that there is going to be heaps more that I'll want to tell you about - perhaps about the rhubarb and wheat beer jam that is on my stove top or some of the breakfasts I ate in May, or about visiting my old roommate in Gothenburg who taught me to eat polenta for breakfast and who keeps a stash in her cupboard of dried figs from her grandmother's garden in Bosnia. For now I'll leave you with lemons.