Oh breakfast. Where would I be without you? You certainly make me a better person.
This is something that Marion Cunningham recognized. In fact, she loved breakfast so much that she wrote The Breakfast Book which is one of the few cookbooks that I actually own. The pages wear smears of butter and coffee stains here and there. For me this is a very important book.
In the introduction she wrote: "The deeper reason that breakfast inspires me is that we have become so busy maintaining our lives in the working world that we often find ourselves sharing the same home with strangers. . . . I'm hoping that breakfast, with its easy, wholesome honesty, will be an opportunity to be with and share oneself with friends and family. There is no greater inducement to conversation than sitting around a table and sharing a good meal. Gathering at the table for breakfast allows us to weave our lives with others - and that should be a daily pleasure." (xi-xii). Even if breakfast often becomes all the lovelier when shared I also see it as an opportunity to just be. It is satisfying to feel taken care of and even more so when you feel that you are taking care of yourself. Sitting down to a breakfast prepared with honesty and good ingredients alongside maybe a glass of freshly squeeze juice or a cup of good coffee (Marion Cunningham loved coffee and was known to order it at restaurants when others were drinking champagne) can be an opportunity to treat yourself well. It is an opportunity to to just be and to eat and to enjoy and to maybe read the newspaper or a new book or to listen to a favourite radio program or song.
She also wrote that "[b]reakfast has remained pure amid all the food trends with their stylish dishes and chic ingredients. The honest simplicity of breakfast is so captivating. The most delicious breakfasts usually derive from the humblest of ingredients (money alone does not buy good food)." (xi). It is hard to not deeply admire a woman who loves breakfast this much and who writes about it with such little pretense.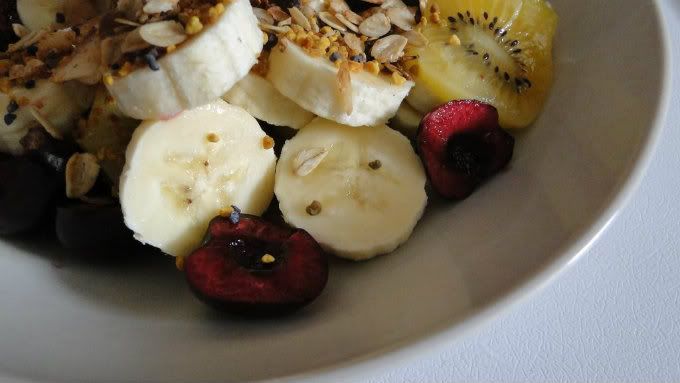 Last Monday I baked her cinnamon rolls and on Wednesday she died. It is nice to know that a person lives on through their writing and through their recipes. Thank you Marion Cunningham for such a delicious recipe and thank you for encouraging people to enjoy breakfast more often with others.
This is some of what I have been eating for breakfast as of late. As the city has gotten hotter my coffee has gotten colder. And these past few days when Europe has gotten colder my oven has gotten hotter.
breakfast: the early summer edition
cold-brewed iced coffee using this technique
eggs (sunny-side up), roasted potatoes, mountain cheese, cherries and grilled tomatoes with balsamic vinegar and thyme
potatoes roasted with red onion, garlic, butter, olive oil and thyme
a bowl of fruit, boiled eggs and croissants
a warm corn tortilla with smashed avocado, cilantro, lime juice, chili and sea salt
huevos rancheros with black beans, cashew cream and sliced avocado
breakfast buffet at Chez Madame in Malmo
baguette with rhubarb-beer jam
bircher muesli with spiced strawberry sauce
quinoa, almonds, dried figs, chamomile and honey
a bowl of fruit topped with granola and bee pollen
iced coffee and Marion Cunningham's cinnamon rolls
roasted peaches with maple syrup with yogurt and pistachios
* * * *
Tomorrow morning I'll probably go for a quick smoothie with Swiss chard, coconut water and a fresh peach (a favourite smoothie as of late, although not always a very photogenic one) as I'm off to the airport to catch a flight home to Canada. Oh Canada. It is my home and it is my native land, but it has been two years since we last saw each other. I am certainly ready to be reunited with what sounds like the tropical climate of Southern Ontario, peaches n' cream corn and lakes that are big enough to feel like oceans.
Happy summer!