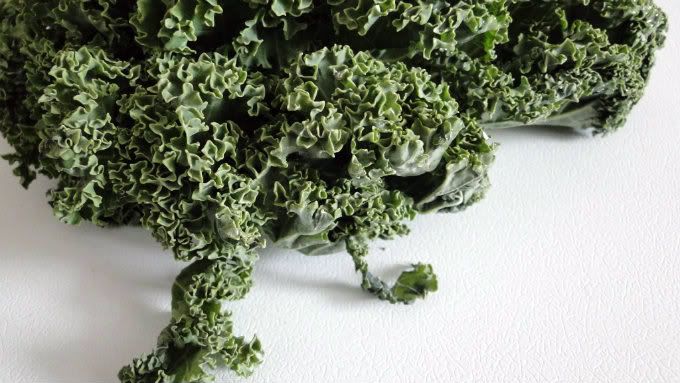 There is a lot of talk about kale these days. Kale in soups. Raw kale massaged until it is soft enough to become a salad. Kale crisps. Pesto made with kale instead of the usual basil. And, of course, kale smoothies. It is as if kale is the new poster-girl for healthy eating. She is strong, that Kale, and she makes spinach look weak in comparison. People just can't get enough of her.
Although you'll find recipes on Paper Doll Parade that further support the powerful tradition that is the holy trinity of flour, butter and sugar, I'm all for healthy eating. Let us not forget Julia Child's sound advice: "Everything in moderation . . . including moderation." So in addition to my love of baking, I too am crazy about kale.
However, that crazy took a while to develop. I first tried kale when I was living in Copenhagen. Curly kale is an important part of any Danish julbord. My first encounter was with kale stew. Let's say that it tasted much better than it looked (although this is the usual case for kale with the exception of maybe Tuscan kale soup). Kale didn't come up again in my life until a few years later when I was visiting a friend in Brooklyn. It was the day after Halloween and we decided to treat ourselves and our very dehydrated bodies to a hefty brunch in Bushwick. Each main came with the option of a side or two and the waiter listed massaged kale as an option. "Excuse me," I said, "massaged kale?" With rather suggestive hand gestures, he explained that with the assistance of some salt, lemon juice and olive oil, the kale is massaged until the leaves shine a shinier green and it is much easier to chew. "Sold," I said. That massaged kale was a turning point and ever since I have looked at this funky variety of cabbage all the more suggestively.
Even though kale may be a superstar of a vegetable it still has a season and that season is autumn and winter. At least this is the case in Europe as in Canada it somehow grows all year round. Oh Canada, another reason why I miss you. That said, because kale is eaten only in a particular season in Germany it has more rituals attached to it. Take for instance the North German example of a Gruenkohlfahrt, a kale tour of sorts. Germans celebrate the kale season by eating large quantities of it alongside sausages and schnapps. Anyone care to join me on one next year? Oh Germany, this is why I love living here. Is there anything you can't make into a celebration with sausages and schnapps?
If you are not able to celebrate kale with a Gruenkohlfahrt perhaps just celebrate its nutritious qualities and vibrant green colour by making it into a smoothie. This summer I have gotten hooked on the combination of fresh peach, greens and coconut water. In Germany I usually make this smoothie with Swiss Chard, but while I was in Canada I took full advantage of being able to buy kale all year round.
ingredients
a handful of kale (or Swiss Chard or spinach)
1 frozen banana (or 1 banana + 2 ice cubes)
a small knob of fresh ginger, grated (or 1/4 tsp ground ginger)
Wash the kale and peach well. Chop both into chunks. Combine the peach, kale, banana, ginger and coconut water in a blender and blend until smooth. Add honey and agave to taste and then blend some more.
Guten!