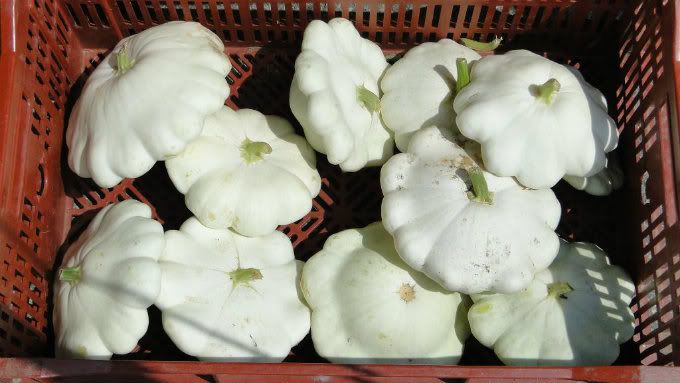 I have been an international exchange student. When studying in another country, amongst a group of classmates that are culturally diverse, one inevitably encounters the international potluck. Such a potluck entails that one brings a dish from one's home country. It is the United Nations of dinners. With your hands you're tearing into a piece of fresh pita and smothering it with hummus and with your spoon your scooping up Yuanxiao. German students bring Bratwurst. Senegalese students bring groundnut stew. American students bring hamburgers. Lebanese students bring tabbouleh. Vietnamese students bring coffee with sweetened condensed milk. And Canadian students might bring any of the above.
Canadian food is rather tricky to describe. It can be everything and anything. It is Chinese hot pot one night and grilled cheese the next. It is pupusas for lunch and then fried chicken for dinner. It is Japanese tapas before a concert and then it is poutine (maybe even with foie gras) after. It is a smoked meat sandwich with a pickle on the side.
Canadian food doesn't take geographical borders too seriously and it is certainly not afraid of fusion. Case in point: the Hungary Thai in Toronto's Kensington Market. You just read Hungary as in the country and not hungry as in wanting to eat (although the Hungry Thai is also the name of a chain of Thai food restaurants in Toronto). The menu offers a combo of Hungarian and Thai food. It serves spring rolls and cabbage rolls, pad-thai and Schnitzel. Like I said, Canadian food can be everything and anything.
I am certainly not going to be able to offer a single definition of Canadian food and I don't think that anyone can. It really is quite personal. What is considered Canadian food will depend on where one lives in Canada (the West coast or the East, on the prairies or next to the ocean, in a city or on a farm), one's family background (Persian or Polish, Ojibwe or Mexican, Pakistani or Haitian).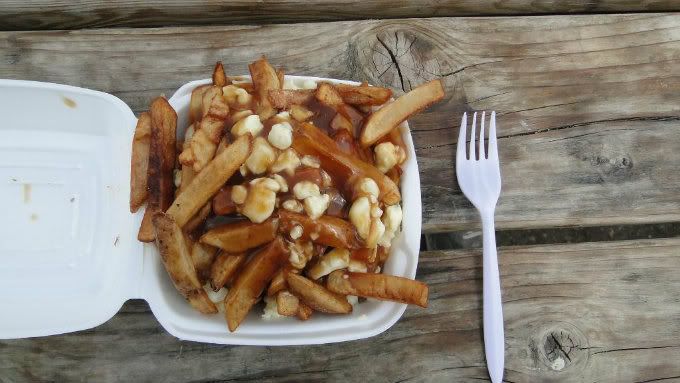 All I can say about food in Canada is that for my family and I it is based more on ingredients than it is on specific dishes (with the exception of a few Polish staples that the family keeps alive generation after generation). Sweet wild blueberries in the summer. Aged steak on the barbecue. Peaches n' cream corn with nothing more than butter and salt. Pumpkin in the fall. West coast smoked salmon on Montreal bagels. And oysters whenever.
I can also say that during the three weeks I spent in Toronto and Honey Harbour this summer I ate extremely well.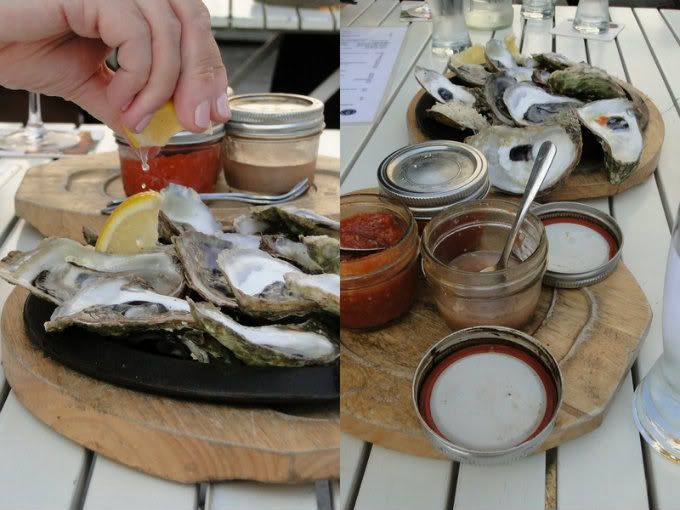 Good Eats, Toronto Style
lots and lots of peaches n' cream corn
patty pan squash at the St. Jacobs Farmers' Market
grilled peaches that we ate with candied walnuts and Kawartha Dairy's vanilla ice cream
grilled scapes with olive oil and lemon juice
fish tacos and sangria at The Bellevue in Kensington Market
churros in Kensington Market
chicken liver pate and East Coast oysters at the Ceili Cottage in Leslieville
poutine at St. Jacobs (a lot of the farmers are Mennonites)
* * * *
David Rakoff, the humorist and writer, recently died. He was a long time contributor to This American Life and as an ode to his life and the great wit with which he lived it the show put out an episode in remembrance of David. David happened to be Canadian and the first act of the episode is about the sixth sense that all Canadian have: knowing who else is Canadian. I've listened to it twice. It is that good. Furthermore, it is so Canadian. Listen to it here.
I was in Kassel over the weekend to see Documenta. The exhibition includes works by a handful of Canadian artists including Brian Jungen, Emily Carr, Janet Cardiff & George Bures Miller, Gareth Moore, Tamara Henderson and Geoffrey Farmer. When I encountered any of their work I found myself saying ". He is Canadian. She is Canadian. They're Canadian." It is like an automatic reflex. I just can't help it. Just like David, there must be a chip in my head.