I'm not usually someone who makes omelets at home. Nor am I one who is inclined to order them when I'm out for breakfast. It is not that I do not like omelets per say; it is just that I rather have a poached egg, or some French toast.
Mumbai started to get me to think about omelets without the distraction of either poached eggs or French toast. That is because Mumbai is home to a large Parsi community and Parsis love omelets and are particularly known for making very good ones. Referred to as poro, a Parsi style omelet typically is made with onion, cumin, fresh coriander, and fresh chilies. The inclusion of fresh coriander was enough to convince to order an omelet. However, what I found most interesting about the poro was that it is made with eggs and eggs only. And by that I mean that it does not have milk or cream. I think that there must be some great reason behind this. I had grown up thinking that an omelet was beaten eggs always with some milk or cream and here was an omelet sans milk. However, although I enjoyed poro more than a few times in Mumbai, it still was not enough to get me to make an omelet at home.
The turning point was Luisa Weiss' new memoir and cookbook: 'My Berlin Kitchen'. It includes a recipe for an incredibly fluffy omelet that is rolled and stuffed with jam and I figure that I should probably share a breakfast recipe that I've made four times in the past week.
Luisa's recipe does call for one tablespoon of milk. I now realize that debates over whether one should add milk or skip it entirely distract from the secret of making a fluffy omelet: beating and lots of it. To make the omelet fluffy you separate the egg white from the yolk and beat the white until soft peaks form. This, my friends, is the secret and I now know that this is how most Parsi poro are also made.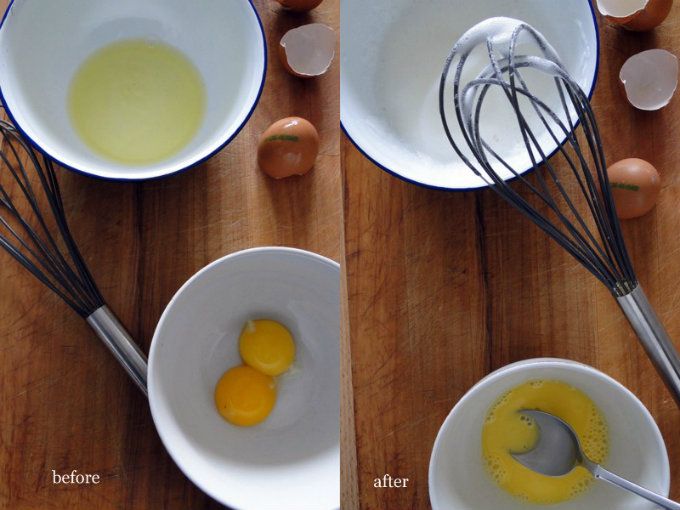 Some people go to the gym and others wake up and beat the hell out of an egg white. I represent the latter. In my defense, my electric whisk is sadly broken; however, I don't really mind because I rather beat an egg white than lift weights any day.
Luisa swears by serving the omelet with powdered sugar sprinkled on top and she would certainly disagree that here I am marking it here as optional. Sometimes I add it, sometimes I leave it out. It is really up to you and whether or not you're into powdered sugar (or even have some at home). For me the fluffiness of the eggs and the sweetness of the jam alone make this recipe a star.
The recipe serves 1, but I've doubled it a few times and it works just as well.
from 'My Berlin Kitchen' by Luisa Weiss
1 tbsp jam (I have been using fig, but Luisa recommends black or red currant jam)
a sprinkling of powdered sugar, for garnish (optional)
Separate the egg white from the yolk and put each into a separate small bowl. Add a pinch of salt to the egg white and beat until it just holds soft peaks. Beat the egg yolk and the milk together until well combined. Fold the beaten egg white into the egg yolk and milk mixture.
Over medium heat melt the butter in a small nonstick skillet. Pour the mixture into the pan and cook until the edges have set, about 3 minutes. If you are an experienced omelet maker, then shake the pan gently and flip the omelet. If you are like me - someone who wasn't too into omelets until learning how fluffy they can be and how delicious they taste with jam - then put a plate over the skillet to invert the omelet. Cook for an additional 3 minutes, or until the omelette is cooked through and set.
Once cooked, slide the omelette onto a plate. Dab the jam along the omelet's centre and then roll the omelet using a plastic spatula (or your hands). If you are into powdered sugar, sprinkle the sugar on top. Serve immediately.