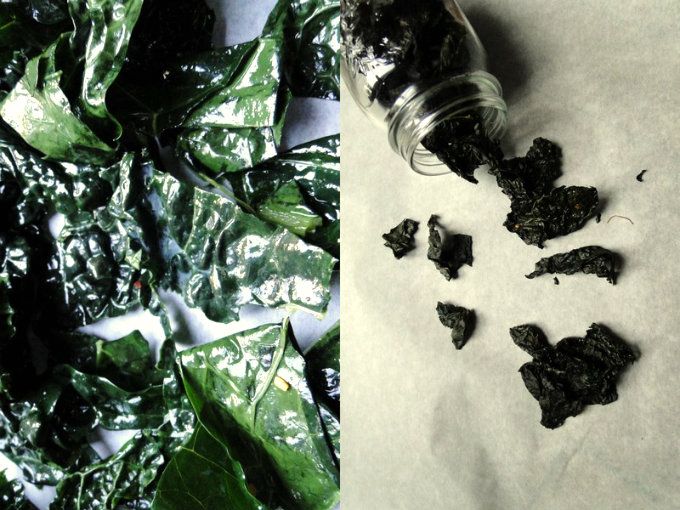 Obviously one of the greatest joys that comes with spending time in Italy is being able to shop for fresh produce at local markets and Venice has a gem of a market: Rialto Market. In addition to local seafood that I forever associated with fairy-tales and not everyday market fare (granceola and local razor clams for instance), Rialto is equally magical when it comes to fruit and vegetables. It even has kale. Next time I'm searching for it in Munich I will certainly be tempted to recall that there is a direct train between Munich and Venice and that Italy seems to have a much longer kale season than Germany.
When kale became the next big I became the leafy green's biggest fan upon learning that kale - like potatoes - makes great chips. Kale chips, like potato chips, depend on a few honest ingredients. All you really need is kale, oil and salt. Everything else is extra, but that extra - lemon juice and red chili flakes - is what makes me just as crazy about kale chips as I am about good ol' fashioned potato chips. Spicy kale chips? Yes please.
Those of you who know me well know that I have a weakness for potato chips. And by weakness I mean a serious addiction. My mom never allowed Doritos or pop into the house when we were growing up, but on special nights we were allowed plain potato chips that we would eat with salsa (often while watching SNL or Wayne's World for the 100th time). Of course we only ate brands with natural ingredients and without hydrogenated oil of any kind, but they were still chips. Chips! I loved them as a kid and I might even love them even more as an adult.
Although kale and potatoes have very few things in common, they are both arguably at their best when made into chips.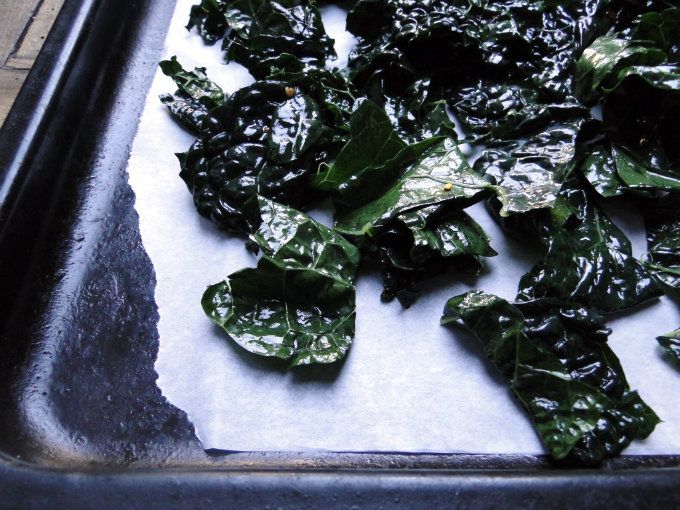 Preheat oven to 200 F / 90 C / gas mark 1/4.
Wash kale well and then spin dry. Tear the leaves away from the stem and then tear each leaf into bite-size pieces.
In a bowl mix together the kale, salt, olive oil, lemon juice and red chili flakes. Massage the kale gently and make sure that it is evenly coated.
Line a baking or cookie sheet with parchment paper and then lay the kale on the sheet. Bake for 30 minutes and then remove from the oven and gently toss the kale to make sure it is has not stuck and that it cooks evenly and then bake for another 10-15 minutes or until kale is dry and crispy.
Let the crisps cool and then transfer to a container or jar and store in the fridge for up to a week.
Guten!