Just like how a certain song can make us think of a person, a moment or an emotion, a certain meal or dish has the same ability to trigger memories.
Ginger cookies, especially when eaten with blue cheese, will forever make me think of my friend Anna. In particular, they make me think of meeting her while we were both studying in Copenhagen and then being lucky enough to have her invite me to her apartment on the first Sunday of December to celebrate Advent. In the small room she rented, which I remember being next to a canal, she had set a table with an Advent wreath, mugs of
gløgg, a package of good English ginger stem cookies and a piece of blue cheese.
It was my first time celebrating Advent. Every few years a chocolate Advent calendar would find its way into my childhood; however, it was never something that was a fixed part of how my family celebrated Christmas. We might have had a wreath on our front door, but there was never a wreath inside cradling four candles. That first Sunday in December in Copenhagen with Anna was my first true experience of Advent. I remember how cozy her apartment felt, with its clean white walls and sleek Scandinavian design. I remember how our conversation, as always, felt inspiring and warm. And I remember how good those ginger cookies tasted with blue cheese.
Here were two things that I loved and ate regularly coming together to unite forces and to unite tastes. The sweetness of the cookies and the subtle warmth from the ginger tamed the blue cheese. I have Anna to thank for introducing me to the magic that is ginger cookies with bleu. When I was living in Gothenburg, Anna came to visit for the weekend from Uppsala. At the time she was working at a cheese shop and in her weekend bag she had packed a small ceramic jar filled with a blend of two cheeses: a soft white cheese and a sharper blue. It was close to Christmas when she visited and once again I remember how inspiring our conversations were that weekend and how good those ginger cookies tasted with blue cheese. When I moved to Munich I brought that small ceramic jar with me. It sits on a shelf on my kitchen, next to some spices, and sometimes I fill it with small flowers. Other times it holds my wooden spoons.
I like that my kitchen isn't just where I cook but is also where I remember. It is where I keep those small things that remind me of faces and of places. On that same shelf are salt and pepper shakers that my grandparents used to set on the table and they remind me of adding one last sprinkle of salt or pepper to a big pot of one of my Poppy's beef stews. On the counter is a tray my friend Ola made that reminds me of Whose Museum and that makes me miss my friends in Gothenburg. On the wall hangs a felt mushroom my aunt gave me one year that makes me think of the beautiful windows in her old apartment building and how she fills them with glass and felt ornaments each December.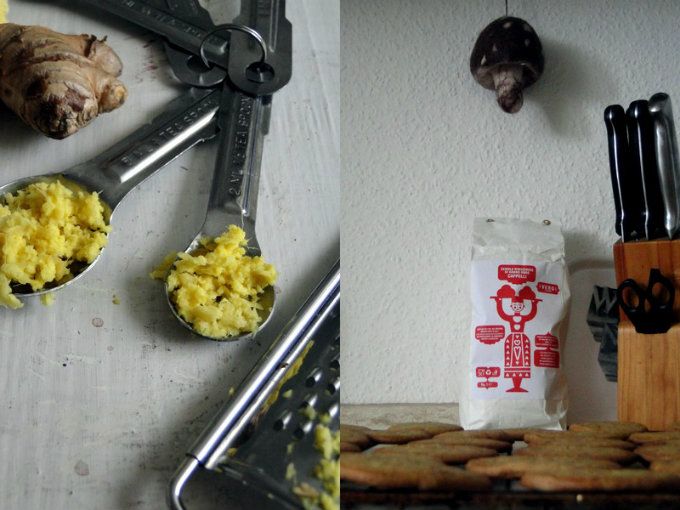 In one of my drawers I keep a cheese slicer with a wooden handle. My Dad has two so he gave me one to bring back to Germany. He doesn't have much of a sweet tooth, but he loves dessert as it gives him an opportunity to eat good cheese. Most meals I've shared with him end with a few slices of good aged cheddar. I'm certain that he, too, would enjoy ginger cookies with blue cheese.
Christmas is only a few days away. If you don't have time to make these triple ginger cookies - made with ground ginger, fresh ginger and crystallized ginger - before you find your stocking already stuffed, do not worry. Ginger cookies taste good all year round and ginger cookies with blue cheese taste even better the whole year round.
Ginger cookies are traditionally made with molasses. Because I'm Canadian and using ample amounts of maple syrup is often one of the few ways with which I express my national identity, I used maple syrup instead of molasses. Call it my Canadian interpretation of an English classic if you wish.
And about that blue cheese, go with whatever type you like best. Sometimes I'm in the mood for a softer and milder blue, such as gorgonzola dolce. Other times all I want is a strong roquefort. If blue cheese isn't your thing, try the cookies with a good aged cheddar instead. However, ginger cookies might be a good assistant in getting you to give blue cheese another (or even first) try.
makes about 40-50 cookies
2 cups (280 g) unbleached all purpose flour
1/2 tsp ground black pepper
11 tbsp (150 g) unsalted butter
2/3 cup (130 g) unrefined sugar
1/4 cup (80 g) maple syrup
1 large egg, at room temperature
1 1/2 tsp fresh ginger, peeled and finely grated
1/3 cup crystallized ginger, finely minced
1 tbsp or so of large-grain sugar for sprinkling
Using either an electric mixture on low speed, or a fork and a strong wrist, mix the butter until creamed. Once creamed, add the sugar and mix until well combined. Beat in the egg, maple syrup and fresh ginger.
In another mixing bowl combine the flour, baking soda, salt, ground ginger, black pepper, and ground cinnamon.
Add the flour mixture to the butter and sugar, along with the crystallized ginger, and mix until the mixture holds together.
Flour a clean work surface, plop the dough on top and knead until the cookie dough comes together into a ball. Divide the dough into two. Shape each piece into a log that is about 2 inches wide. Wrap each log in plastic wrap (and continue to shape if necessary) and refrigerate or freeze for at least 30 minute. The dough can be refrigerated for up to 5 days and kept in the freezer for up to 3 months.
When ready to bake, preheat the oven to 350F / 180C / gas mark 4. Line a cookie sheet or two with parchment paper.
Remove the cookie dough from the fridge or freezer and use a sharp knife to slice the dough into about 1 cm or 1/4 of an inch rounds. Place the cookies onto the cookie sheets so that they have a couple of inches between them as they will spread while baking. Sprinkle the coarse sugar on top of each cookie.
Bake for 10-14 minutes. Rotate the cookie sheet midway through baking to ensure that they bake evenly. Depending on your oven, 10 minutes will yield chewier cookies and 14 will yield snappier ones. While baking, the cookies puff up and then settle down once they are almost baked through.
Remove the cookie sheets from the oven. Let the cookies rest for a couple of minutes on the sheets and then transfer them to a cooling rack.
Store the cookies in an airtight container for a couple of days.
And please, please serve these ginger cookies with blue cheese! If you aren't into bleu, then serve them with a sharp cheddar instead.
* * * *
Happy Holidays, Merry Christmas and, as always, Guten Appetit!