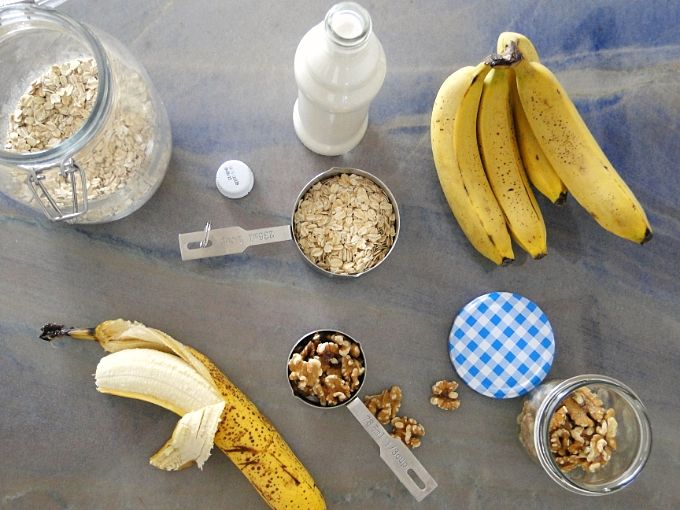 I admit that Sunday evening is probably not the best time to tell you about these pancakes. I also admit that my little corner of the web is becoming rather pancake heavy with 1, 2, 3 and, now, 4 pancake recipes. So my fondness for pancakes is obvious, but I'm guessing that you too are probably okay with more pancake talk. But like those blue corn pancakes that I last shared, these pancakes are rather special.
Banana Bread Pancakes aren't your regular diner pancakes. Like their name suggests, they borrow their flavour from banana bread. They're probably unlike most pancakes that you've seen at the breakfast table. They are rather thin, but you won't miss any fluffiness. They are more comparable to the top of a muffin (and if Seinfeld taught us anything it is that the top is the most beloved part of the muffin) than to those buttermilk pancakes that you know so well. They are gluten-free and yet they won't make you miss regular wheat flour. They are vegan and yet they won't make you miss either eggs or milk. And even if they weren't, I wouldn't mind. They make a weekday taste like a weekend. In other words, even though tomorrow morning is Monday these pancakes are worth setting your alarm an extra half an hour earlier for.
I have one more pancake confession: I've been keeping these pancakes from you for a while now and for that I'm sorry. I've been greedy. I've probably made these a dozen times the past month. I've even made them for dinner and not because there wasn't anything else in my fridge to cook up, but only because I couldn't get them out of my head. It is just that each time I made them I was far too busy gobbling them up to reach for my camera. However, once you make them yourself I'm sure that you'll understand. You too will be too occupied with eating any crumbs leftover in the frying pan to even think about photography.
Like many of my favourite recipes, this one comes from My New Roots. In my book, no one is able to combine deliciousness and healthiness quite as well as Sarah B. Sarah suggests keeping the pancakes warm in an oven heated at low heat while frying up the other batches. In addition to keeping the pancakes warm, she claims that the oven helps to cook the middle which is sometimes left rather moist from the pan. However, I'm more of a pancake to plate kind of gal. Also, if I've been too occupied to pick up my camera each time I've made these (until today, lucky you), then it is obvious that I've also been too hypnotized by the first nutty bite to bother turning on my oven.
Banana Bread Pancakes
from My New Roots
serves 2
ingredients
2/3 cup rolled oats
1/3 cup walnuts
1 tsp baking soda
pinch sea salt
1 ripe banana
1 tsp vanilla extract
1 tsp olive oil
2/3 cup almond milk (or milk of your choice)
2 tsp maple syrup
virgin olive oil, coconut oil, ghee, or butter for the pan
for serving
sliced banana
chopped walnuts
shaved dark chocolate
In a blender of food processor, pulse the oats until you get a shaggy flour. Add the walnuts and continue to pulse until they mix with the ground oats. Do not over process. It is okay if you have a few whole oats here and there; they will only add to the texture. In a medium sized bowl, mix the walnut and oat flour with the baking soda and salt.
Add the banana, vanilla, olive oil, almond milk and maple syrup in the blender or food processor and pulse until everything is well mixed. Alternatively, you can do this by hand. Add the wet ingredients to the dry ingredients and stir until just combined. Let the batter sit for 30 minutes.*
In a skillet heat the olive oil or oil of your choice over medium heat. Spoon a few spoonfuls of batter into the pan to make 4 pancakes (make sure that they are small as these pancakes spread a fair deal) and then turn the heat down to low. They will take much longer to cook than regular pancakes. Once the top is opaque, flip and cook the other side until brown and rather crispy. Remove from the pan, serve, and then cook up the next batch.
Serve right away with slices of banana and some chopped walnuts. If you're craving chocolate, add a few shavings of dark chocolate for good measure.
* If you mix the wet ingredients by hand the batter doesn't need to sit for quite as long. However, if you use a food processor or blender the wet ingredients will resemble a smoothie and be much more fluid, thus requiring the 30 minutes.
Guten!