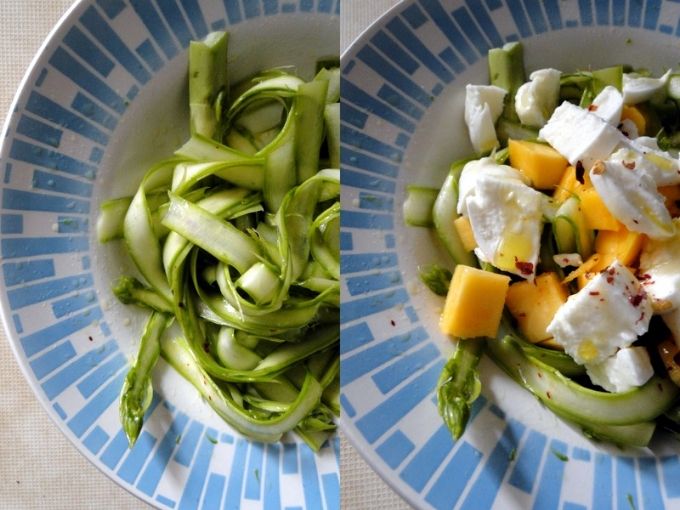 It has been a busy couple of weeks and the next few are going to be even busier. In other words, I've been living on smoothies, salads, and essentially anything that travels well in a glass jar. That pretty much sums up my days. My dinners have been a bit more exciting, but when it comes to lunch salad it is.
Most of these salads have been without leafy greens. Life is just easier if you don't have to worry about how soggy your salad greens are going to be by the time you eat lunch, or if that little container of dressing will make it through that bumpy bike ride to work (I once soaked an entire backpack with a salad dressing of tamari and honey: I know what I'm talking about). Also, it is pretty fun to think about how anything can become a salad. Anything.
It is easy to get into a steady routine of replacing salad greens with quinoa or millet or rice, but even that routine is worth breaking out of. Generally I've been avoiding tomatoes (unless they are roasted slowly in the oven for hours and hours) so that I can refrigerate my salads without their flavors getting a severe case of vegetable frostbite/tastelessness.
One memorable combination I had this week (that I plan to repeat) was fennel marinated in lemon juice and olive oil overnight, and mixed with pear, parmesan, slivered almonds and lots of black pepper. Another one had chickpeas, mango, avocado, a chipotle dressing and red pepper. Yes, being busy is no excuse for me to not eat well.
But my favourite salad has been with thin ribbons of green asparagus, chunks of juicy Alphonso mango and creamy buffalo mozzarella. It, folks, is a winner. Luckily asparagus season and Alphonso mango season overlap. Nature is kind. And spring is perhaps even kinder.
Please, please, please use buffalo mozzarella. The real stuff. It is more expensive, that I will not deny, but it makes all the difference in the world. Seriously.
Last year when I was in Naples I wandered further south and away from the coast in Campania to visit the home of buffalo mozzarella. After leaving the highway, it was as if each country road led to a buffalo farm. I even saw buffalo getting massaged by bright yellow machines. It kind of felt like utopia both for the buffalo and for cheese enthusiasts (something I would identify as).
I've always taken cheese seriously, but this road trip taught me that I hadn't been taking buffalo mozzarella seriously enough. The buffalo yogurt was creamier than I knew yogurt could be and the buffalo mozzarella was so fresh that it too tasted closer to rich and decadent yogurt than most cheese that passes as mozzarella elsewhere. I ate it only a few minutes after it was made. The cheese shops in this area all seem to have a large sink of water that links the store counter to the backroom so that someone can plunk a fresh ball of mozzarella into the water to then have the next person grab it and sell it to a very lucky person who can eat it right away. I really mean right away. We can't all be that lucky all the time, but we can get by in the meantime by eating the best buffalo mozzarella we can find close to home.
If you make this salad ahead of time and let it hang out in the fridge to stay fresh, make sure to bring it back to room temperature before eating it. Also, this recipe (or formula, I should probably say) easily doubles and triples et cetera.
Asparagus, Mango and Buffalo Mozzarella Salad
2 tbsp cold pressed extra virgin olive oil, plus an extra drizzle
1/2 Alphonso mango (or a whole one depending on the size)
1/2 ball of Buffalo mozzarella
Wash and dry asparagus. With a vegetable peeler, peel each stalk of asparagus into long, thin ribbons, from one end to the other. The better your peeler the easier this is!
Place the asparagus ribbons in a bowl and dress with olive oil, lemon juice, salt and chili. Toss well so all of the asparagus is well coated in dressing and then leave for 30 minutes to marinate.
Slice the mango into cubes and then do the same with the mozzarella. Once the asparagus and the dressing have gotten intimate, add the mango and mozzarella. Toss well. Drizzle with a bit more olive oil, and season to taste with more salt or chili flakes.
Guten!