I was going to title this post Treating Vegetables Like Fruit as a follow-up to my recent post about exploring the savoury sides of that one vegetables that we often forget is a vegetables: rhubarb. However, on second thought, chopping or shredding a vegetable and baking it into a quick bread that is sweet is actually quite routine. Carrot cake. Zucchini Bread. Chocolate Beat Cake. Parsnip Bread. So even though we're adding rhubarb to cake we can still think of it as a vegetable.
Speaking of routine, this Rhubarb and Nut Bread has become part of my spring repertoire. I first made it three springs ago when I was living in Sweden and it inspired me to write about the dangers of baking cakes. Although I did share my experience of losing all self control when something wonderful comes out of the oven, I did not share the recipe for this quick bread. See: sharing a favourite baked good can sometimes be a real challenge. This year I'm finally sharing.
I've baked this bread every spring since which means that this year Rhubarb and Nut Bread and I are celebrating our third anniversary by - what else - chopping rhubarb, baking and then eating big pieces straight from the bread pan. This is my kind of coffee cake. It is subtly sweet but not achingly so. It has a minimal amount of sugar which means it is a worthy breakfast option, but it has enough sugar to give you an extra kick with your afternoon coffee or tea. It looks humble on the table, but the chunks of rhubarb pretty it up with some pink here and there. The walnuts - or whatever nuts you add - add some crunch and the oat topping keeps the texture of the bread interesting. Rhubarb and Nut Bread really has everything going for it.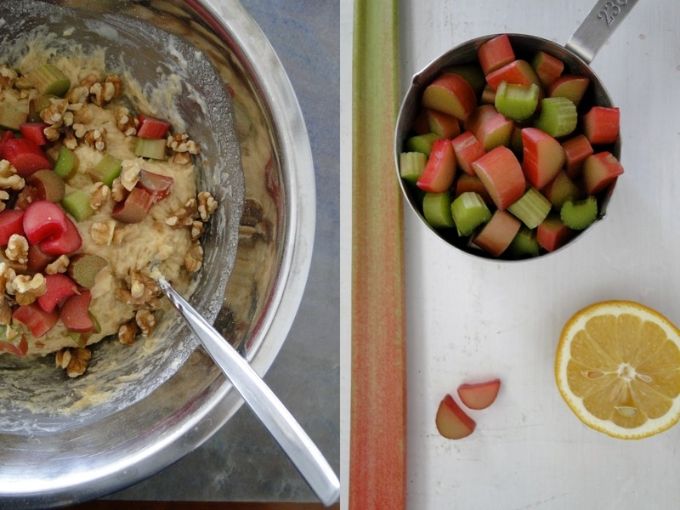 I've made this bread with walnuts, hazelnuts and almonds. I've liked all versions so much that I can't decide on a favourite so feel free to use your favourite nut or what you happen to have 1/4 cup of on hand. Other than the one egg, the recipe is almost vegan so if you want to make that almost into a definitely then substitute one chia or flax egg for the hen's egg. If you want to make that almost into a definitely not vegan, then feel free to use buttermilk instead of the almond "buttermilk" and butter instead of coconut oil.
The original recipe calls for orange zest, but I usuaaly opt for lemon instead. I always have lemons on hand and oranges not so much. Plus, the lemon adds a nice sour citrus tang that contrasts nicely with the brown sugar in the topping, but also picks up on the slight sourness of rhubarb. Okay, okay. You get that I'm crazy about this bread. Instead of merely describing it, I feel like the words above pretty much read like a love poem. I'll stop writing now, but only if you promise me to go make some this spring. Preferably today or tonight or the first chance you get. Don't worry. I won't tell anyone you've made it so you don't have to share if you rather not. Or just double the recipe, bake two loaves and keep one for yourself?
ingredients
topping
1/4 cup rolled oats
2 tbsp brown sugar
1 tsp fresh grated lemon zest
1 tbsp coconut oil, softened
batter
1 1/4 cups flour (I used light spelt, but I've also used whole wheat and AP)
1/2 tsp baking soda
1/2 tsp fine sea salt
1/2 cup unrefined brown sugar
1/4 cup coconut oil, softened
1 1/2 tsp fresh lemon juice
1/2 cup almond milk
1 egg (or 1 flax or chia egg)
1/2 tsp pure vanilla extract
1 cup (2 stalks) rhubarb, chopped
1/4 cup walnuts, toasted and chopped
Preheat the oven to 350 F / 180 C/ gas mark 4. Grease a loaf pan with coconut oil or use a silicon loaf pan.
In a measuring cup measure the almond milk and add the lemon juice. Set aside while you prepare the rest of the batter. The lemon juice will donate a buttermilk like taste to the almond milk.
Prepare the topping: in a small bowl mix together the brown sugar, rolled oats, lemon zest and coconut oil until combined. Set aside.
Mix together the flour, baking soda, and salt in a medium sized bowl and set aside.
In a large bowl cream together the sugar and coconut oil. Beat in the the egg and vanilla extract and then add the almond milk mixture. Mix until combined.
Gently fold in the flour mixture to the wet ingredients until just combined. Fold in the rhubarb and then the walnuts. Pour the batter into the prepared loaf pan and then sprinkle the topping mixture all over.
Bake for about 50-60 minutes or until a toothpick inserted in the centre comes out clean. Leave to cool in the pan for about 10 minutes and then transfer to a baking rack. Let cool completely before cutting (trust me, you don't want it to completely crumble apart). Store tightly wrapped in plastic wrap or in a container for a few days.
Guten!