By now we all know that rhubarb is a vegetable. We hear it spring after spring, year after year, but does that stop us from cooking it into jam or baking it into cake? Certainly not.
I haven't stopped treating rhubarb like a fruit, but the past few springs I have been embracing its vegetable side. I'm making baby steps and those baby steps have been with lentils and spices. My first rhubarb-as-vegetable act was making Mark Bittman's Lentil and Rhubarb Stew with Indian Spices. He was bang on with pairing rhubarb with spices. I mean rhubarb and vanilla is as classic as classic gets and vanilla is just a hop, skip and a jump away from cardamom and ginger. From there, it isn't that much further to cumin and turmeric. In the stew, the rhubarb melts right it and makes it's self feel at home. You might not even guess that it is there if you haven't been told.
Convinced about the lentil-rhubarb-spices trinity, this spring I've approached this combination slightly differently. Instead of making a stew, I made a salad. And then I ate it day after day. For someone who isn't always so thrilled about meals on repeat (with a few exceptions of course, mainly breakfast exceptions), I didn't complain.
Spring took a while to arrive in Germany and I hope that it doesn't plan to leave too soon. I don't mind waiting for summer if it means that I have a fair chance at making the most of rhubarb season. Produce that is just as home in sweet recipes as it is in savoury, such as rhubarb, is really the best kind of produce there is.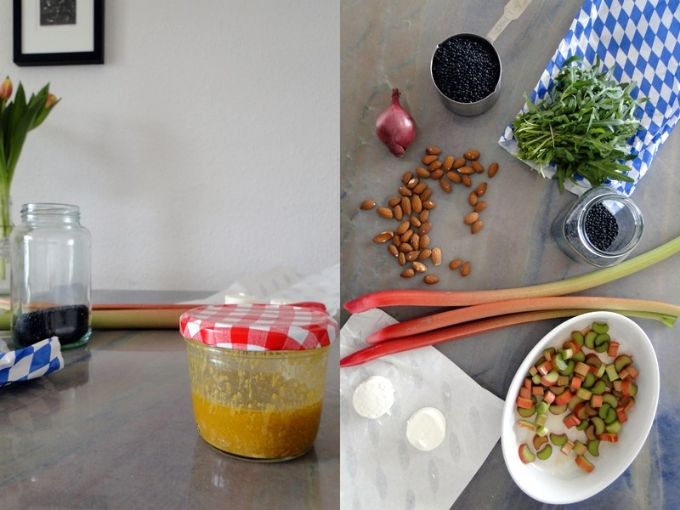 Black Lentil and Maple-Roasted Rhubarb Salad
ingredients
salad
1 cup black lentils
1 small red onion, thinly sliced
2 large rhubarb stalks, sliced into medium-to-thin chunks
arugula, a handful
1/3 cup almonds, coarsely chopped and toasted
1 tbsp maple syrup
goat cheese, to taste (I used two small rounds)
pinch of sea salt
vinaigrette
5 tbsp extra virgin olive oil
2 tbsp apple cider vinegar
1 tsp sea salt
black pepper
1/4 tsp cardamom
1/4 tsp cayenne
pinch of nutmeg
pinch of ginger
1/2 tsp cumin
1/4 tsp turmeric
1 tsp dijon mustard
Preheat oven to 200 C / 400 F / gas mark 6.
Wash and slice rhubarb into medium-to-thin chunks. Place in a baking dish, drizzle with 1 tbsp maple syrup and then toss well. Roast for about 10 minutes or until the rhubarb is soft but not mushy. Once soft, remove from the oven and let cool.
While the rhubarb is roasting, rinse lentils well and put in a pot with 2 cups of water. Bring to a boil, reduce heat to a simmer and cook for about 20 minutes. After 15 minutes check to see if the lentils are cooked. They should be al dente. Do not overcook!
While the lentils cook and the rhubarb cools, prepare the vinaigrette. Place all ingredients in a jam jar and give the jar a rockin' shake until everything is well combined. Set aside and then toast the almonds (or walnuts), wash and dry the arugula, slice the onion and let the goat cheese warm to room temperature.
Once the lentils are cooked, drain and then run them under cold water to stop the cooking process. Place in a bowl and add a pinch of salt. Add the vinaigrette and mix well until the lentils are well covered. Add the almonds, red onion, and rhubarb (with the pan juices). Season to taste and then toss with arugula and crumbled goat cheese. Serve.
If you want to make this salad ahead of time, just wait until serving to add the arugula. Everything else is fine to mingle, covered, in the fridge.
Guten!