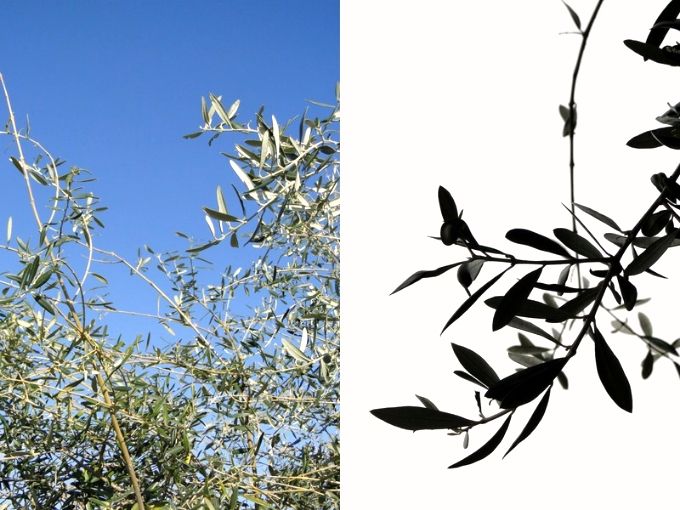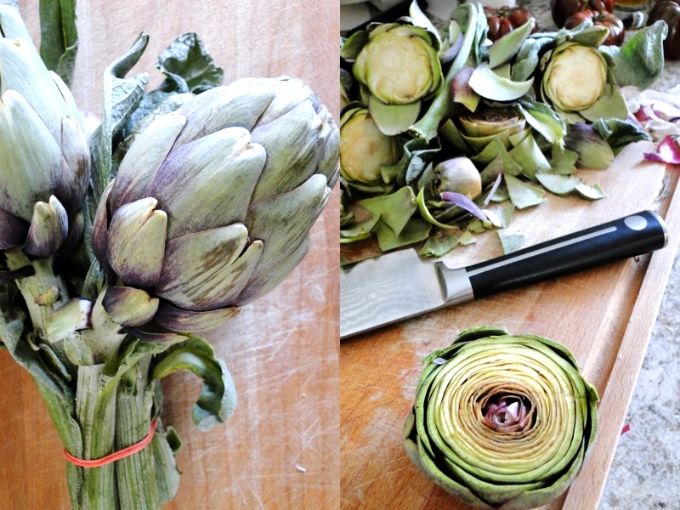 Even if you don't live to eat (and instead eat to live), it is more or less compulsory to be swept up by food when you travel to France. Even if you're don't devoutly praise the simplicity and brilliance of bread and cheese France might change that. Even if you claim you don't have a sweet tooth, a rainbow coloured macaroon can prove you wrong. Needless to say, it is a country that I find easy to feel at home in. In France good food is a way of structuring daily life. A local market can remind you what day of the week it is. A market where shop venders are packing up the rest of the artichokes and putting away bowls of olives can remind you what time of day it is. Food in France acts as a keeper of time. It signals the season, the day and the hour. And if you happen to lose track of the roads that you're driving on or the train stop you've gotten off at, food will always let you know where you are. The regional dishes of France are the only compass you'll need.
Although I always feel slightly at home in France - I speak the language, have adequate knowledge of yogurt flavours and cheese, and know how to keep my elbows up at the post office for when people, especially older women, try to bud me in line - my relationship to the country is of the classic love-hate variety. It is where I learned how to feel comfortable in my own skin, as well as how much some people will challenge that. It is where I learned to love, but also where I experienced what rock bottom feels like. Perhaps this is why it feels a bit like home. Even though I lived there for a rather short time, it feels like where I grew up and learned how to keep my elbows up. I associate the country with my youth-on-the-verge-of-adulthood. I associate it with learning how to really shop for vegetables and then how to cook those vegetables. With learning to sit down to eat a pain au chocolat as opposed to rushing my bites to be in synch with my feet. And, of course, with wine. I also learned that even rock bottom can better with a pain au chocolate and some red wine.
My experience with France is more emotional than it is geographical. The truth is that I know only small pockets of the country. It was my first time in Provence a few weeks ago. I expected olive oil - and very good olive oil - but it was still a surprise to see just how many olive trees there were. The region is as romantic and fertile as I imagined it to be. Bushes of rosemary grow on top of strong looking villages built on stone. Even the smallest of villages carry the basics of fresh oysters, cheese, honey and ros
é

.
From a good meal to a big city, Provence is a region where nothing is ever far away. You can stay in a small village and still end up city hopping, which is what we did. In addition to eating cheese at least twice a day everyday for a week (and drinking plenty of ros
é of course), we got a taste of some of Provence's well-worn towns and cities. Steak-frites in Vence on the way to the Matisse chapel.
Pizza at Chez Etienne in Marseille. Grapefruit gelato in St Tropez. Macaroons from La Dur
ée. Socca in Nice at Bar Rene Socca (well worth the epic wait in line). Then
vanilla and rose pepper ice cream at Fenocchio in Nice. And then an accidental four-course vegetarian lunch at La Zucca Magica, also in Nice (the best kind of lunch if you ask me).
In case you're not familiar with socca, it is a famous street food from Nice. A few years ago, recipes for socca were making their way across different blogs. I was living in Sweden at the time and had not yet traveled to Nice and so I made chickpea flour, mixed up a batter and made socca in my oven at home. It was good, but I didn't make it again. David Lebovitz warns that even though you can make socca at home the homemade version is comparable to baking S'Mores instead of making them over a campfire. Close, but not quite there. Now that I've been to Nice I entirely agree.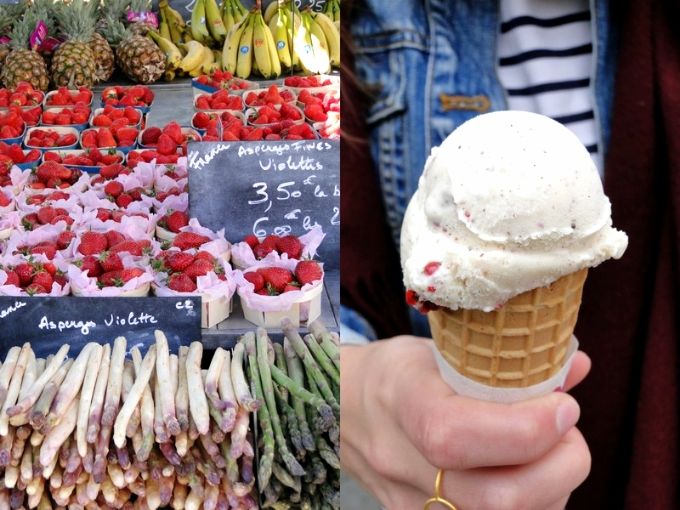 Related to the edible but not actually edible itself, a visit to Maison Empereur in Marseille is well, well worth it. You know what they say about feeling like a kid in a candy store. Well that is exactly how I feel seeing rooms full of wooden spoons and Le Creuset pots and pans.
In fact, I find that one of the greatest joys about traveling to France isn't eating out. It is shopping out and then eating in. My better half's family lives right at the German-French border and when we go home to visit we always try to make a trip over that border to go grocery shopping. The supermarkets in France alone are pretty spectacular, I think, but the fresh produce markets are so inspiring that they make it easy to write poetry with vegetables. Even simple meals at home in Provence sound like short poems. Lavender honey with yogurt each morning for breakfast. Radishes rolled in butter and sprinkled with sea salt. Artichoke ragout that makes even the toughest of thistles melt. Melon, cut in half and filled with port.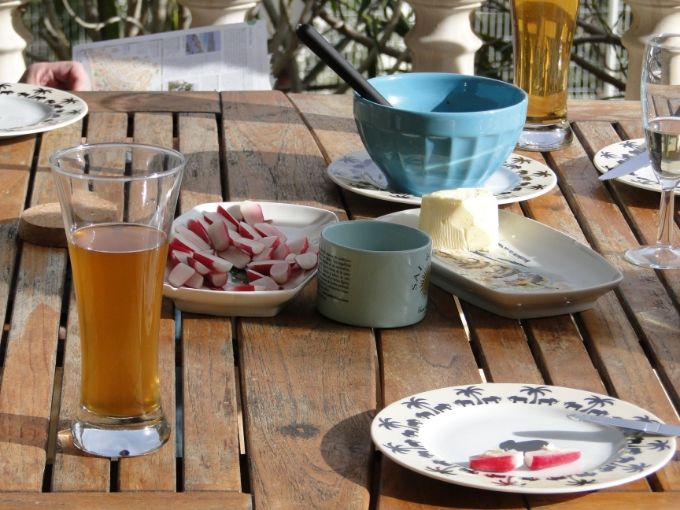 It was too early for lavender, but nonetheless the mere thought of fields and fields of purple inspired me. When I got back to Munich I bought a lavender plant that is now perking up my balcony. Its label even came with a recipe for lavender panna cotta. Yes please. When I make it, I promise to let you know if it tastes as dreamy as it sounds. Oh, Provence. Even without the lavender you made me swoon.