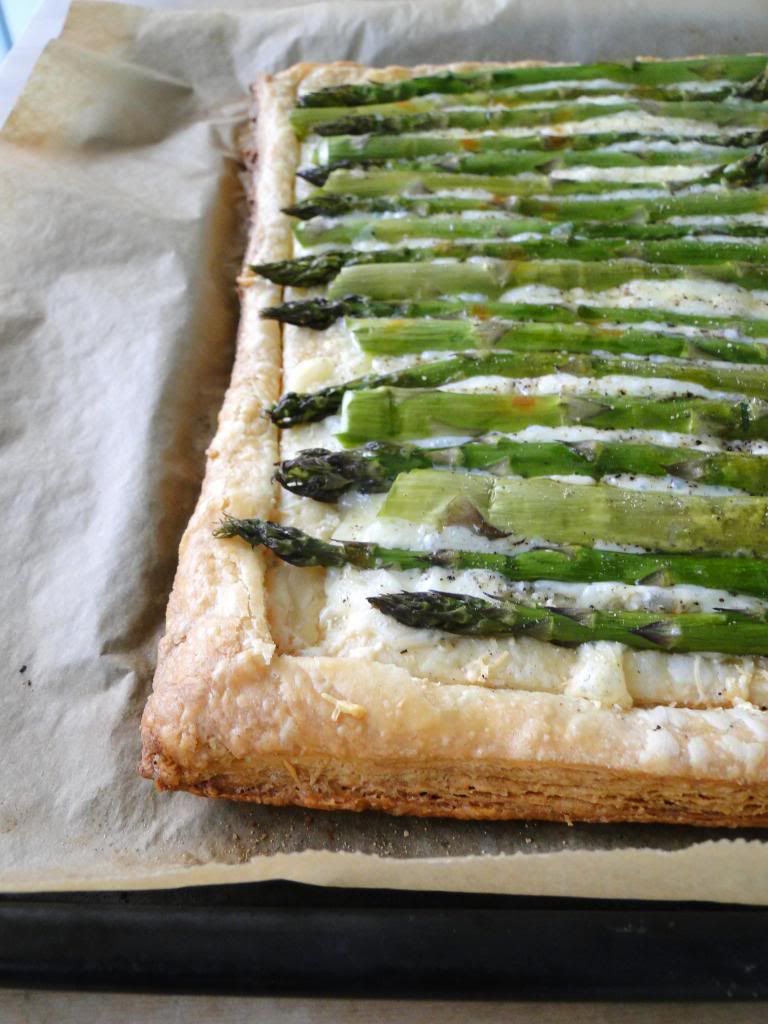 While it is still spring and not quite summer, let's talk one last time about asparagus. Asparagus has certainly been the star of my spring. This is because no matter how crazy the weather has been here in Bavaria, asparagus somehow seems right. It is just at home in a raw, ribbon salad on a hot day as it is in risotto (especially white asparagus risotto with saffron) on a day where winter makes a comeback. As a spring vegetable, it should be no wonder that it doesn't seem to mind the drama that sometimes comes with spring weather.
I've already told you about peeling green asparagus into skinny, long ribbons and tossing them in a salad with mango and mozzarella. I've also gone traditional by pairing simple boiled white asparagus with hollandaise sauce and then I broke tradition by make a vegan version of this creamy sauce. This asparagus and mountain cheese tart will be my last culinary ode to asparagus here on this blog this spring.
This tart is simple. I've made it with frozen puff pastry from the supermarket, as well as with homemade puff pastry. Both are good. Go with the former if you want a quick weekday meal and the latter if you want to serve it as an appetizer to friends at a long weekend night meal.
What really makes this tart worth repeating is the tabasco. Even if heat isn't your thing, add just a little bit of tabasco. Asparagus loves it. It is just the extra amount of flavour that makes this tart slightly different from usual cafe fare.
Asparagus and Mountain Cheese Tart
2 cups (about 240 grams) mountain cheese (I used a strong German mountain cheese), grated
1 1/2 pounds (680 grams) medium-thick, green asparagus
1 tbsp olive oil
sea salt
pepper
several drops of tabasco, to taste
1 puff pastry, frozen or fresh
Preheat oven to 400 F / 200 C / gas mark 6.
Place the puff pastry on a baking sheet with parchment paper. If you are using homemade puff pastry, on a lightly floured surface roll the pastry into a rectangle that is roughly 16 by 10 inches and then place on the parchment lined baking sheet. With a sharp knife, score the dough one inch from the edge all around to outline a rectangle. Use a knife to pierce the inside of the rectangle at half inch intervals.
Bake the pastry until golden, about 15 minutes.
While the pastry is in the oven, snap off the woody ends of the asparagus and wash well.
Remove the pastry from the oven and then spread the grated mountain cheese all over. Place the asparagus over the cheese, alternating between ends and tips up. Brush the asparagus with olive oil, add as many drops of tabasco as you wish and generously season with salt and pepper. Bake until the asparagus is tender, about 20-25 minutes.
Remove from the oven and serve with a few extra drops of tabasco if you please.
ingredients
2 cups (250 grams) flour (I used spelt)
1 tsp fine sea salt
2 sticks / 1 cup (250) grams room temperature butter
3/4 cup (150 ml) cold water
In a large bowl mix together the flour and salt. Break the butter into chunks as you add the butter to the flour. Using two knifes, a pastry cutter or your hands, combine until the butter chunks are the size of peas.
Make a well in the middle of the mixture and then add about 2/3 of the cold water. Mix well until you have a rough dough that is firm to the touch. If need be, add more water. Wrap the dough in plastic wrap and then place in the refrigerator for 20 minutes to rest.
Lightly flour a board or a clean counter-top. Knead the dough gently and shape it into a rectangle. Lightly flour a rolling pin and then roll the dough in one direction until it is about 3 times the width. Make sure to not overwork the dough as you want a marveled effect with the butter.
Fold one end to the centre of the dough and then the other so that the two overlap, turn the dough around and then roll the dough once again in one direction. Fold it again and then wrap the dough in plastic wrap and then place in the refrigerator for another 20 minutes to rest. Then your dough is ready to use.
Guten!