In June I found myself more often in restaurants than in my kitchen. With family and friends in town and the fact that we live on the fifth floor without an elevator, making a restaurant reservation was much easier than making dinner each night for a crowd.
It didn't take long until we had gone through our usual suspects when it comes to eating out in Munich, which means that we had to break out of our regular restaurant routine. This was a good thing. There were many hits and only one miss and, most importantly, there was the inspiration for a summer salad that I'm crazy about.
It was a Saturday night and my family and I headed to Buffet Kull Bar in the centre of Munich. It was my first time to this restaurant, but I was able to make a reservation for a large group on short notice for a weekend night (not always an easy feat in Munich). Plus, it belongs to a family of restaurants that includes some of my favourites, such as Bar Central for Italian, Emiko for great, great sushi and Riva for classic pizza.
Deciding on a restaurant that pleases different tastes and food philosophies plus different wallet sizes can be challenging, but we all left Buffet Kull Bar, full, satisfied and smiling. I perhaps had the biggest smile of all as I was still beaming from my appetizer: a bread and tomato salad that had thin slices of medjool dates and red onions soaked in balsamic vinegar. Delicious. With one bite, I immediately made a mental note to recreate this salad at home. Often.
A week later, I was soaking up summertime goodness by drinking Radler with friends in the Englischer Garten. We decided to carry on the summer good times by having dinner on my balcony. Buying groceries on the way home, I came up with an improvised meal for five and I decided to try my hands at recreating Buffet Kull Bar's salad. Although the roast chicken with peach salsa was good enough to lick one's fingers, this salad was the star of the dinner. Friends asked for the recipe and so I knew that I had a keeper.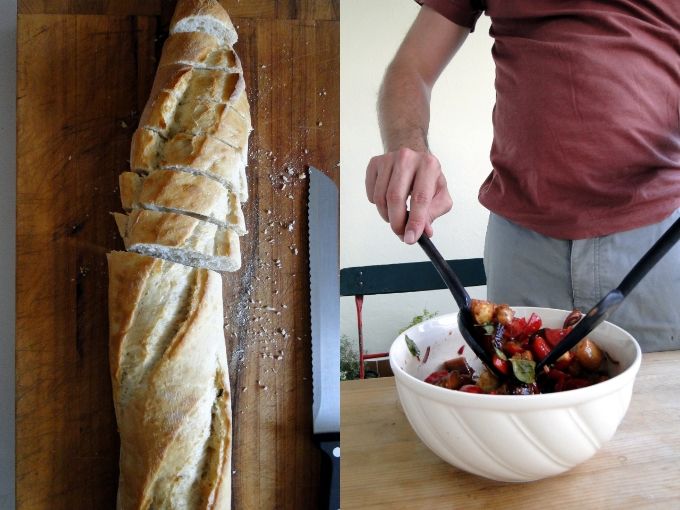 Although bread is a foundational part of this salad, it is different from the traditional Tuscan Panzanella. Panzanella is a salad of tomatoes, stale bread and onions. It is traditionally made with day old bread that is soaked in water, pressed to dry, and then dressed with vinegar and olive oil, and tossed with tomatoes, onions, and often basil. Instead of following this route, this date and tomato panzanella uses croutons instead.
Dressed with the usual olive oil and sea salt, the croutons become golden in the oven and crisp up, only to then slightly soften when added to the other ingredients. They still have their crunch in the salad, but also a softness from having absorbed the dressing and tomato juices. Trust me, this salad is as good as it sounds. For this reason, it is best to let the salad sit and mingle for a bit before serving it.
I often use apple cider or red wine vinegar, or just simple lemon juice for salad dressings, but in this salad the balsamic vinegar is an absolute must. It adds a very important flavour. You know how balsamic and strawberries are an unbeatable match? Well, the dates are just as sweet as ripe strawberries and are an equally good match with balsamic. You soak thin slices of red onion in balsamic vinegar and so when you're eating the salad you get a bite of onion that tastes rich and sour and then a chunk of sweet date.
The first time I made this salad, I didn't measure a thing. I just went with how things tasted and I recommend that you do the same. The measurements here are to just give you an idea. You want croutons that are about the same size or a little bit bigger than the pieces of tomato, so keep this in mind when you are chopping both. I made this salad again for dinner last night and below are the measurements I used. It as just as good the second time around.
There is no room in this salad for sad ingredients to hide, so make sure you use the best tomatoes and the best bread et cetera that you can find.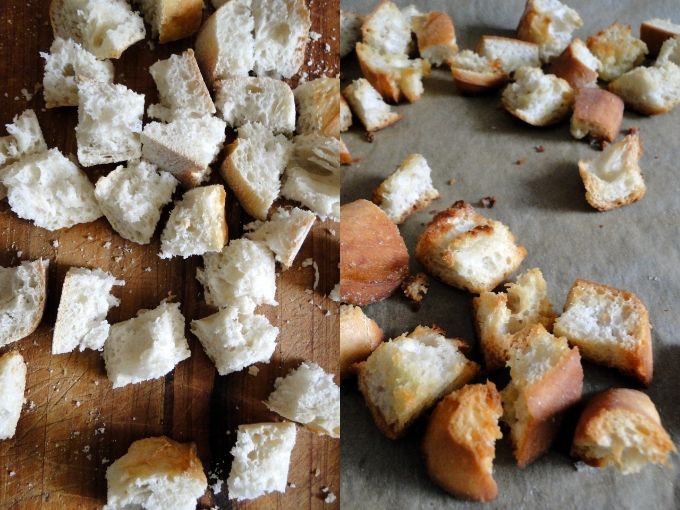 Date and Tomato Panzanella
inspired by Buffet Kull Bar
serves 4 as a side, or 2 as a main when it is so hot that all you want for dinner is salad
ingredients
1/2 small red onion, very thinly sliced
3 tbsp balsamic vinegar
roughly 1/3 of a baguette, preferably a day old
2 cups date tomatoes (or cherry), quartered
3-4 medjool dates, cut in half and sliced
5 tbsp extra virgin olive oil + 1 tbsp for the croutons
coarse sea salt
basil to taste, torn
Begin by thinly slicing half a red onion. Place the onion in a small bowl and pour the balsamic vinegar on top. Give it a good stir and then set it aside for at least half an hour. Soaking the onion in the vinegar softens it up and lends it great balsamic flavour.
While the onion is soaking, preheat the oven to 400 F / 200 C / gas mark 6. Cut 1/3 of the baguette into slices that are roughly an inch thick and then cut each slice into chunky pieces. You want the croutons to be on the bigger side as opposed to small, but still bite size. In a bowl, toss the pieces of bread and 1 tbsp of olive oil and a good pinch of sea salt. Transfer to a baking sheet and bake until golden brown, about 12-14 minutes. Remove the baking sheet from the oven and set aside to cool.
In the meantime, cut the tomatoes into quarters (or halves if they are on the smaller side) and place in a large salad bowl. Remove the pits from the medjool dates, cut each date in half and then into slices. Add to the tomatoes. Once the croutons have cooled, add them as well. Use a fork to fish out the onions from the balsamic vinegar and add them. Then add 2-3 tbsp of the reserved balsamic vinegar from the onions, to taste, and then the olive oil, basil, and a very generous pinch of salt. Toss well and then season to taste.
Let the salad sit for at least 10-15 minutes before serving. It needs time for the flavours to mingle and for the croutons to absorb the dressing.
Guten!