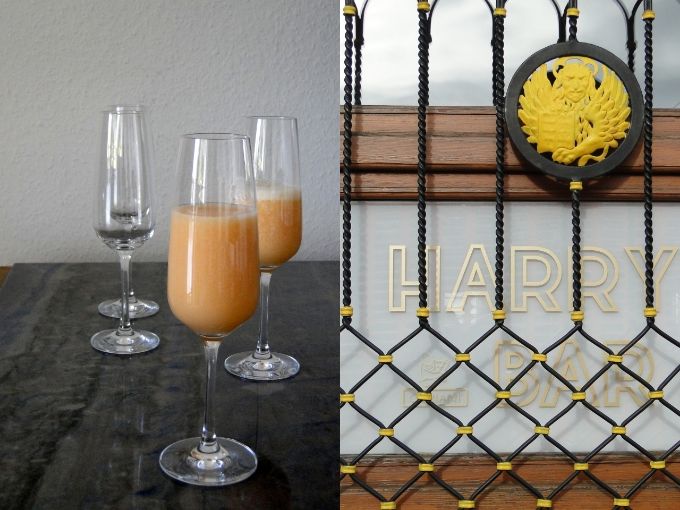 When I was a kid, I devoured books with just as a voracious appetite as I did strawberries, and birthday cake and all things sweet. For a while, I was particularly into poetry. I had countless notebooks that I used as a place to play with words, trying to be a poet myself.
One poem that I particularly remember from my childhood is short and sweet. My aunt, one of the best pals, and I were living in different cities and we would often write each other letters. I'm not sure if it was in a letter sent by post, or merely on a piece of paper that was passed from her hand to mine, but she shared with me a poem by William Carlos Williams.
by William Carlos Williams
and so cold
And although this poem is certainly about plums, it reminds me of drinking a Bellini. This Venetian-born drink, simply prosecco and white peach puree, is so sweet and so cold in just the way that Mr. Williams describes.
Two of Venice's famous dishes both come from Harry's Bar and both were
christened with the names of legendary Venetian painters

Thin slices of raw meet are named after Vittore Carpaccio. The inventor of this dish was reminded of the vibrant reds contrasted with bright whites of his paintings when piling slices of raw beef on a dish. Similarly, this peach and prosecco long drink was named after Carpaccio's teacher: Giovanni Bellini.
It does seem somewhat strange to use the word invent when it comes to a long drink that has four ingredients at most: white peaches; lemon juice; sugar; and, prosecco. Nonetheless, the Bellini comes from the legendary Harry's Bar in Venice and its first owner, Giuseppe Cipriani, is responsible for institutionalizing (if not first mixing) white peach puree and prosecco.
As tempted as I was to try a Bellini in it's own home, I never did. I walked by Harry's Bar and contemplated how it would taste, but the 16 euro price tag for a single drink kept me away.
However, making Bellini at home is as simple as its ingredients. You might be avoiding your oven in these hot temperatures, but I'm quite certain that you aren't avoiding your blender. To make Bellini you do require your stove, but just shortly. You have to dunk the peaches into a pot of boiling water and then remove their skins. I promise that it is just a few minutes at the stove and that the first sip of a cold Bellini will make it well worth it.
But because it is summer, let's say no to any extra work. If you really want, you can strain the peach puree before mixing it with the prosecco. I've strained and I've not strained and, honestly, I didn't notice a difference. Because in summer shortcuts and simplicity rule, I say don't strain. Boiling a pot of water alone is enough.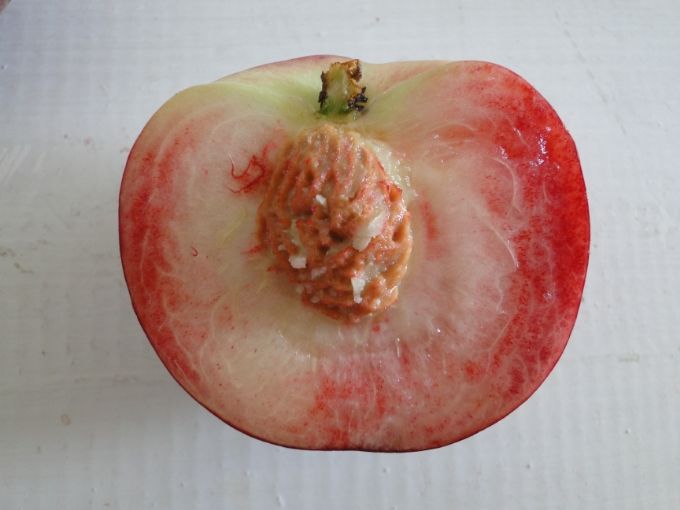 Bellini
adapted from Bon Appetit
ingredients
1 1/2 pounds (680 g) very ripe white peaches (about 6)
2 tbsp fresh lemon juice, and then maybe a tad more to taste
1 tbsp white sugar, and then also maybe a tad more to taste
1 750 ml bottle of prosecco, chilled
Bring a large pot of water to a boil. Use a pairing knife to cut an x at the bottom of each peach. Once the water is boiling, add the peaches for about 30-40 seconds, or until the skins begin to peel back. Use a slotted spoon to remove the peaches and then put them in a bowl of cold water with ice. Once the peaches are cool enough to handle, peel them.
Cut each peach in half and discard the pits. Place the peaches, lemon juice and sugar in a blender, shake well to combine, cover the blender with a lid and then place in the refrigerator for 20 minutes to chill (and to tempt William Carlos Williams, of course).
Remove the blender from the fridge and the blend until completely smooth. Taste the puree and add more lemon juice or sugar to taste.
Transfer the puree to a large pitcher (or simply keep it in the blender if your blender is big enough) and slowly add the prosecco. As you pour, stir gently as this will help the prosecco from foaming up.
Pour Bellini into Champagne glasses and serve immediately.
Salute and Happy Weekend!
I have eaten the plums that were in the icebox and which you were probably saving for breakfast Forgive me they were delicious so sweet and so cold - See more at: http://www.poets.org/viewmedia.php/prmMID/15535#sthash.JxWtkokA.dpuf
I have eaten the plums that were in the icebox and which you were probably saving for breakfast Forgive me they were delicious so sweet and so cold - See more at: http://www.poets.org/viewmedia.php/prmMID/15535#sthash.JxWtkokA.dpuf
I have eaten the plums that were in the icebox and which you were probably saving for breakfast Forgive me they were delicious so sweet and so cold - See more at: http://www.poets.org/viewmedia.php/prmMID/15535#sthash.JxWtkokA.dpu