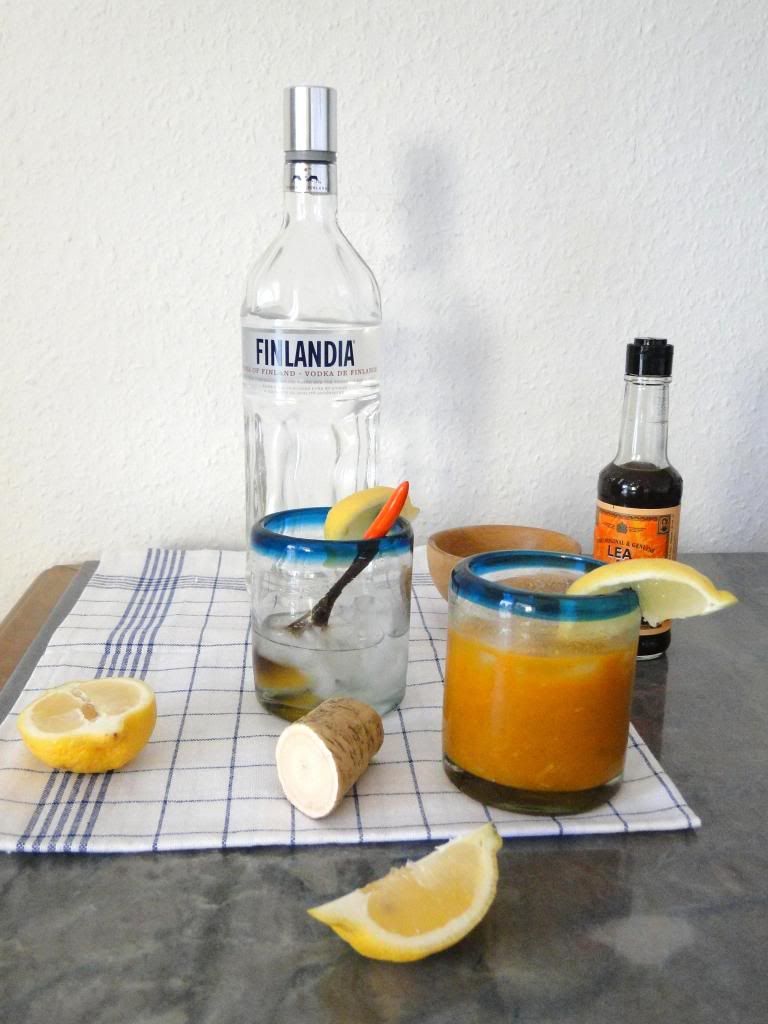 We've reached that time of year when our ovens are getting their grooves back. It is still warm enough to drink smoothies for breakfast (ones with late summer berries and crisp autumn apples), but cool enough to end the day with slowly cooked roasts and full bodied red wine.
In a recent article in the New York Times, Mark Bittman describes this time of year as the best time to cook. He describes this time - the period between Labor Day and Thanksgiving - as "warm enough to grill and cool enough to braise, with the farmers' markets still an absolute paradigm of abundance. Take advantage: in a few months, there may be little more than root vegetables, apple cider and hand-dyed yarn." I couldn't agree more. Going to the market this time of year involves serious restraint. Everything, from the wild mushrooms and game to the sweetest of plums and figs, looks good. And it all calls out my name. This is the time of year I miss most come March and the sheer sight of another damn turnip or beet makes me want to scream. In other words, cook up friends. The timing couldn't be better.
Sarah recently wrote about the perception of seasonality. She addresses our habit of using binaries and making the end of summer and beginning of autumn seem black and white. We talk about seasons as if one day we have plums and the next day we have pumpkins, but really we should be celebrating the period of transition between seasons, that period in which we have both. And that time is now. So why not make a Bloody Mary with fresh tomato juice to celebrate? You can have it before a dinner of grilled summer vegetables or braised cabbage or roasted root vegetables. After all, 'tis the season.
I've never been too into cocktails. I'm much more a beer or wine kind of gal. I fancy a gin and tonic now and then and, of course, a bellini in the summertime and spritz cynar in all seasons, but I'm not usually one to take out the cocktail shaker and have lots of ice cubes in my freezer. However, when it comes to cocktails a Blood Mary is my exception. This is probably because a) it doesn't involve a cocktail shaker, b) it is all about spices and not sugar, and c) it tastes really, really right with potato chips (and I love potato chips).
When I was on vacation in Latvia some years ago, it didn't take me long to realize how cheap cocktails were. Therefore, it didn't take me very long to make it a habit of ordering a Bloody Mary at the beginning of each meal. I even had a running count in my journal of how many Bloody Marys I drank on that trip. Let's just say that I really enjoyed my time in Latvia. However, it wasn't actually until years later when I was in Goa that I first tasted a Bloody Mary made with fresh tomato juice. It was nearly a mistake. Up at a restaurant overlooking the beach, my order was met with the confession that there was no more tomato juice. "I'm sorry," the bartender said. "However, if you want I could make one with fresh tomato juice if that's okay." It was obviously more than okay with me.
Similar to how canned tomatoes are good and reliable, so is tomato juice. However, when tomatoes are in season, nothing beats fresh. Store bought tomato juice is more than fine for a Bloody Mary, but let's celebrate the transition from summer to fall by using fresh tomatoes to make perhaps the best Bloody Mary that you can ever have. It is a big claim, but fresh in-season tomatoes never disappoint.
This recipe roasts the tomatoes slowly. If you prefer raw tomato juice, just throw the tomatoes as they are into a blender and continue from there. However, the roasting does add some extra flavour so why not try both as long as tomatoes are still in season? Same goes with colour. Red tomatoes are obviously the standard, but as long as you have a variety of colours at the market why not go for yellow or orange? It makes an old standard look new again.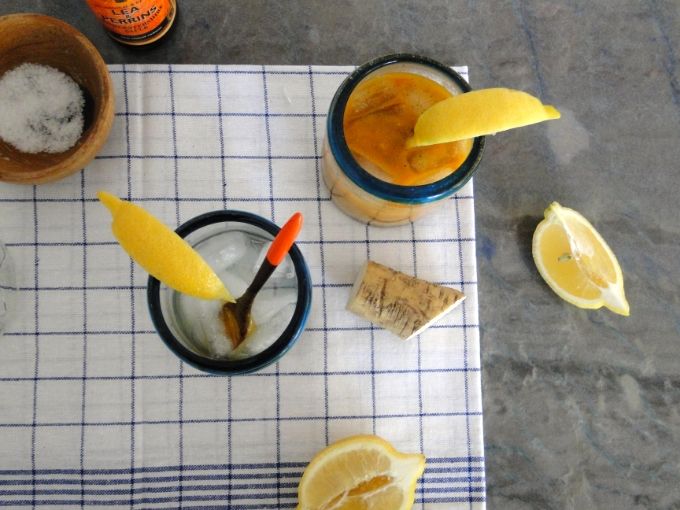 9 tomatoes (I used orange ones)
generous pinch of sea salt
1 tbsp Worcestershire sauce
3 tbsp freshly grated horseradish
2 lemon wedges for serving
a few drops of tabasco sauce, optional
Preheat the oven to 300 F / 150 C / gas mark 2. Place baking paper on a large baking tray. Wash tomatoes well and cut them in half. If they are egg shaped and large, cut them into three or four pieces. Place them cut side up on the baking tray and drizzle them with the olive oil and sea salt. Place in the oven and roast for about 1 hour and 30 minutes.
Let the tomatoes cool slightly and then place them in a blender. Blend until completely pureed. Strain and pour into a jug and save what the strainer collects for tomato sauce, chicken parmesan or to add to a stew.
Add the lemon juice, garam masala, celery salt, cayenne pepper, Worcestershire sauce, and horseradish to the jug of tomato juice and mix well with a spoon. Taste and add salt and pepper accordingly.
Fill two glasses with ice. Pour a shot (1.5 ounces) of vodka in each glass and then divide the Bloody Mary mix amongst the two glasses. Stir well and serve with a wedge of lemon. Top with a drop or two of tabasco if you please (I always please) and some extra celery salt and pepper.
Guten!
Read more...