When I booked my flight to Seoul earlier this summer I realized that I would be missing all of August in Europe. The pulsing metropolis more than made up for it, but when I first wrote the dates into my calendar I couldn't help but feel sad about the food that I would be missing: tomatoes; corn; and most regretfully, plums. Clearly my relationship with cooking has gotten serious beyond return. Before it was so easy for me to book a flight and not think twice about on what day or in what season I would be flying. Booking flights still comes pretty easily to me, but now I can't help but think about what I'll be missing in my small balcony garden and at the farmers' market. I guess this is what they call putting down roots.
Luckily, produce knows seasons better than it knows months. My reunion with my local markets this Saturday made it clear that I didn't miss any of late summer's jewels. They were waiting for me; however, my time to use them is short. I'm up to the challenge - this past week I've been sauteing corn, eating tomatoes like the fruit they are (that is like apples), and roasting plums.
I grew up eating plums with great enthusiasm. Red plums, black plums, and yellow plums. However, it wasn't until I moved to Europe that I discovered that the sweetest plums are green: Reine Claudes plums. They are the medjool dates of plums. They are a convincing argument that fruit is the best candy there is. So sweet and so tender, Reine Claudes are plums at their finest.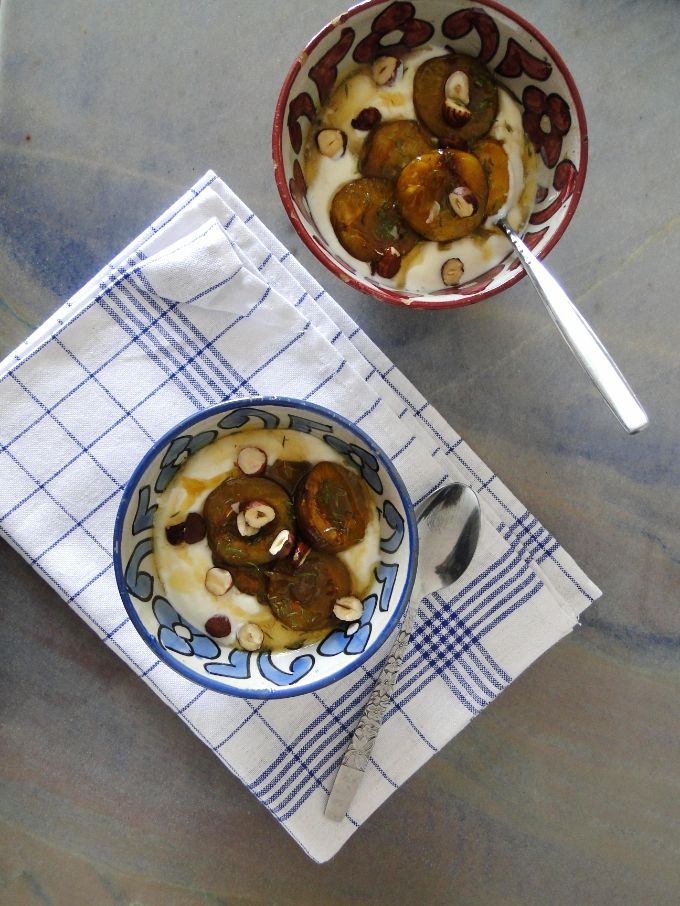 Come plum season, I normally just eat Reine Claudes as they are. Coming from France, they have a larger price tag than the prune plums that firmly reign over Germany. They're also so naturally sweet that they don't need sugar or butter or flour to make them more appealing. This makes them the ultimate sweet snack. Quite frankly, I would have difficulty making a tart or pie with Reine Claudes and that is simply because I doubt that I could resist eating them raw, meaning by the time I've chilled the pie dough there probably won't be enough left for the filling.
However, roasting them is another topic. You can simply roast as many or as few as you wish, with no pressure to fill a certain quota for a pie or tart. Since roasting concentrates flavours, it brings out the best in pretty much most produce. Reine Claudes are no exception. And although nothing beats these green plums in their raw and untouched form, roasting Reine Claudes is a close match, especially when thyme, maple syrup, olive oil, and sea salt are involved.
This recipe (if you can even call it that) is as simple as they come. You can of course use other plums (which I've done too), but I highly recommend the green plums with the royal name. The plums are irresistible, making them best served right away. However, you can also make a large batch, store them in the fridge, and use them to make anything from oatmeal to granola and from yogurt (as pictured) to ice cream all the happier. Call it breakfast, a snack, or dessert.
Regarding the cooking time, I like to roast my plums until they are juicy and tender but are not yet collapsing completely. I like it when they keep their shape so that you can easily lift one with a fork, but then when you pierce a plum with said fork the juices ooze effortlessly and yield great temptation.
Roasted Plums with Thyme and Maple Syrup
ingredients
6 Reine Claudes plums
1/2 tbsp dried thyme (or 1tbsp fresh)
1 tbsp olive oil
1 tbsp maple syrup
pinch of sea salt
Preheat the oven to 350F / 176 C / gas mark 4.
Wash the plums, cut them in halves, and remove the pits. Place them cut side up in a baking dish. Drizzle the olive oil and maple syrup on top and evenly sprinkle the thyme and sea salt over the plums.
Place the dish in the oven and roast for 15-17 minutes, or until the plums are tender, the juices run off and bubble slightly.
Serve immediately over yogurt (with a few toasted hazelnuts), vanilla ice cream, granola, oatmeal, or just as is. Store leftovers in an airtight container in the refrigerator for a couple of days.
Guten!