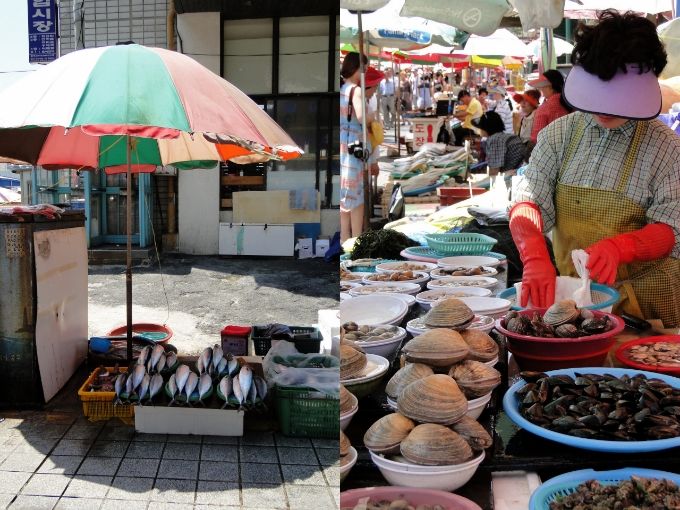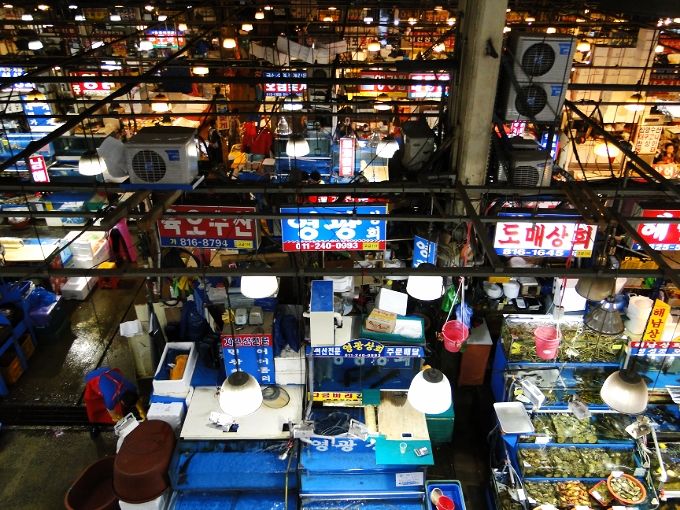 I only spent one night in Busan, but it was enough to really taste the city with the world's fifth largest port. Food is obviously one of the biggest attractions for me when I'm traveling, and street food in specific. Perhaps this is because I grew up in Toronto where street food isn't much more than a hot dog with relish. Sure, food trucks have tried to revolutionize that, but - excuse me for being old fashioned here - food trucks are food trucks and street food is street food. They just aren't the same.
Busan knows street food, which is part of why I warmed to the city in such a short time. That one night we wandered around and we ate. Close to the colossal fish market are alleys and alleys filled with food stalls. Dumplings and french fries, fruit smoothies and steamed dough curling around sticks dipped in soy sauce, sweet and fatty hoddeok, freshly rolled gimbap.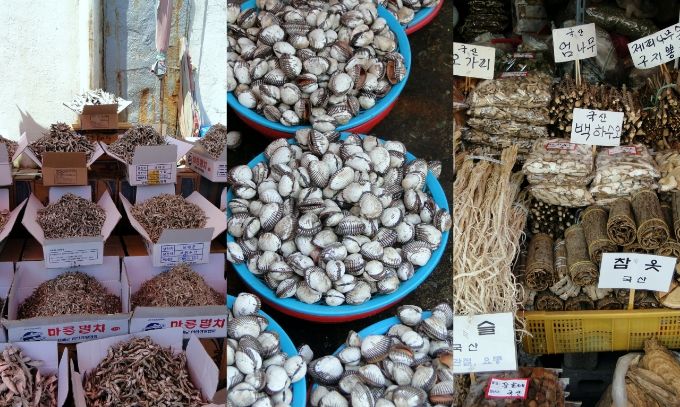 Beyond the usual suspects, what made street food in Busan so good was the seafood. After snacking promiscuously, we sat down at one of dozens of fish stalls. Two men were to our right. Following Korean tradition, they poured each other glass after glass of soju and invited us to join in. They pointed at the tiger prawns and told the woman cooking at the stall to make us some too. While we waited, we ate orange slices and thick pieces of cucumber smothered with gochujang. We sipped our shot glasses of 1 euro soju and toasted the men. And then the tiger prawns arrived. It is no surprise that seafood tastes best when you have a view of the sea. We paid small change for a feast and just as we were finishing our soju, the men bought us two green melon ice pops from another food stall. Street food just brings out different possibilities.
Busan is obviously a seafood city, but so is all of Korea. The fish market in Seoul is just as colossal and a good place to hide away and spend all afternoon feasting on hweh (Korean sashimi) and spicy fish soups.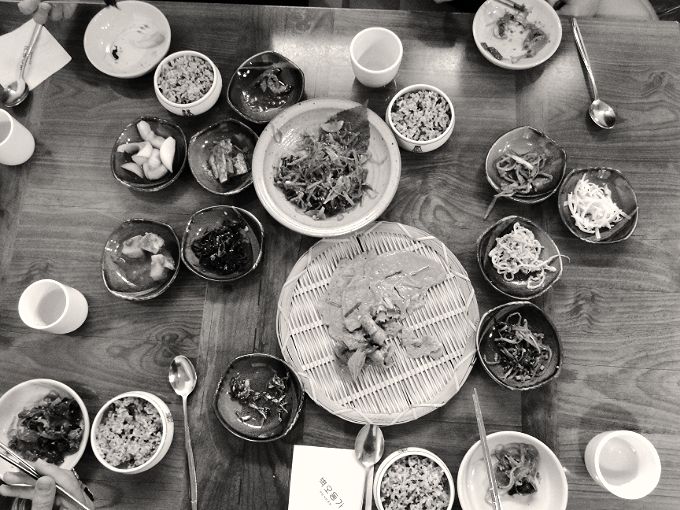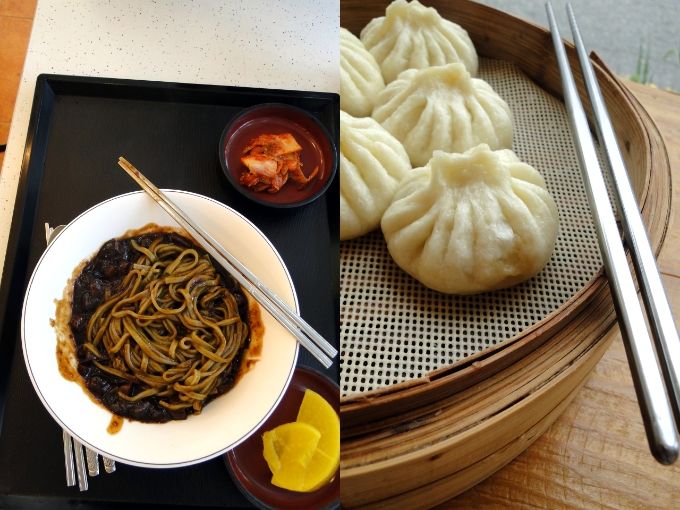 In Italy, a drink is often shadowed by a small bowl of chips or pretzel sticks. In Korea, a drink comes with a bowl of dried anchovies. I am partial to chips, but anchovies as bar food made me realize that these dried fish are an equally good snack. From dried anchovies to raw fish to live octopus (yes, you read that right) and to grilled mackarel, Korea knows seafood.
And, obviously, it knows barbecue just as well. All of my expectations were met, and then some. Barbecue has never looked as sexy as it did in Seoul. Copper fans. Wood tables. Perfect cuts of beef.
But one my best meals was at a Buddhist temple in Gwangju, where the food was vegetarian, organic, and so, so good. There was nothing modest about this lunch. From wild mushroom and chestnut soup to a cold, cucumber vinegar soup, and from cold wild blackberries garnishing small potato dumplings to bibimbap made with the freshest vegetables, it was filling and luxurious.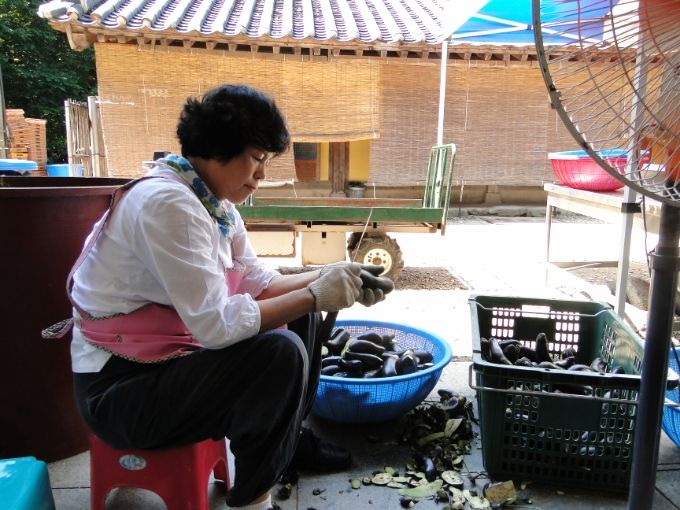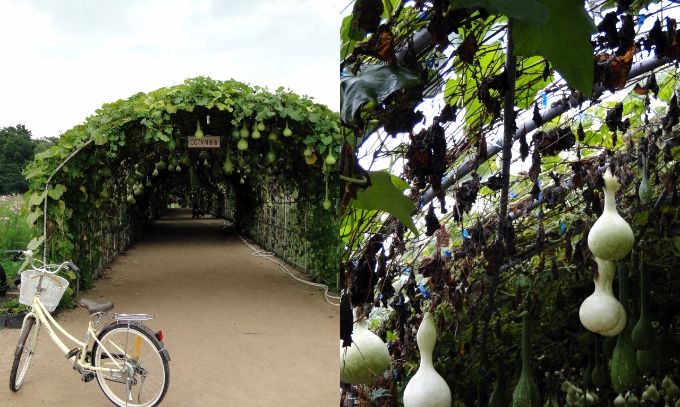 Eating is very much a communal experience in Korea. Whether you are sitting on the floor or up tall on a chair, eating is done in groups, with company. It is an experience to share. And this I loved. If you want to eat alone, there is always street food and cafes, but barbecue is to be shared. Food is to be enjoyed together, with strangers and with family alike.
The island of Jeungdo, which I mentioned before, was the country's best surprise. In fact, I went there twice. It is the only designated slow food region in the country. Between dramatic strips of beach, there are fields of chiles, salt and plump looking vegetables. There are archways where heavy squash grow and hang. There are few restaurants on the island; instead, it is a place where people grow food and then cook that food themselves.
My first visit to Jeungdo, I was hard at work harvesting sea salt and then rewarding my harvest with salt ice cream. My second visit wasn't for the salt, but for the beach. I read, rolled across the waves of the water, and ate hamcho tempura. I would have never known that such an ordinary looking plant on the island could be transformed into crunchy and delicious tempura. But then again, most things are convincing as tempura. I even ate a tempura egg in Seoul.
I make pajeon now and then at home, but the one I ate just a stone's throw away from the border with North Korea proved that I had not yet mastered it. It was an intense day. I spent most of it on a bus and then the rest of it seeing an art exhibition that takes places in the demilitarized zone between North and South. Why the most militarized border wears the name demilitarized, I do not know.
It is one thing to see a photograph of a soldier. It is another to see a soldier with a gun next to that photograph. It was intense and surreal, upsetting and, in some ways, inspiring, and now I associate pajeon with all of those things.
The women with the food stand in the parking lot just before the border make pajeon everyday. They've mastered it and no matter what happens at that border and further north of it, they keep on flipping and frying those green onion pancakes.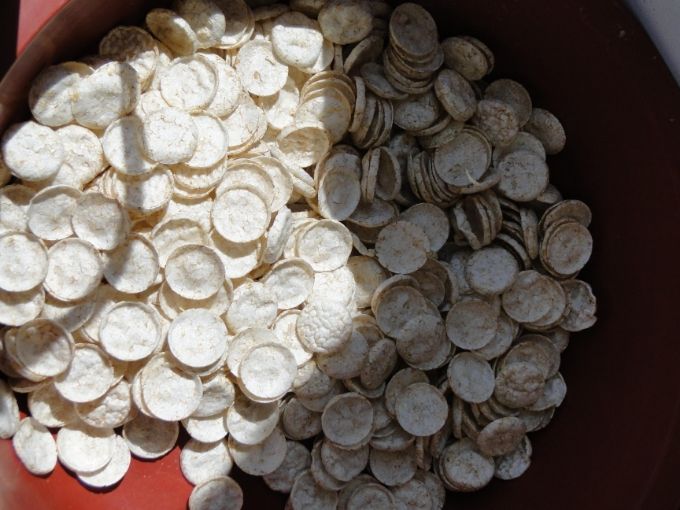 My last week there, a friend asked me if I would recommend Korea to others. A lot of the people that I met there said that were likely not to. I wasn't sure how to answer. I have never traveled to a place that I haven't liked, but I think that is always a combination of destination and traveler. As they say, it takes two.
Korea felt both familiar and different. It surprised me with little things like raspberry wine and meals interrupted to eat raw, wild ginseng. It has some of the juiciest grapes I've tasted. It also comforted me with big bowls of fresh noodles in clam broth and serious barbecue sessions. Also, Korea is obsessed with sweet potatoes, and so am I.
Without a common language a lot of the time, the people were friendly and generous. From those men in Busan who gave me extra tiger prawns and a green melon ice pop to a farmer on Jeungdo island who picked a cucumber from her field and motioned that it was a gift, it was a country that made me feel welcomed and safe, but traveling there still felt like an adventure. And if I can't recommend that, then I'm not sure what I can. To feel both lost and looked after is a good way to travel and, of course, a good way to eat.