Autumn is the most charming season I know. Fruity olive oil that is so fresh that it is verges on being an alarming shade of green. Newly bottled wine (including wine so young that it hasn't even been corked). Crisp apples and plump figs. It is probably the most romantic season as well.
To celebrate autumn, figs, and romance, I highly suggest that you make some fig jam with walnuts, lavender and thyme. It is as dreamy as it sounds and will surely sweep anyone you serve it to (including yourself) off their feet. It is the kind of jam that you'll eat spread on whatever bread or toast you can find (who am I kidding? you'll even eat it straight out of the jar). Standing up in the kitchen and licking that spoon clean, you'll feel pretty smitten with yourself.
The gratification of cooking operates at very different speeds. Sometimes that gratification is slow, like a jar of pickles or kimchi that need a good week before you can grab a fork and dig in. Other times it is instant, like the 20 minutes it takes to make cacio e pepe. And with jam, it is somewhere in between. You can eat it right away, but you can also save it and eat it six months from now when the trees are nearly unrecognizable compared to how they looked before.
I halved the original recipe, another gem from My New Roots, and used maple syrup instead of honey (as I may be poor in honey - and money - but I'm very rich in maple syrup at the moment with no less than 4 liters of unopened bottles).
The flavours of this jam are subtle, but pleasant. A few years ago, a friend had me over for dinner and made a full Fergus Henderson menu: bone marrow served with toast, parsley salad, and a red salad. The red salad came with a healthy dollop of creme fraiche. My friend repeated Fergus's instructions for the creme fraiche: it should be just next to the salad like a friend, he described, and not on top of it like a lover. This description also applies to the flavours of this jam. However, if you'd prefer a more lover than friend relationship between these flavours, I say go for it. Double the thyme. Double the lavender. Add more walnuts. Go all in. But for now, I'm happy if they're just friends.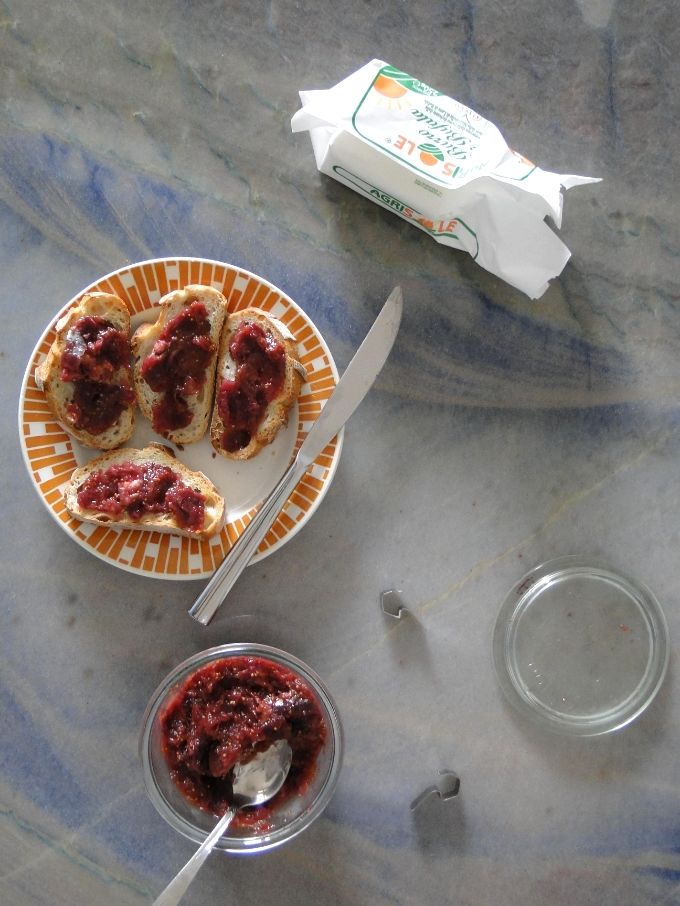 Fig Jam with Walnuts, Thyme and Lavender
2 thyme branches, leaves only
Wash and dry figs and cut off their stems. Leaving the skins on, chop them into small chunks.
Place a small plate in the freezer.
In a heavy bottomed saucepan, combine the figs, thyme, lavender, sea salt, and maple syrup. Turn on the heat and increase it gradually to a gentle simmer. Stir regularly while the mixture continues to simmer, breaking the pieces of fig down with a wooden spoon. Cook until the jam is thickened, the figs collapse and the flavours taste bright. The time will depend on the water content of your figs, but should take around 20-25 minutes.
Remove the plate from the freezer and spoon a small bit of jam on the plate. Return to the freezer and check it in about a minute. The jam should be firm (it won't gel); if not, cook it a bit longer.
Once cooked, lower the heat to very, very low and add the walnut. Stir regularly and cook for another five minutes.
Remove the jam from the heat and spoon into a clean, sterilized jar. The jam will keep in the fridge for two weeks. Alternatively, process the jar in a hot water bath for 10 minutes.