It is that time of year when photographing food becomes difficult at best and impossible at worst. I am not sure when the last time was I saw the sun, but that should tell you enough why things have been quiet around here, recipe wise. Even at midday the light in my apartment just isn't enough. Daylight doesn't exist independent of electricity around here and nothing kills the potential of a good food photograph more than artifical light (not even to mention the serial killer that is flash).
Do you know where your sunshine is? I'm employing substitution and am using fresh flowers to light up my apartment. They also do a good job at lighting up a photograph, but a food photograph is another story.
Excuses, excuses - I know. But do trust my word that despite the lack of sunlight and the general busyness that has been my day-to-day as of late, there is a list of recipes I would like to share. It is short, I admit, but this blog is just as much about making food as it is about traveling and eating food.
So in celebration of craziness (both in terms of crazy schedules and crazy-making greyness), let's talk about nuts. Spicy and sweet nuts. The type of nuts that you can roast and dress up anyway you please. Rosemary? Honey? Maple syrup? Olive oil? Chipotle? Sea salt? Smoked Salt? Cayenne Pepper? Cumin? Like I said, anyway you please. And beyond how they taste and look, they are the perfect snack. Serve them to friends for aperitivo. Eat them when you are on the metro and find yourself looking desiringly at the sad sandwiches fast-food-bakeries sell. Snack on them when you are craving something sweet. Snack on them when you are craving something salty. Throw them into a salad to make it a little sexier. Put them in a jar, tie a ribbon around it and give them as a gift.
I've been making different versions of spiced toasted nuts for years and this version is the one I like best. I never turn down an opportunity to use maple syrup, so my Canadian pride and joy is what makes these nuts sweet. Same goes with rosemary.
Also, this recipe easily doubles and triples if you find yourself in need of lots and lots of spiced nuts.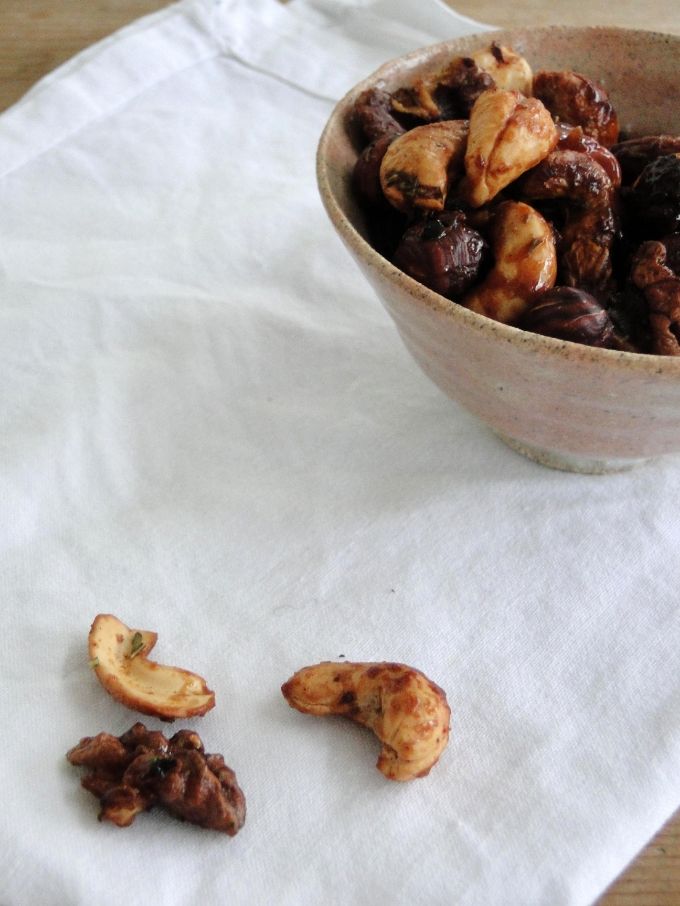 ingredients
3 cups mixed nuts (I usually go with cashews, almonds, hazelnuts and walnuts)
3 tbsp maple syrup
1.5 tbsp olive oil
large pinch of sea salt
1/2 tsp sweet paprika
1/2 tsp red chile flakes
1/4 tsp cayenne pepper
2 tbsp finely chopped rosemary, plus more if desired
Preheat oven to 350F / 180C / gas mark 4.
In a bowl combine all of the ingredients and toss well, making sure to coat the nuts evenly. Line a baking sheet with baking paper, and spread the nuts on the sheet in a single layer.
Roast for 20 minutes, or until the nuts are glazed and golden brown. Stir once or twice in between to make sure that the nuts are evenly browned. Remove from the oven. Let cool slightly and then taste. If desired, add more salt and more fresh rosemary. Toss well.
Serve the nuts while they are still warm, or wait for them to cool. Once the nuts are cool, transfer to an airtight container and store at room temperature.
Guten!