>> Monday, January 27, 2014 –  recipe
I am not afraid of roasts, tarts and pie crusts. When a recipe says that it will need some time, I'm game. I turn on a podcast, roll up my sleeves, and thoroughly enjoy stirring polenta for 40 minutes or whisking egg yolks until my arms feel like they've been lifting weights. This makes me a weekend cook. Don't get me wrong - I too worship simplicity. I don't think that anything is more perfect that ripe avocado mashed on toasted sourdough; however, when it comes to weekday meals simplicity gets me into a bit of a rut.
More often that not, when I am home from work and my hunger has already loudly pronounced its presence I find myself boiling a pot of water and chopping tomatoes for sauce or nuts and herbs for pesto. Alternatively, I find myself roasting the daylights out of whatever vegetables are in my fridge and dressing them up with nothing more than olive oil, salt and perhaps a touch of chili or some fresh herbs if I am up for the extra chopping.
There is of course nothing wrong with a plate of good pasta or some deeply roasted vegetables; however, variety is something these two dishes do not represent. Comfort and reliability? Yes. But they also represent repetition. As anyone who has opened the oven door prematurely knows, curiosity kills the cake. However, it is also what defines a chef. It is easy to stay true to comfort food, but curiosity is what makes great cooks great. You have to wonder what will happen to your favourite dish if you use a different oil, a different herb, or a different temperature.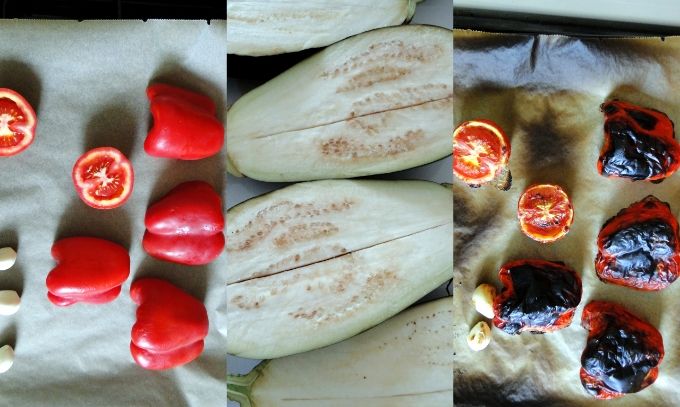 Roasted Eggplant with Hazelnut Romesco is simple - making it perfect for a weeknight meal - but it isn't boring. It does involve a bit more work than boiling a pot of water and then drowning pasta in cheese (which you should save for the laziest of weekday nights), but not much more. The hearty sauce - with breadcrumbs, hazelnuts, honey, and quickly broiled red pepper, tomato and garlic - has a lot of depth of flavour. It is rich, slightly sweet and smoky all at the same time.
I've adapted the Hazelnut Romesco from a Melissa Clark recipe. The recipe is for Broccoli Salad dressed with the sauce and although the pairing is no question good, I like the Hazelnut Romesco best with roasted eggplant. It makes more than you need, so be sure to play around with the leftovers.
I've been sitting on this recipe for a while. I first made it back in the fall, only a few weeks after getting home from Korea. Then I have continued to make it quite often. It is fast and it is flavourful and it is something other than pasta or a heaping plate of roasted vegetables. Amen to that.
Roasted Eggplant with Hazelnut Romesco
serves 2 as a main with a salad on the side, or 4 as an appetizer
2 medium red bell peppers, halved and cored
1/2 cup toasted hazelnuts
1/2 cup dried breadcrumbs
1 tbsp white wine vinegar
Begin by washing the eggplants and then cutting them in half lengthwise. Use a pairing knife to make an incision in the centre of each piece, making sure not to cut through the skin. Salt the eggplant and let sit for 10 minutes.
Meanwhile heat the broiler. Line a baking sheet with baking paper. Place the red pepper halves (cut side town), tomato halves (cut side up) and garlic on the baking sheet. Put the baking sheet (on a rack) closest to the flame and broil until the garlic and peppers are slightly charred, about 3-5 minutes. Turn garlic and then broil for another 1-2 minutes until it is well browned but not burned. Remove the garlic and place it into a large bowl. Continue to broil the peppers and tomato until well charred, about 4-5 minutes longer. Transfer tomatoes and peppers to the bowl with the garlic. Cover the bowl with plastic wrap and set aside until the vegetables are cool enough to handle but still warm.
Turn off the broiler and preheat the oven to 425 F / 218 C / gas mark 7. Brush the bottom of a baking dish with sesame oil. Use paper towel to blot the excess water from the eggplant. Place the eggplant pieces cut side up in the baking dish and brush them with olive oil. Once the oven has heated, roast the eggplant for about 20-25 minutes and until the flesh is very soft and the skin is quite shriveled.
While the eggplant roasts, peel the tomatoes and red pepper once they are cool enough to handle. In a blender or a food processor with the blade attachment, pulse the hazelnuts until they are coarsely ground. Add tomato, peppers, breadcrumbs, olive oil, vinegar, honey, paprika, chili flakes and salt. Puree until the sauce is smooth. Taste and then adjust the seasonings as you like. Scrape the sauce into a bowl.
Remove the eggplant and place on plates. Place a heaping amount of romesco on each slice of eggplant and, if you wish, drizzle with a bit of good olive oil and a sprinkle of salt. Serve right away (although this also is delicious at room temperature).
Cover the bowl of extra sauce with plastic wrap and store in the fridge for a few days. The sauce can be made a day ahead making this an even better weeknight meal.
Guten!