Keeping with the characteristics of cities, some have very strong audio identities. Bombay (or Mumbai, if you prefer) is loud. When I was living there a couple of years ago, I was mostly accustomed to the constant honking (often used as an alternative to a signal when cars are about to make a turn), the bottleneck traffic, the general noise. There were some nights, however, when I would bury my head under my pillow, an unsuccessful attempt to escape the nearly-abusive noise.
Buried beneath all of that honking, however, were some very pleasant sounds, my favourite being "Chai, chai?" No matter how scratchy or loud the voice, those words repeated over and over again by a chai wallah sounded melodic, thoughtful, precise, a relief compared to the storm of other sounds in the city. A chai wallah is one who sells tea. Sometimes a man walks around with a large kettle. Other times he has a bike with two heavy thermoses balancing on the back. Sometimes he has his own piece of real estate, a street corner where you'll see him again and again.
I am and have always been a coffee drinker, but India turned me into a tea drinker as well, and a rather devout one. In India, chai simply means tea. Although a lot of us associate chai with tea that is just as milky as it is sweet, the word itself refers to tea in general.
While working in Bombay, every afternoon at 4pm a young man would bring me and my coworkers a cup of masala chai. My first few days of drinking what tasted mostly like sugar and a little bit like spices, I missed the seriousness of a strong cup of coffee. However, it didn't take long until I would look forward to the clock striking 4pm. Who needs a cup of coffee and a piece of cake when an afternoon chai hits both boxes: sugar and caffeine?
Bombay can be so loud in the day that it is hard to imagine it otherwise, but there are a few hours every night when the city quiets and the streets are empty. During the heat of the day, the street dogs sit in the shade and don't seem to do much more than pant, but at night they roll across intersections and chase each other through streets that are so empty it is hard to recognize them.
One night I was out late with friends after visiting a couple of art shows and feasting on grilled meat at Bademiya and drinking beer in the hole in the wall across the street. We decided to go wander around and we found the city this shade of quiet. We sat on the steps of the Asiatic Society of Bombay and although it felt like most of the city was sleeping, a chai wallah biked by. "Chai, chai?" he asked. That's the thing about chai, which perhaps differentiates it from coffee, the timing always seems right to have a cup.
A few months later I was in the very south of the country, in Kerala. Up in the Western Ghats, the altitude is the secret ingredient that makes the tea there so good. I visited a tea plantation for the first time and was dazzled by how green the gardens were of black tea. For a beverage that I have known all my life, it was quite something to see it grow, to see how its decorated the rolling hills of the region.
The nice thing about making masala chai tea at home is that you can adjust the spices to your liking. Aren't crazy about fennel? Leave it out. Addicted to ginger? Add as much as you dare. It is incredibly easy to make and doesn't take much more effort than bringing water to a boil and putting a tea bag in a mug. Okay, I admit that it does take a little bit more that that, but not much. What is important is that you boil the water and milk together. Unlike adding cold milk to a hot cup of tea, the milk in masala chai is also warm and has fully absorbed the flavours of the spices.
I've recently been on a rose water quick. I'm still getting acquainted with this ingredient, but I've realized that it makes a cup of masala chai even cozier.
It also adds a certain brightness that is always needed as February turns to March. Rose water is an acquired taste and it you aren't sure that it is your taste, then just add a splash to try.
In the last chapter of Laurie Colwin's
More Home Cooking: A Writer Returns to the Kitchen she writes: "It always seems to me that cooking is like love. You don't have to be particularly beautiful or very glamorous, or even very exciting to fall in love. You just have to be interested in it. It's the same thing with food. You do not have to be a genius. You don't have to come from a long culinary tradition. You just have to go to a restaurant and eat a hamburger and say, 'This particular hamburger tastes swell.' And then you have to say, 'Could you please tell me what you did?' (209)" This to me sounds just about right.
I don
't like when cooking is treated like a competitive sport. I also don
't like when it is heroicized. Sure it feels wonderful to be complemented on a meal that you
've made, but it also feels wonderful to be able to complement someone else on a meal that they
've made. In other words, it is about sharing and you
'll probably want to make an extra cup or three of rosy masala chai as it is exactly the kind of beverage that is worth sharing.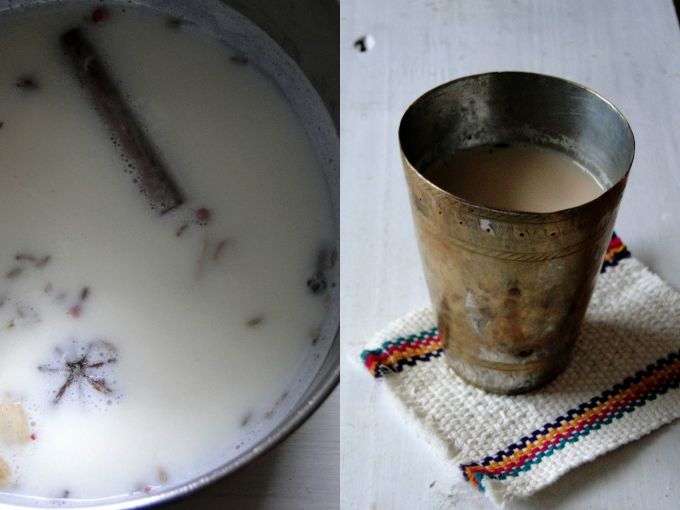 Masala Chai with Rose Water
makes 1 cup - double and triple as needed
ingredients
3/4 cup water
1/4 cup milk
2 tsp loose black tea - either Assam or Ceylon or a mix of both
2 green cardamom pods
3 peppercorns (I used red)
1/4 tsp fennel seeds
1 small cinnamon stick
4 small, thinly sliced pieces of ginger
2 cloves
1/2 a star anise
2 tsp rose water
brown sugar or honey to taste
In a small saucepan bring the water, milk and all spices to a boil. Once the mixture boils, remove from heat and add tea. Let seep for 2-3 minutes. Add rose water and give it a good stir. Pour the mixture through a strainer into a cup and add brown sugar or honey to taste.
Guten!