In The Breakfast Book Marion Cunningham describes a chocolate bread, one that is so chocolatey and so delightful that one should save it for a very special breakfast. There is no question that her bread is luxurious and indulgent and everything that you want something made with chocolate to be; however, this Chocolate Krantz cake from Yotam Ottolenghi and Sami Tamimi's Jerusalem is one step up. It has pecans and is braided. Its ribbons of chocolate filling makes it much more dramatic than any bread that is simply left to rise in a loaf pan without being braided or twisted.
February ends with a birthday in my house, which normally means carrot cake. Carrot cake is never a bad idea, but then again neither is a braided chocolate cake with pecans. It doesn't even need birthday candles to look and to taste festive. It also doesn't need cream or icing or marzipan to win over a man who is a good German and takes cake very seriously.
As someone who likes to eat and to write about it, it is my turn to wax poetic about Jerusalem. The cookbook is shockingly well-rounded. It is a little sexy - rice pudding with pistachios and rose water must be the sexiest rice pudding around - and a little cozy - the couscous with tomato and onion that Sami Tamimi's mother would make for him as a snack when he was a child has become my go-to lazy-night meal. In other ways, it is an accurate reflection of the food culture of the city after which it is named, a city full of contrasts.
From comfort European baking (like these Krantz cakes) to fresh Mediterranean flavours, such as figs and aubergines and pomegranate molasses, you can probably find exactly what you feel like eating amongst its pages no matter what that might be. It has recipes that come together effortlessly and it has recipes that park you in the kitchen for a couple of hours, giving you an excuse to listen to the radio and sing out loud when no one is watching. This chocolate Krantz cake is no question an example of the latter.
The idea of breading dough might make you want to stop reading, but I assure you that this cake isn't complicated to make, it just takes time. You need to make the dough, leave it overnight to rise, roll it, stuff it, shape it, let it rise again, and then bake it. Many steps? Yes. Complicated? No. Worth it? No question.
The original recipe has instructions for a mixer. Oh how I wish that had both a dough hook attachment and a mixer! Although truth be told, my kitchen is far too tiny for such luxuries and I much prefer kneading dough to lifting weights, so I don't mind putting a little elbow grease into my baking. For the recipe below, I've included both instructions.
I strayed from the recipe when it came to the sugar. Instead of the usual suspect that is caster sugar, I used unrefined, brown sugar and the cake was still sweet and light and dreamy and chocolatey. I also decreased the syrup for the cakes by half. It was just the right amount of sweet, so the second half wasn't missed. Less syrup meant that this cake was able to sneak its way onto the breakfast table, a definite plus.
The recipe makes two cakes. If your house is home to only a few cake eaters at a time, freeze the second. I had enough cake-loving Germans to serve; however, I imagine that taking a chocolate Krantz cake out of the freezer and defrosting it for breakfast would feel victorious. Keeping with Marion Cunningham, it would also make any breakfast very, very special.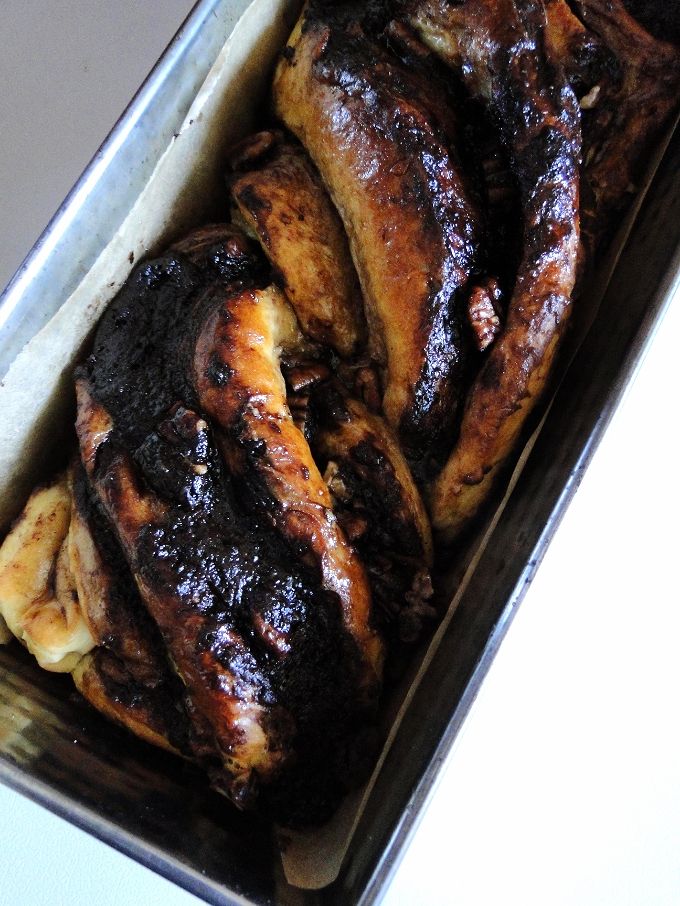 Chocolate Krantz Cake
makes 2 cakes
adapted from 'Jerusalem' by Yotam Ottolenghi and Sami Tamimi
ingredients
530g (4 cups) plain flour, plus more for dusting
100g (1/2 cup) unrefined brown sugar
1 tsp fast-action dried yeast (1 package)
zest of 1 small, organic lemon
3 large organic eggs
120ml (1/2 cup) water
1/3 tsp salt
150g (2/3 cup) unsalted butter, at room temperature, cut into cubes
sunflower oil, for greasing
Chocolate Filling
50g (scant 1/2 cup) icing sugar
30g (1/3 cup) good-quality cocoa powder
130g (4 oz) good-quality dark chocolate
120g (1/2 cup) unsalted butter
100g (1 cup) pecans, roughly chopped
2 tbsp unrefined brown sugar
Syrup
2/3 cup unrefined brown sugar
1/2 cup water
If you have a stand mixer, place the flour, sugar, yeast and lemon zest in the mixer bowl. With the dough hook attachment, stir everything together on low speed for about 1 minute. Add the eggs and water and mix for a few seconds at low speed, and then increase to medium and mix until the dough comes together, about 3 minutes. Add the salt and start adding the butter, a few cubes at a time, mixing until the butter is absorbed into the dough. Continue to mix for about 10 minutes on medium speed until the dough is elastic, smooth and shiny. You may need to scrape down the sides of the bowl a few times and add a little extra flour to the sides to prevent the dough from sticking.
If you don't have a stand mixer, in a bowl mix together the flour, sugar, yeast and lemon zest with a spoon. Give it a good stir. Add the eggs, one at a time, and then the water. Continue to stir until the dough comes together. Add the salt and then the butter, and then use your hands to incorporate the butter into the dough. On a floured surface, knead the dough until it is elastic, smooth and shiny, about 15-20 minutes. While doing so, add a little more flour to the surface or to your hands if necessary.
Grease a large bowl with sunflower oil, add the dough and cover with plastic wrap. Leave in the fridge for at least half a day, preferably overnight.
When you are getting ready to bake, grease two loaf tins with some sunflower oil and line the bottoms with baking paper.
Divide your dough into two equal pieces. While you work with one, keep the other one in the fridge.
In a double broiler, melt the chocolate and butter. Once melted, remove from the heat and mix in the icing sugar and cocoa powder so that you have a spreadable paste. Set aside for a moment. On a lightly floured surface, roll the dough into a rectangle that is about 38cm x 28cm. Trim off any uneven patches of dough. Place the dough so that the shorter end is closest to you. Spread half of the chocolate mixture over the rectangle with a palette knife, making sure to leave a 2cm border all around. Sprinkle the pecans on top and then half of the brown sugar.
Brush a little water over the long end further away from you. With both hands, roll up the rectangle like a roulade, starting from the long side that is closest to you and ending at the other long end. Press to seal the wet end and then use both hands to even out the roll into a thick cigar, sitting on its seam.
With a sharp knife trim about 2 centimeters of both ends of the cake (you can bake these later as tiny chocolate buns if you like). Then gently cut the roll into 2 lengthwise, starting at the top and finishing at the seam, essentially dividing the log into two even long halves.
Now it is time to braid the dough. With the cut sides facing up, gently press one end of each half and then lift the right half over the left half. Then lift the left half over the right, creating a very simple, two-pronged plait. Repeat. once you reach the end, gently squeeze together the two pieces to secure. Carefully life the cake into a loaf tin. Cover the tin with a wet tea towel and then leave to rise in a warm spot for about 1-1 1/2 hours. The cake will rise about 10-20 per cent. Repeat the whole process to make the second cake.
Preheat the oven to 375 F / 190 C / Gas mark 5. Make sure that you have plenty of time for the oven to heat fully before the cakes have finished rising. Remove the tea towels and place the cakes on the middle shelf of the oven and bake for about 30 minutes, or until a skewer comes out clean.
While the cakes are baking, make the syrup by mixing the water and sugar in a saucepan. Place over a medium heat and as soon as the sugar dissolves, remove from the heat and let cool. As soon as the cakes come out of the oven, brush all of the syrup over them, making sure to use all of the syrup. Leave until the cakes are just warm before removing them from the tins.
Serve either still slightly warm or at room temperature.
Store leftovers in plastic wrap at room temperature for two days, or wrap them in foil and freeze them for a couple of weeks.
Guten!