To write about food is to write about family.
Just over a year ago, I wrote about Black Coconut Rice with Mango. Beyond the recipe itself, I wrote about my grandad, a charming man that I called Poppy. This was the first dish that I planned to make him the next time I saw him, late August this year.
He passed away on Thursday. He was 94 years old. His life was well lived - it was filled with family and friends, music and memories, love and travel, dinner parties and after-work cocktails, yet his absence still stings. When someone gets that old, you get used to always having them around. They always come home from the hospital. They always wake up from sleep. Their bodies break and they break, but then you begin to think that they'll never completely break down. You begin to take for granted that they'll always be around for another meal, another drink, another visit.
As lives have gotten longer, death has also become more detached from life. It used to have a stronger presence in family homes and not just be sectioned off to hospitals and old age homes. I'm sure saying goodbye to a loved one has always been and will always be a challenge, but the rituals around it were once stronger. Mourning is culturally specific and yet it is almost always based in religion. When your religion is having none, then death becomes even foggier and the rules about how to feel about it less clear.
I've written before about Adam Gopnik's delightful book The Table Comes First and his idea that for secular folks food is sacred. How we eat is also a question of how we want to live. This belief takes on extra weight at a time of mourning.
When I was a kid, I used to regularly sleep over at my Nana and Poppy's. I remember waking up in the mornings, drinking orange juice out of a fancy blue glass and requesting a bowl of instant oatmeal. My Poppy always kept packages of Peaches n' Cream oatmeal in the cupboard for my visits. He would sometimes eat one too.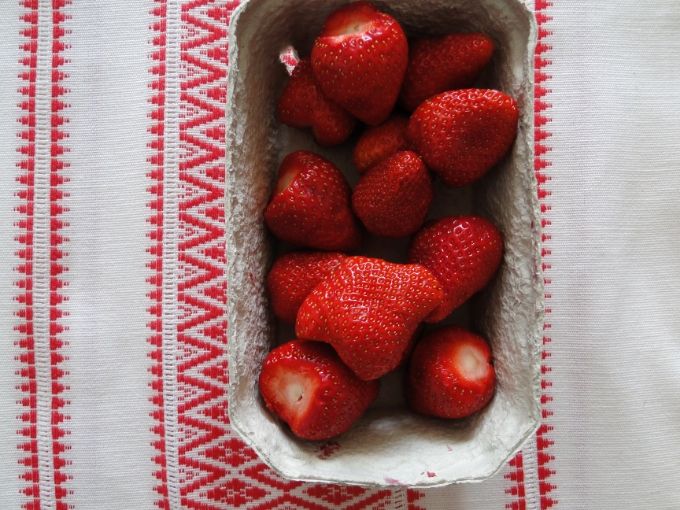 I've outgrown instant oatmeal, but I certainly haven't outgrown porridge. Sunday was my Birthday and a couple days before, I stumbled upon a recipe for Triple-Coconut Quinoa Porridge. With this being my first Birthday without my Poppy, I wasn't up for a fussy breakfast or orange juice made bubbly with Champagne. I wanted something simple and comforting. I wanted porridge.
Like the Black Coconut Rice with Mango that I had hoped to make for my Poppy, this recipe has coconut milk. It is creamy, but the quinoa still has a bit of a bite. It is sweet, but not too sweet. I topped it with strawberries and it felt like a grown-up twin to the Peaches n' Cream Porridge I used to eat. Only this time it was Strawberries n' Coconut Cream. I think that he'd like it too. I'm thankful for dishes like this that remind me of the meals and the moments that him and I shared.
The last year there was plenty of talk about quinoa and how its international popularity has made it too expensive for the Bolivians who grow it. I belong to the 'it's complicated' category and continue to eat it moderately with awareness and gratitude.
When it comes to nutrition, it is best to soak quinoa overnight, but sometimes I forget to soak grains or wear sunscreen or do the things they say that we're supposed to do. And I think that's okay. I also think that not soaking the quinoa made the texture of this porridge extra good, but I guess that I will have to try it with soaked quinoa as well to say for sure.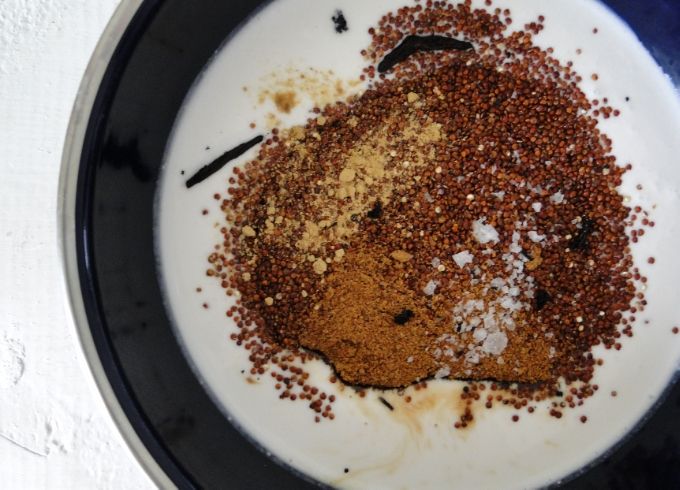 adapted from Megan Gordon's 'Whole-Grain Mornings' via Bon Appetempt
1 1/4 cups (60 grams) unsweetened coconut flakes
1 can (13.5 ounces / 400 ml) unsweetened coconut milk
1 cup (180 grams) quinoa, rinsed (I used red quinoa)
1 to 2 tbsp melted coconut oil, for serving
a handful of strawberries, chopped, for serving
Place 3/4 cup of the coconut flakes in dry skillet and toast over medium heat for a couple of minutes until golden brown. Set aside.
Scrape the vanilla seeds into a heavy-bottomed pot. Add the vanilla pod, coconut milk, quinoa, remaining coconut flakes, coconut sugar, dried ginger, salt and 1/4 cup water. Give it a good stir to combine and then over medium-heat, bring the mixture to a slow boil. Decrease the heat to low and cover the pot with a lid. Cook until most of the liquid has been absorbed and the mixture has thickened, stirring every few minutes to prevent it from sticking to the bottom, about 18 to 20 minutes.
Remove from heat and remove the vanilla pod. Let sit, covered, for 10 minutes. Divide between bowls and garnish with the toasted coconut flakes, a drizzle of melted coconut oil, and chopped strawberries.