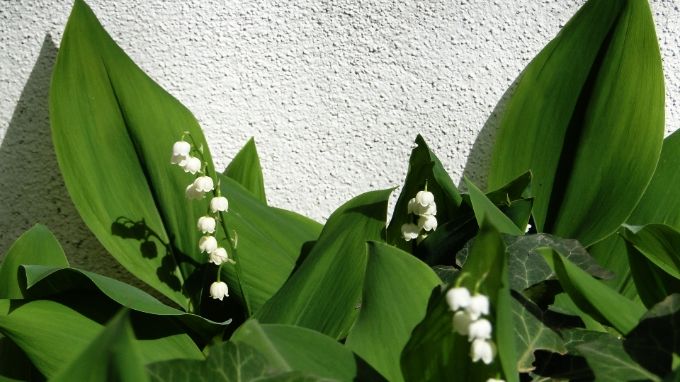 It is the last day of May and I'm ready for June.
May is my birth month (and my mom's) and so I feel extra charmed by its lilies of the valley and elderflower blossoms, its hot afternoons and chilly evenings. Unpredictable weather aside, I associate the month with celebrations and cake. This May, however, was busier than most. It had many long nights of works, a few ups and downs and many a handful of strawberries to celebrate the ups and console the downs.
One would assume that long work hours mean less cooking, but this isn't always the case. I spent May grilling fruit (more on this to come soon), making chimichurri and homemade mayo, baking polenta cake and brownies and roasting rhubarb.
Somewhere between working and cooking, I read Molly Wizenburg's new book. It probably needs no introduction here, but it is the tale of the restaurant that her and her husband made from scratch. The book and the restaurant share a name, Delancey, and its pages are effortlessly conversational. It feels like Molly was telling me the story over pizza and beer. I found myself wanting to reply, to comment. I would read a page, nod my head in agreement and then think of a related story that I could add to the table.
At first, however, I was skeptical. The story read too much like her husband's story and not her own. But half way through, I realized that this was the point, the story even. The book is about how the restaurant - what started out as his - became theirs. Beyond his and hers, it also became a community.
As I read it during my busiest work month of the year, once again, I found myself nodding along as she wrote about being to busy to really cook. Between my cooking spells in May, this is how I felt many days this month. I'm not one for too much takeout, but I am definitely one for one too many meals where making dinner both begins and ends with boiling water for pasta.
In the beginning of the book, Molly mentions roasted rhubarb. This immediately reminded me that I had some rhubarb in the fridge. It was hanging out, useless and I thought that I should put it to work. I put the book down, picked the rhubarb up and roasted it with orange juice, maple syrup and red wine. Then I ate the results three days in a row: twice with yogurt for dessert and once with oatmeal for breakfast.
The rhubarb isn't too sweet, just as I like it best. I did, though, add a little extra maple syrup to the yogurt, but not too much to disguise the rhubarb's tartness. Also, dressing up oatmeal with rhubarb that was cooked in red wine feels luxurious and against-the-rules, a pretty great way to start the day.
Roasted rhubarb is a good thing to cook when you have no time to cook. Never underestimate the satisfaction of having something homemade at hand to throw on top of yogurt or oatmeal, ice cream or ricotta.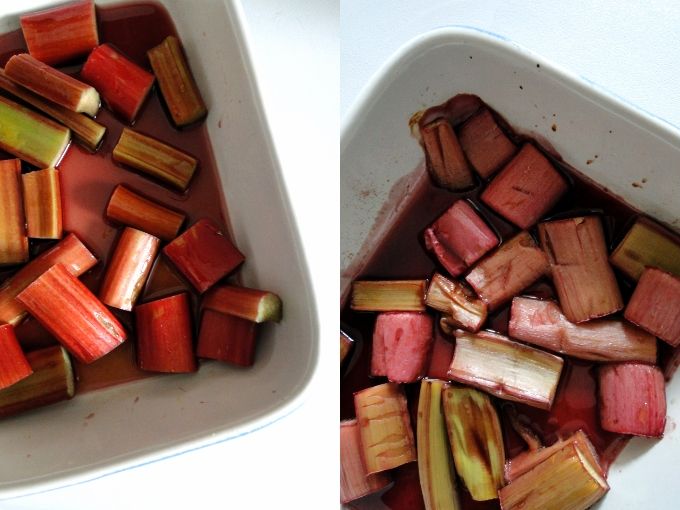 Roasted Rhubarb
adapted from 'Delancey' by Molly Wizenberg
serves 2-3
3 rhubarb stalks
2 tbsp maple syrup
3 tbsp orange juice
4 tbsp red wine
Preheat the oven to 350F / 190C / gas mark 4.
Give the rhubarb a good wash, remove its ends and its leaves, and then chop it into large chunks. Place the rhubarb into a baking dish and give it a good toss with the maple syrup, orange juice and red wine. Make sure the rhubarb chunks are evenly spread out amongst the bottom of the baking dish and then put it into the oven.
Roast for about 25 minutes, or until the rhubarb is tender and pale, and the juices have thickened into a sauce.
Serve hot or at room temperature over ice cream, yogurt, oatmeal, or any other of the usual suspects. Leftover rhubarb can be stored in the refrigerator for a couple of days.
Guten!