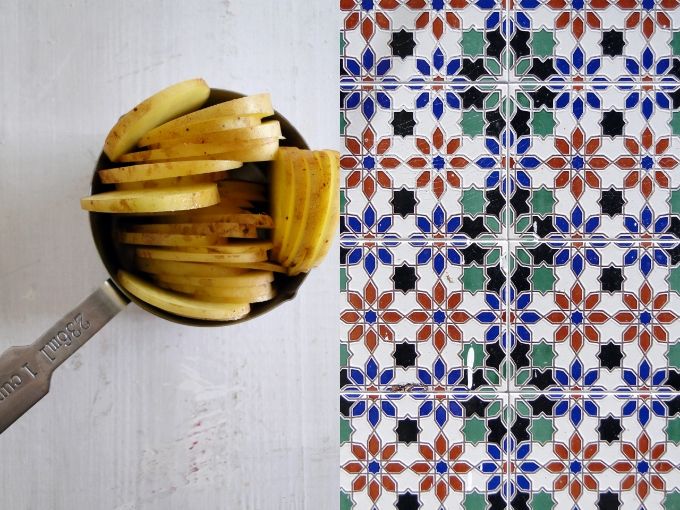 Not very often does a surprise trip come my way, but as April turned to May I found myself with a plane ticket to Malaga. Malaga was where I landed, but it wasn't my destination. Or I should say our destination. It was a group trip. Although I always prefer putting together my own itinerary (or deciding not to have one), I felt pretty lucky to not have to worry about figuring out directions or where to eat.

Our destination was Granada, a city that I first visited nearly seven years ago. I remember the city's beauty, the majestic Alhambra, its colourful tiles, its spiraling streets, and how drinking tinto de verano in the Spanish heat is always a good idea.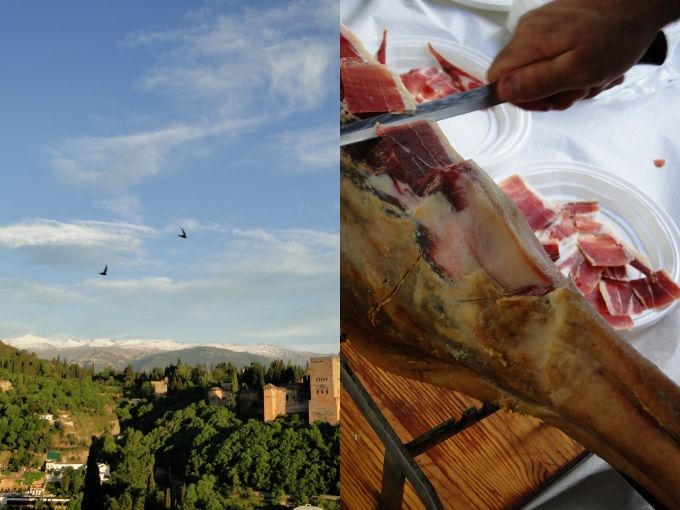 That trip that I mentioned was my first and my last time to Spain. The culture and the food had me completely charmed, but I just never made it back. The story between Spain and I is classic. We stayed up late, ate well, drank well, and danced well. We exchanged numbers, chatted about future encounters, but in the end neither of us ever called.
And then years later, I found myself in this group of German tourists, taking photographs and having difficulty deciding between beer or wine. The sun was just as hot as I remember and the tinto de verano was just as cold, but sadly I didn't eat quite as well as I had hoped. However, once again a classic is at play: it wasn't Spain. It was me. Traveling in a group is just not the best way to eat.
My weekend meals fluctuated between hits and misses, but the jam
ón was always good and so was the wine. Moreover, the trip reminded me of how Spanish tortilla tastes good for breakfast, as a snack, for lunch and even for dinner.
On my flight back to Munich, buried beneath free newspapers, I came across a recipe for Spanish tortilla with wild garlic in the Financial Times. I was old fashioned and cut the recipe out. It seemed like good luck that my renewed interest in Spanish tortillas was coinciding with wild garlic season.
To boot, I was working on a project in May that ended with lots of extra, organic eggs. I came home with more than 40. Determined not to waste them (and ambitiously not wanting to freeze them), a Spanish tortilla seemed like a good method for eating my way through the plenty.
When it comes to making a Spanish tortilla, there are two different schools. The first boils the potatoes and the second poaches them in olive oil, lots of olive oil. Because cooking is more fun and feels more dangerous with a pot of oil than a pot of water, I am a fan of the second school. Although it sounds messy and intimidating, it is not. You aren't frying (or deep frying) the potatoes. You are just lightly cooking them until tender. To properly do this, you need a lot of oil. I admit that the amount is frightening; however, the potatoes absorb only a fraction. Once the potatoes are cooked, you drain the oil and then have olive oil infused with the earthy flavours of onion and potatoes. In other words, you're even closer to a vinaigrette for that salad that you want to serve with a Spanish tortilla.
This isn't a dish with a lot of flavours going on. Therefore, be very generous with the salt and pepper. This is, of course, another reason to use good ingredients. Good potatoes and good onions and good olive oil. I give my potatoes a good scrub, but I keep their skins on. A lot prefer to peel them, but I like the extra texture and flavour that the skins add. To peel or not to peel - it is up to you.
Spanish Tortilla is a seasonless dish; however, the wild garlic makes it belong to spring. In other words, you can leave the wild garlic out, but for those few weeks every year where the green plants make your local parks smell like garlic dip, I highly suggest livening up a Spanish tortilla with some garlicky green.
Spanish Tortilla with Wild Garlic
1 medium yellow onion, thinly sliced
3 medium potatoes (about 2 1/2 cups), thinly sliced
2 small garlic cloves, minced
6 pieces wild garlic, stems removed
In a medium sized bowl, toss together the potatoes and onions with lots of salt and pepper
Over low heat, heat the olive oil in a small pan (about 15 centimeters, 6 inches) and add the potatoes and onions. Cook until the potatoes are tender (about 20 minutes). You don't want them to brown in the oil, only to soften.
While the potatoes and onions slowly cook, mince the garlic. Clean the wild garlic well and then cut the leaves into strips. Crack the eggs into a bowl, add a pinch of salt and a grind of pepper, and give them a good stir to combine the whites with the yolks.
Once the potatoes are tender, remove them from the heat. Let cool slightly and then use a slotted spoon to remove the potatoes. Pour the oil out of the pan into a jar to use later, leaving about 2-3 tbsp in the pan. Return the potatoes to the pan, over medium-low heat, and add the garlic and the wild garlic. Pour the egg mixture over the potatoes. Give the pan a cook shake, making sure that the egg mixture is evenly distrusted. While the eggs cook, preheat the broiler.
Cook until the sides are set and there is just a bit of liquid remaining at the top, about 10 minutes. Remove from the heat and place the pan under the broiler until the top is just set, about 4 minutes.
Guten!
* * * * *
Speaking of trips that are little and lucky, I'm just about to head to the train station to go to Paris. If you want to tag along for the pastries, seafood platters and glasses of Sancerre, you can find me on Instagram.