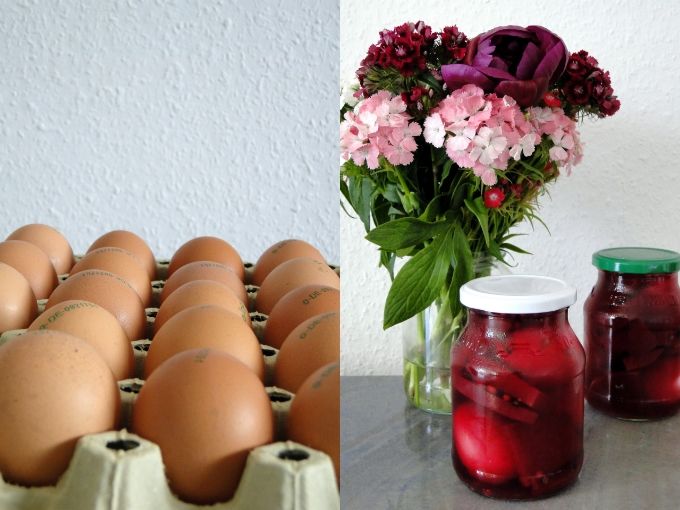 Age is something that I feel most in my taste buds. Having a husband, a student loan, a job and a decent number of wool blankets and sweaters with elbow patches should all be signs that I'm an adult, a real adult. However, none of this makes me feel particularly adult. My love for anchovies, capers, Cynar, schmaltz, rye bread and pickled eggs, on the other hand, make me absolutely feel like a real adult.
My first experience with pickled eggs was in Glasgow. As part of a ploughman's lunch at a sweet cafe where maps were used as tablecloths, I enthusiastically ate my cheddar and chutney, drank my ginger beer, and gave the pickled eggs on my plate some suspicious glances. I didn't trust them. Eggs should be freshly cooked and not preserved, or? Well, I learned my lesson right there and then and ever since I've been a fan.
When a recent project at work resulted in dozens and dozens of organic, Bavarian eggs, I started listing the way that I could fry, boil, scrambled and, most importantly, preserve them so that no egg would go to waste.
After a couple rounds of Spanish tortilla, many eggs for breakfast, a plate of deviled eggs and a rhubarb-polenta cake, I took the classic preserving route by pickling the eggs that were left.
Normally I keep the eggs simple and white, just apple cider vinegar, water and some spices to add some brightness and flavour. Because of all of the tones of red at the markets these days, from ruby strawberries to blush rhubarb, I decided to add some colour in the form of beets. Flavour wise these eggs still taste pretty classic, but colour wise it is hard not to squeal just a bit when cutting an egg in half to see it blush with pink.
yields 6 pickled eggs (in two 500g jars)
1 large beet (mine was a giant), or 2 small
1 tbsp peppercorns (I used black and red)
1/4 cup unrefined brown sugar
1 cup apple cider vinegar
1 cup water, reserved from cooking the beet(s).
Give the beet(s) a good scrub with a vegetable brush. Place the beet(s) in a pot of water and bring it to a boil. Cook at a simmer until the beet is tender and easily pierced with a fork. Remove the beet with a slotted spoon (you want to save the water) and set it aside to cool (or place it in a cold water bath). Once cool, peel and cut it into chunks.
While the beets are cooking, place eggs in a saucepan and cover them with cold water. The water should cover them by an inch or two. Place the pot on high heat and bring it to a boil. Once the water is boiling, turn off the heat. Cover the pot with a lid and let sit for 10 minutes. With a slotted spoon, remove the eggs from the pot and place them under the tap with cold water running to cool. Once cool, peel them and divide them between two jars (or one large jar).
In a jug, pot or bowl (something that you can easily pour from) mix together the sea salt, brown sugar, apple cider vinegar and beet water. Give it a very good stir, until the sugar dissolves.
Divide the chunks of beets, peppercorns and cloves between the two jars. Pour in the brine and give it a gentle stir. Place jars in the fridge and let them sit for at least a day before eating. The longer they hang out in the fridge, the more pickled they'll taste. The eggs keep in the fridge for up to 2 months.