Black beans, spicy chilies, and blue corn tortillas. Mangoes spiked with lime juice, salt and tajin. Creamy guacamole, smoky mezcal, and Huevos Rancheros - Mexican cuisine certainly has a lot going for it.
In fact, if in some horrific circumstance I had to commit myself to just one cuisine for the rest of my life it would be Mexican. However, I would insist on Mexican food, preferably, in Mexico and, as a back-up option, in the U.S. or Canada. But if Mexican food in Germany somehow entered this agreement, then I would promptly go to my second choice.
I've mentioned before that finding good Mexican food in Germany is about as difficult as finding someone who doesn't like mangoes (I haven't met anyone yet). Germany actually has a fair share of "Mexican restaurants", but the vast majority of them are simply cheap cocktail bars which only have chili flavoured tortilla chips and feel a sense of pride because their guacamole is "homemade".
However, for too brief of a time, Munich had a good Mexican restaurant. A very good Mexican restaurant. So good that the first time I ate there I was afraid that it was a fluke. Just like a thirsty traveler in the desert might see water where there is none, was I tasting good Mexican food only because I was so desperate for it? Was this a figment of my imagination?
After asking several friends on several occasions to test this, I can confirm that it wasn't a mirage, it wasn't a hallucination. I had found (what I can safely assume was) the only good Mexican restaurant in Germany. It is probably no coincidence that it was called Milagros, the Spanish word for miracle, as that was exactly what it was.
Sadly Milagros closed this spring, but only after opening up a Taqueria here in Munich, so luckily it is still around in some form.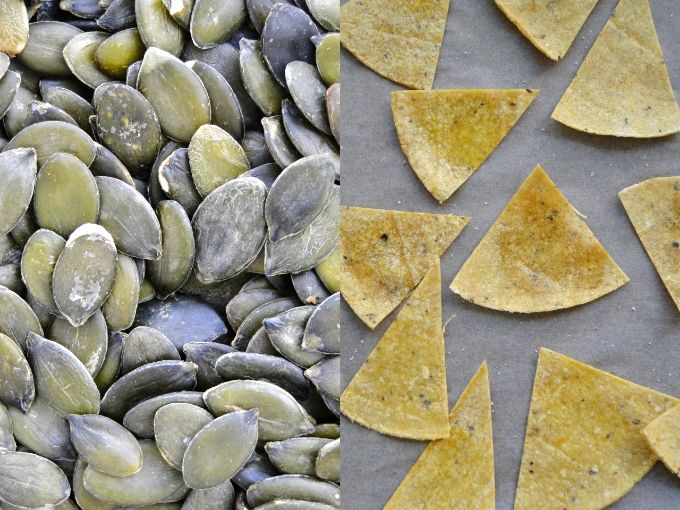 Made with pumpkin seeds, tomatoes, and orange juice and originating in the Yucatan Peninsula, it is unlike any other salsa that I've ever met. The orange juice isn't traditional, but adds an extra brightness. The Milagros kitchen decided that it was a good idea and I agree. It contrasts nicely with the heat of the chili and the creaminess of the ground pumpkin seeds.
This salsa isn't going to replace the pico de gallo that you smother on burritos and tacos, but you might want to make Sikil P'ak instead of it the next time you eat tortilla chips. Pumpkin Seed salsa has certainly raised all of my expectations when someone mentions chips & dip.
If your geography makes jalapeno or habanero chilies easy to come by, use whichever one you prefer. Since I live in Germany, I'll stick with whatever chiles I can find (which is only rarely jalapeno or habanero).
Tortilla chips are dead simple to make at home. Plus, they mean than whenever you have tortillas that you are just a few minutes away from having fresh tortilla chips and that, folks, is pretty good news. I haven't included measurements for the tortilla chips. Simply make as many or as few as you like, with as much salt or as little as your like.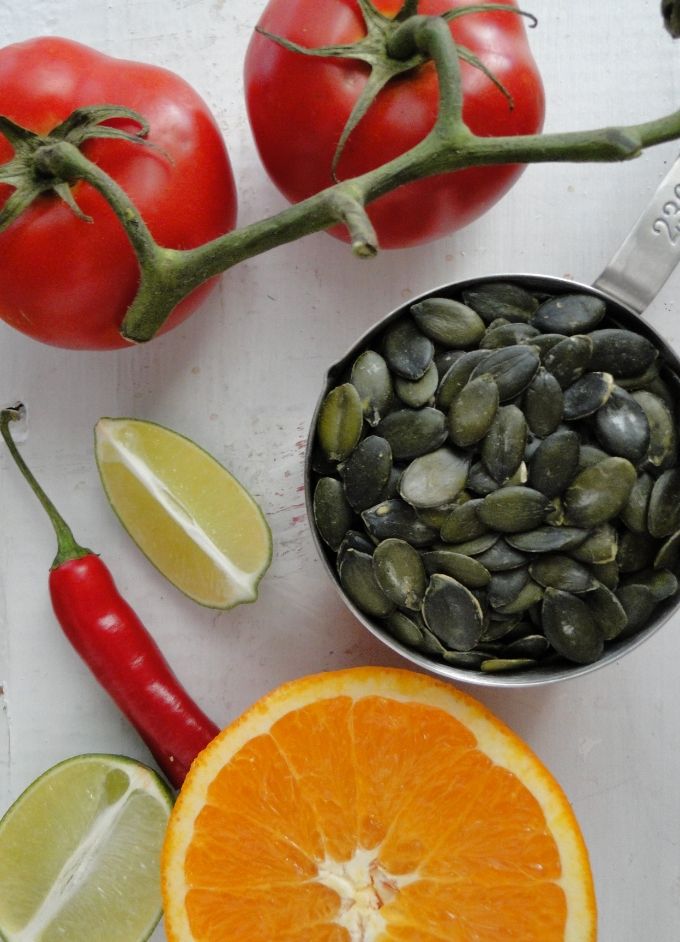 Sikil P'ak - Pumpkin Seed Salsa with Tomatoes and Orange Juice
2 medium-sized tomatoes, nice and plump
½ to 1 chili, stemmed and cut in half
¼ cup cilantro, loosely packed, plus more for garnish
a good pinch of sea salt, plus more to taste
juice of half a lime
juice of half a large orange, plus more to taste
Preheat the oven to broil. Cut the tomatoes in half and put in a baking dish, cut side up. Remove the stem of the chili, cut in half and add it as well (remove seeds if you wish). Broil for about 15-20 minutes, or until they are slightly charred and soft. The chili will cook faster, so keep an eye on it and take it out earlier if necessary (between 10 and 15 minutes). Remove from the oven and set aside to cool.
While the tomatoes broil, toast the pumpkin seeds in a dry skillet over medium-high heat until they are warmed through and fragrant. Let cool slightly and then put a couple aside to use as a garnish. Process the rest in a food processor until they are coarsely ground (or finer if you wish). Add the rest of the ingredients and blend until smooth. Taste and add more salt, lime juice or orange juice to taste.
Transfer to a bowl, garnish with reserved pumpkin seeds and cilantro and serve at room temperature. Leftovers can be stored in an airtight container in the fridge.

* * * * *
ingredients
salt
neutral tasting oil with a high smoke point – such as grape seed
Preheat the oven to 350 F / 180 C / gas mark 4. Line a baking sheet with parchment paper.
Stack the tortillas and cut each tortilla into sixths, so that you have six triangle shaped chips for each tortilla. Brush each piece with a little oil, on both sides. Lay them on the baking sheet in a single layer and then sprinkle them with salt.
Bake until crisp and darkened, about 12-15 minutes. Remove from the oven, let cool slightly and then serve right away.
Guten!