August has been a month of short plane rides and long bus rides and on Friday there will be a very long plane ride, as I'm heading home to Canada for the first time in two years.
Where we are from seems to have more weight from where we are. "Where are you from?" is a question that we all hear more often than "Where do you live?". Toronto is where I was born and although I lived in another city longer, it is the city where I grew the most. It is my home, and yet it isn't anymore. I've lived in Europe for seven years now and when I come home from work or a vacation, home is Munich. How does Munich feel that I'm from Toronto and how does Toronto feel that I left it for Munich? And how do both cities feel about all the cities that came in between? I guess when it comes to cities, I'm believe in polyamory.
Whenever I go home to Toronto, a couple of butterflies come with me. Will I still recognize the city? Will it still recognize me? So far, we both always have and I'm excited to be writing from Canadian soil for the next month. But before you hear from me on the other side of the pond, let's talk about Rome.
One city that is always easy to recognize is Rome. Rome is a city that knows who it is. It doesn't flirt with passing trends - like food trucks - but it is able to experiment and evolve without compromising its character.
The first weekend of August I spent in Rome and a weekend spent in Rome is a weekend spent eating. I spent three days staying cool in the Roman heat by eating gelato and granita a caffe con panna. I ate the latter at both Cremeria Monteforte and Tazza d'Oro and although the latter had the better granita the former had the dreamiest cream. I ate caramel-meringue gelato at Il Gelato di San Crispino, a peachy ice pop at Grom and (once again) the life-changing riso alla canella gelato at Bar Pica.
But then one night when dessert came along I skipped on more gelato, and ordered peaches in white wine instead. It was at Felice a Testaccio, a restaurant that a friend was generous enough to share with me. I sometimes find myself thinking about their legendary tonarelli cacio pepe and you know what they say about when in Rome.
If you're in a restaurant this good, not ordering dessert is certainly a wasted opportunity, but after the cacio pepe, a platter of fried shrimp and calamari, bitter chicory and grilled vegetables, I wasn't sure if I could do it. However, the daily menu included peaches in white. The only thing better than a refreshing and fruity dessert after a filling meal, is one that essentially comes with another glass of wine.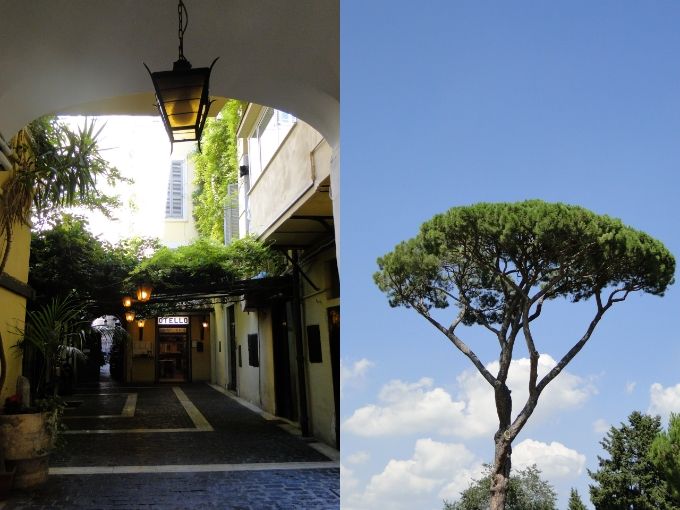 Back in Munich, I was inspired to bathe stone fruit in white wine and went for nectarines instead of peaches. It was just as good. This summer dessert is as simple as they come and, to repeat a reoccurring theme on this blog, barely qualifies as a recipe. Toss slices of ripe nectarines (or peaches) with sugar, add white wine, leave to chill in the fridge, serve.
I used a darker, unrefined sugar and it didn't muddle the colour of the nectarines at all. Feel free to use whatever sugar you have on hand or prefer. For the wine, I used muscadet, a wine that is easy on the wallet and sweet in the mouth. Whatever white you use, make sure you want to drink it as that is exactly what you'll do after spooning out and eating the sweet, tender nectarines.
Wash and dry the nectarines. Cut them in halves, pitting them, and then slice each half into several pieces. Place in a small bowl, add sugar and toss them well. Add the white wine, give everything a good stir, and then cover the bowl with plastic wrap and refrigerate for at least one hour before serving.
When ready to serve, divide the nectarines and their wine between two glasses and serve cold, straight out of the fridge.
Guten!