I was at the post office the other day to mail some letters when the women at the desk picked up one of my envelopes and asked "Wohin?" To which country she wanted to know and I realized that I had forgotten to write Canada. I suppose that it hadn't quite hit me that I had left, that I was somewhere else again.
Leaving gets harder as I get older. The hugs that I give my grandparents have gotten longer. I fall in love all over again with friends that I see way too seldom, making time apart feel slower. I was in Canada for five weeks and yet it wasn't enough. I wasn't quite ready to leave and I think this is exactly why it still feels so much like home.
So here I am, slowly catching up with where I am and what time of year it is.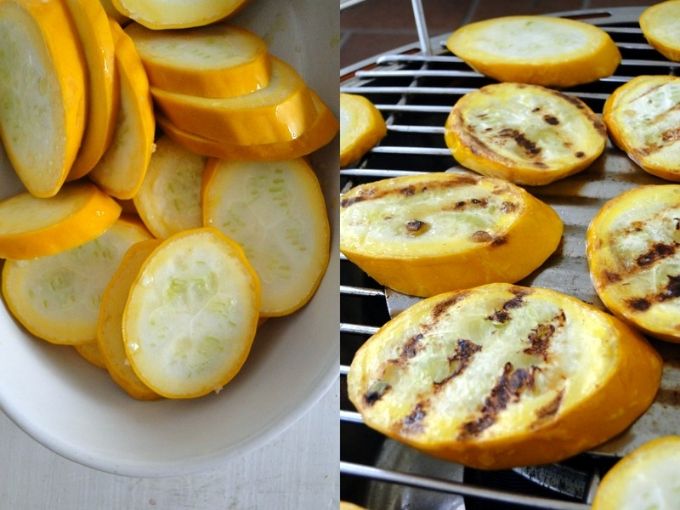 It turns out that it is the time of year that isn't quite ready to bid farewell to one season as it turns into the next. Between mornings of grey and chilly evenings, Munich has had a couple of afternoons that easily make you forget that it is fall and no longer summer.
Before I went to Canada I made this salad on my balcony. It is a warm salad, one that is a meal in itself. I grilled slices of yellow zucchini and chunks of salty halloumi cheese. I added some chickpeas and tossed everything with fresh mint, zesty za'atar and enough olive oil and lemon juice to make a dressing. On the scale of hearty and fresh, the salad balances between the two. The chickpeas and halloumi make it into a meal and yet the za'atar and mint make it taste light. It is exactly what I want to eat when the seasons and I are both making up our minds about where we are and what time of year it is.
If you've already put away your grill, just roast the zucchini in the oven and fry the halloumi in a pan.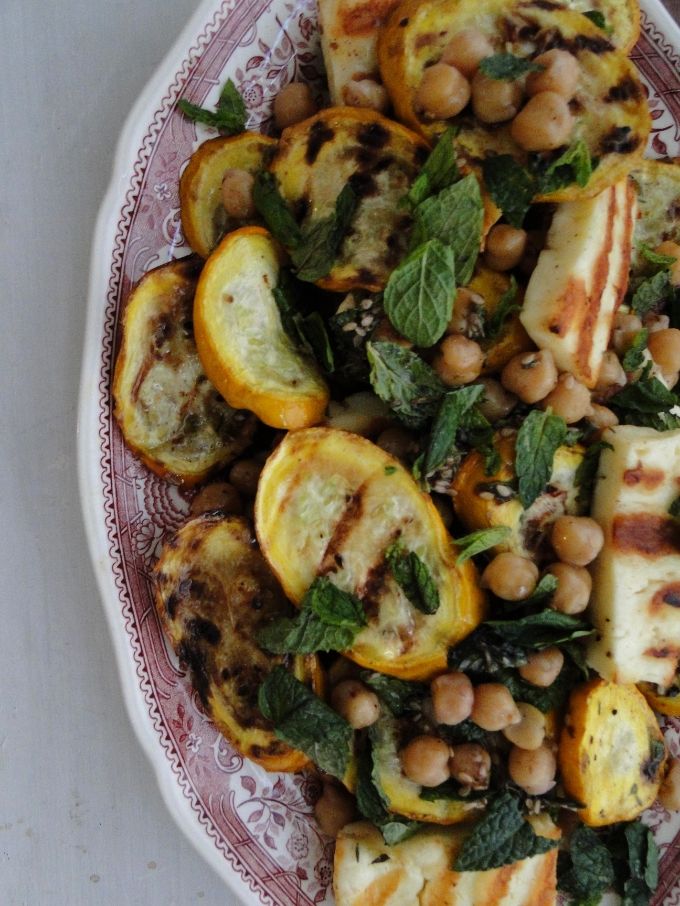 Grilled Zucchini and Halloumi Salad
1 large zucchini (I used a yellow one)
1/4 cup loosely packed mint, roughly chopped
1 1/2 cups cooked (or canned) chickpeas
2 tbsp lemon juice
a neutral oil for grilling, such as grapeseed
Preheat barbecue to medium. While the grill heats up, cut the zucchini into medium-thick slices, place in a bowl and toss with some oil and coarse salt to prepare them for the grill. Cut the halloumi into chunks and also toss it with some oil (skip the salt as halloumi is already quite salty).
Place the zucchini and halloumi on the grill, or one first and then the other depending on the size, and barbecue until the zucchini is tender and the halloumi has grill marks, about 3 minutes per side for the zucchini and 3 minutes per side for the halloumi.
In a bowl, toss together the zucchini, and halloumi with the chickpeas, mint, za'atar, salt and pepper to taste, olive oil and lemon juice. Season to taste. Serve either warm or at room temperature.
Guten!