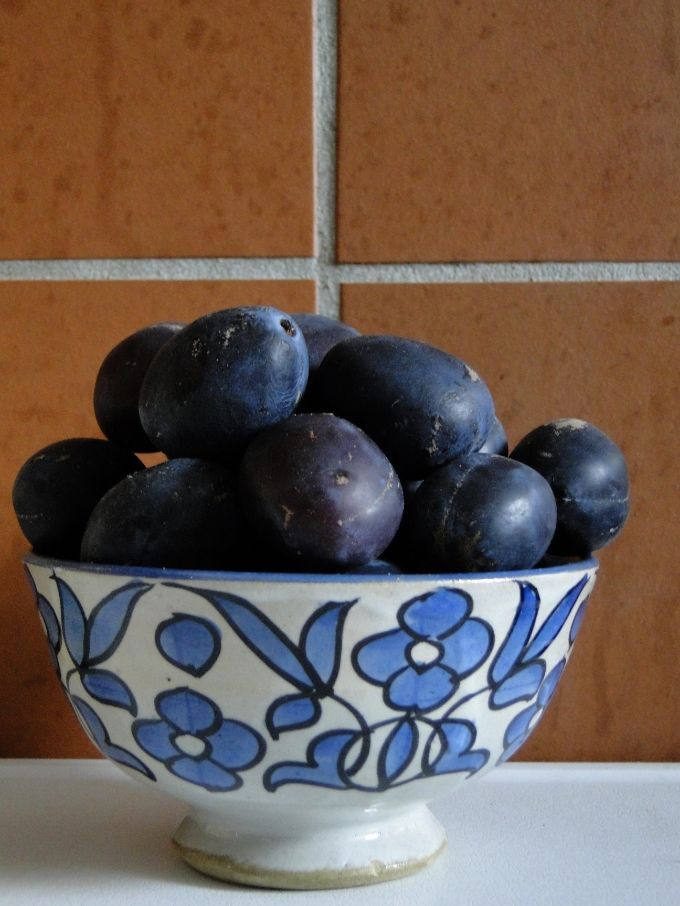 Today is Canadian Thanksgiving. Although I do have pumpkin roasting in my oven, I want to talk about plums. The first of the pumpkins may be showing off at markets these days, but I'm still trying to get my fill of the last of the plums.
I made a simple plum cake last week and I hope to make it again this week. It takes only a couple of minutes to mix everything together and with Italian prune plums and olive oil instead of butter, it is incredibly moist, but still with a little bit of crunch. It is the type of cake that you are tempted to eat for breakfast and could easily commit to as your number one afternoon pick-me-up.
I listened to the instructions and managed to resist cutting into it until the day after I had baked it. Because I miraculously didn't sneak a slice the day of, I cannot say how the day after compares. However, I can say that the cake lived up to all of its praise on Lottie and Doof, Smitten Kitchen and Bon Appetempt.
What I like most about this recipe is that it could not be easier. It takes very little effort, labour and time, yet what it yields is excellent. It is the type of cake that you think about when you are waiting for the bus and thinking about what to eat when you get home. I also like its history: the New York Times published this recipe every September from 1982 to 1989! I like that this encourage repetition, the establishment of a ritual and I will do my best to bake this cake every year when summer turns to fall.
The recipe calls for a spring form pan which, alas, I do not have. I used a regular cake pan and it worked out fine. Depending on the size of the plums, you might need more or less. The recipe calls for 12, but mine were on the smaller side so I ended up using 14. Also, if your plums are very ripe and already quite sweet, cut back on the amount of sugar.
On a different note, if you haven't already I highly recommend reading this article about a woman who decides to stop cooking and how cooking for others can be selfish. Cooking can be a chore, a resented obligation, a means of getting people to like you (which connects thematically to the excellent article "Learning to Love Criticism") and, for some like myself, a source of pleasure. Just because I enthusiastically derive joy from the act of cooking, doesn't make cooking any less complicated for me. This is because I'm acutely aware of the issues that it ties into and how it connects to politics, gender and society. That said, I'm thankful that I am in the position to enjoy cooking even though I am in no way obligated to.
So, if you are like me and enjoy the heat of the kitchen, make this plum torte and dig into these two articles. And if you use your oven to store books and sweaters, go buy yourself a piece of cake to keep you company while reading.

Plum Torte
ingredients
125 grams (1 cup) unbleached all-purpose flour
5 grams baking powder
large pinch of salt
200 grams (1 cup) unrefined sugar + 1 tbsp for sprinkling
67 grams (1/4 cup + 2 tbsp) virgin olive oil + a knob more to grease the pan
2 organic eggs
12-14 small Italian prune plums, pitted and cut in half
1 tsp cinnamon
2 tsp fresh lemon juice
Preheat the oven to 350 F / 190 C / gas mark 4.
Grease a cake pan with olive oil.
In a medium bowl, whisk together the flour, baking powder and salt. In another medium bowl, stir together the sugar and olive oil and then add the eggs, one egg at a time. Add the flour mixture to the olive oil and sugar mixture and stir until combined.
Pour the batter into the cake pan and give the pan a little shake, side to side, to make sure the batter is evenly distrubuted. Arrange the plums on top of the batter, with the skin side facing down. Sprinkle with cinnamon, 1 tbsp of sugar and lemon juice.
Bake until the cake is golden and a toothpick inserted in the batter (and not a plum!) come out clean, about 40 to 50 minutes. Remove from the oven and let cool before serving.
Guten!