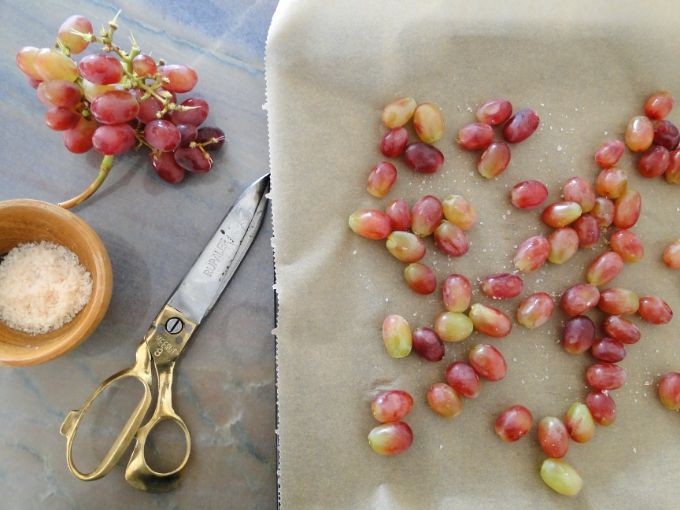 Yesterday was Remembrance Day in Canada. When I lived there, I used to always buy a poppy and wear it on the left breast of my autumn coat. I wore mine with extra pride, since I actually called my grandfather, a veteran, Poppy.
I remember how the red of the poppies would always pop against autumn's rusty colours. I remember the drama of November's leaves being the background of the outdoor ceremony in Ottawa that I sometimes watched on TV. I remember veterans selling poppies, in exchange for a small donation, their boots buried beneath fall's leaves.
Occasionally I remember the red of the poppy looking so bright against the whiteness of the early snow.
My grandfather kept all of his papers from when he served in the Canadian Army and, years later, my Nana compiled them into a photo album. That album is now in my living room in Munich. It is charming and curious and full of handsome black and white photographs of my relatives and specific instructions about writing letters (that says things such as "Wisecracks and jokes. Sterilized." can be included in NEWS and E. - THE ENDING "Never end without a "God bless You.").
The paper that I'm drawn to most falls between yellow and brown in the colour spectrum. It has three columns: German, Phonetic and English and includes words such as Angetreten - Fall in!, Marsch - Quick March, and Nicht Schiessen - Don't Shoot.
As a child I was always fascinated with this album. I flipped through its pages and it brought all of my grandfather's stories to life. I never paid much attention to this one piece of paper with German translations, until I was flipping through it as an adult and realized that I could now read the German. I also realized that based on the phonetic description, this was a north German accent being deciphered (Nickt Sheeson).
Remembering is important. But it is also complicated and sometimes challenging. It changes with your geography, your politics.
Roasted grapes, on the other hand, are simple, uncomplicated. And thank goodness there are simple things to provide a break from the complexity of politics.
Roasted grapes are delicious wherever you are, whatever your politics. They are ridiculously easy to make and versatile. Roast them with olive oil, ghee, or coconut oil. Roast them until they are just hot, or keep them in the oven until they are about to burst.
Eat them hot in a bowl of yogurt with a sprinkle of sea salt. Throw them into salads, or add them, like I have here, to rice pilaf.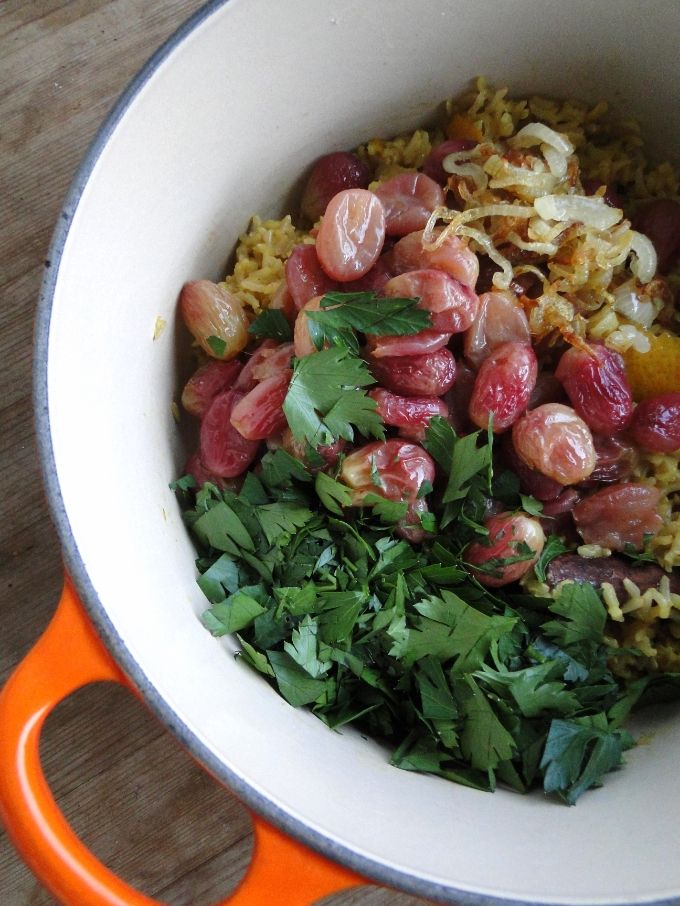 Rice Pilaf with Roasted Grapes


ingredients


1 cup brown basmati rice, soaked overnight or for a couple of hours in water
1 large yellow onion, coarsely chopped
zest of 1 small organic clementine or orange
1/4 cup fresh parsley, coarsely chopped
fresh lemon juice, to serve
350 g grapes (3/4 of a pound), preferably seedless
a knob of ghee or coconut oil
Rinse the rice and then soak it in water for a couple of hours or overnight. Rinse well again and then drain. Set aside.
In a medium to large pot over medium heat, melt 1 tbsp of ghee. Add the onion, a pinch of salt and then cook until brown, about 20 minutes. Stir occasionally to make sure that the onion does not burn. Once the onion has browned, remove about half of it from the pot and set aside.
While the onion is browning, give the clementine a good wash and then slice its rind into thick strips, trying to not get any of the white pith. Set aside.
Put the saffron into a small cup and add 2 tbsp of hot water. This will make a "saffron tea" to add later to the rice.
Keep the rest of the onion in the pot over medium heat and add the orange zest, cardamom pods and cinnamon. Saute until fragrant. Then add the rice and give it a good stir, so that it is thoroughly coated with the ghee and onion. Add two cups of water and the saffron tea. Bring to a boil and then reduce to a simmer. Simmer until the water has been absorbed and the rice is cooked, about 40 minutes.
While the rice cooks,
preheat the oven to 400 F / 200 C / gas mark 6. Line a baking sheet with baking paper and spread the grapes out on the baking sheet. Melt the ghee and then drizzle the grapes with it and a pinch of salt. Roast in the oven for about 15 minutes, until the grapes are soft and shriveled and about to burst. Remove from the oven and let cool slightly.
Once the rice has finished cooking, remove it from the heat and season to taste with salt. Add the chopped parsley, roasted grapes, the rest of the browned onions and a couple of squeezes of fresh lemon juice to taste. Serve warm.
I'm thrilled to announce that I'm now contributing to MUNCHIES, Vice's food website. You can read my first article here.