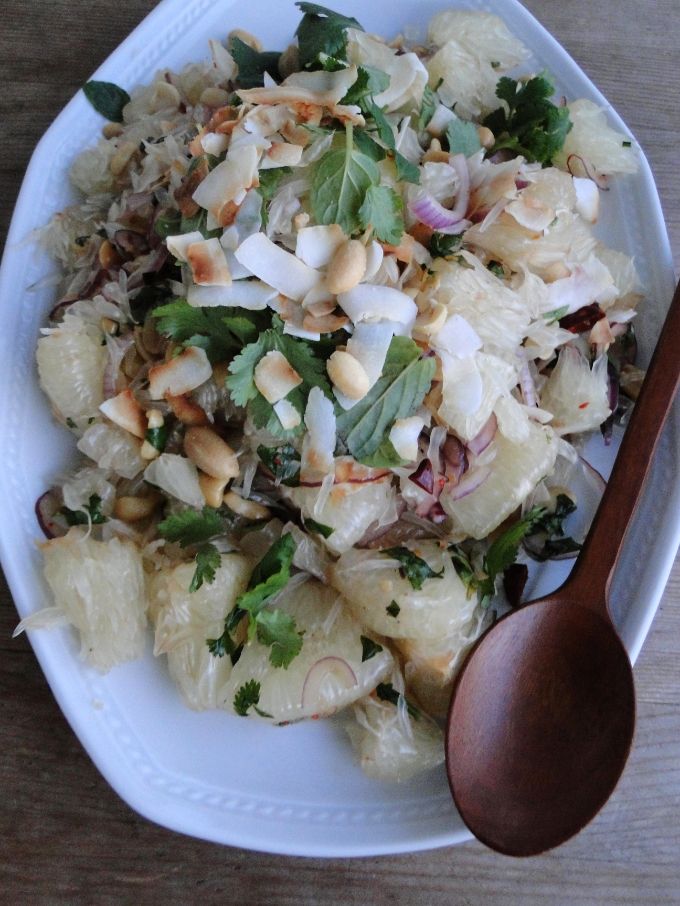 The first Advent is now behind us and I'm doing a good job at celebrating the season by eating Lebkuchen at least once a day. My apartment is also accented with notes of red and green and so far I don't mind that the evenings come so early, as I've been lighting candle after candle.
But I'm also taking breaks from all things cinnamon scented to celebrate the arrival of citrus season, specifically the biggest citrus fruit of all: pomelo.
Munich has excellent gelato and Lebkuchen, but good Asian food can be a little harder to come by. My recent interested in Chinese home cooking is one part fueled by how easy and fast it is (not to mention delicious), and another part fueled by how I much I miss Chinese food in Toronto.
But thank goodness for exceptions. Of all places, Munich happens to have a gem of a Thai restaurant. Tucked beside a casino and about the size of a standard North American bed, it gives new meaning to the expression hole in the wall. Seriously, I think that I've slept on mattresses larger than this restaurant, but clearly size does not matter.
Manam it is called and I call it the best Thai food in the city. The women who run the kitchen aren't afraid of making their German customers sweat. The food is spicy, flavourful and full of soul.
One of my favourites on the menu is the pomelo salad: Yam Som O. It is made with lemon grass, chili, shredded coconut that has been toasted, salty peanuts and fresh coriander. It is a nice light lunch for one, or a welcome side dish to share with a curry.
As much as I love Manam, I'm not always up for biking to the other side of the river and waiting in line to sit on a tiny plastic stool (although I admit that I am more often that not). Also, they close at 9pm, so I don't always have the choice.
So inspired by Manam, I've started making pomelo salad myself.
Pomelos range in colour, sometimes with pink flesh and other times with yellow. No matter the colour, it makes for a good salad. The possibilities are vast. Add some shrimp if you want a heartier salad. Add more herbs if you want more green. Use a shallot instead of red onion. Make it spicy, or keep it mild.
serves 2 as a main and 4-5 as a side dish
1 ripe pomelo, peeled and segmented
1/4 cup fresh mint, roughly chopped
1/4 cup fresh cilantro, roughly chopped
1 stalk lemongrass, thinly sliced
1 small red onion, thinly sliced
1 Thai chili, seeded if desired and finely chopped
2 tbsp brown or coconut sugar
1 tsp chili sauce, such as Sriracha
1/2 cup coconut flakes, toasted
In a large bowl, toss together the pomelo segments, fresh mint, cilantro, lemongrass and red onion.
In a small bowl, whisk together the lime juice, fish sauce, chili, sugar and chili sauce. Whisk well until the sugar dissolves and then give it a taste, adjusting the seasoning as necessary.
Pour the dressing over the pomelo and toss well to mix. Top with peanuts and coconut flakes and serve right away.
Guten!