My all-time favourite snack hasn't changed since I was about 4 or 5 years old: slices of apple topped with pieces of cheddar cheese. Some of the specifics have evolved - like white cheddar instead of orange and the older the better - but no other snack has ever threatened to dethrone it.
As much as I love the cheeses of France and the German Alps, a good aged cheddar will forever be my number one. You can take the gal out of Canada, but you can't take Canada out of the gal.
Cheddar with a tart and crispy apple is as good as it gets in my book. This combination, however, can be dressed up to be a bit more interesting and sophisticated than the afternoon snack plate of a toddler. It can be the basis of a pie, a salad, and scones.
A couple of Decembers ago I wrote about ginger cookies and how I think that they should be eaten with blue cheese. Take this as proof that come cookie season, I'm craving cheese. Christmas baking is swell, but all the sugar and spice makes me want heartier baking, baking that is a bit more savoury.
These apple and cheddar scones nail both sweet and savoury. With a little extra sugar on top, the first taste is crunchy and sweet. Then you reach the bottom, which tastes like a frico. In other words, it is hard to just eat one.
You want the bottoms a little dark, not burnt, but dark. Like all scones, these taste best the day they are baked, but no need to worry: they won't be sticking around long.
I have a rather old fashioned kitchen, which means few appliances, so I made these by hand. If you have a food processor, certainly put it to work instead.
The recipe calls for cutting the apples into small pieces once they've been cooked, but I kept them as chunks. It further plays up the contrasts of these scones: sweet and savoury, finely grated cheese, coarse chunks of apple.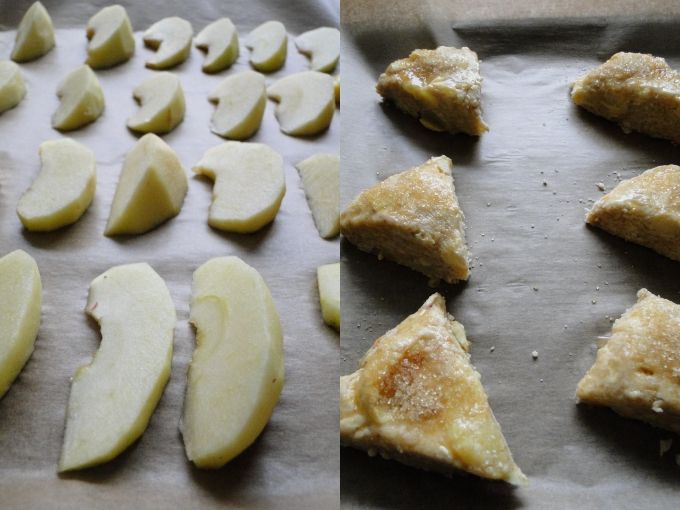 Apple and Cheddar Scones
adapted from Smitten Kitchen's take on 'The Perfect Finish'
makes 6-8 scones
ingredients
3 firm tart apples (425 grams or a bit less than 1 pound)
195 grams (1 1/2 cups) all purpose flour
55 grams (1/4 cup) unrefined sugar, plus 2 tbsp for sprinkling
1/2 tsp salt
1/2 tsp baking powder
85 grams (6 tbsp) unsalted butter, chilled
65 grams (1/2 cup) white cheddar cheese, grated
60 ml (1/2 cup) heavy cream
1 egg
Preheat the oven to 375 F / 190 C / gas mark 5.
Peel and core the apples and cut each apple into 12 slices. Line a baking sheet with parchment paper and evenly spread out the slices.
Bake the apples in the oven for about 20 minutes, or until they take on some colour and feel dry to the touch. Remove and set aside to cool, but keep the oven on.
While the apples bake, whisk together the flour, sugar, baking powder and salt in a medium sized bowl. Cut the butter into small cubes and add to the flour mixture, either with your hands or by mixing/cutting it with two butter knives. Once the butter is the size of peas, use a spoon to mix in the sugar, cheddar and cream. Add the apple pieces and give it a good stir until it all comes together, but do not overmix.
Flour a clean counter top or large cutting board, and dump out the dough onto its surface. Flour your hands and pat or roll the dough into a circle that is about 3 cm (1 1/4) inches thick. Cut the circle into six to eight wedges, depending on how large you want your scones (I made eight).
Line the baking sheet with a new sheet of parchment paper and transfer the scones to the sheet, leaving space between them.
In a small bowl, beat the egg with a pinch of salt. Brush the top of each scone with the egg mix. Sprinkle the two tbsp of sugar over all of the scones.
Bake until the scones are golden and firm, about 30 minutes.
Remove from the oven and use a spatula to transfer them to a wire rack to cool. Cool for about 10 minutes and then dig in.
Guten!