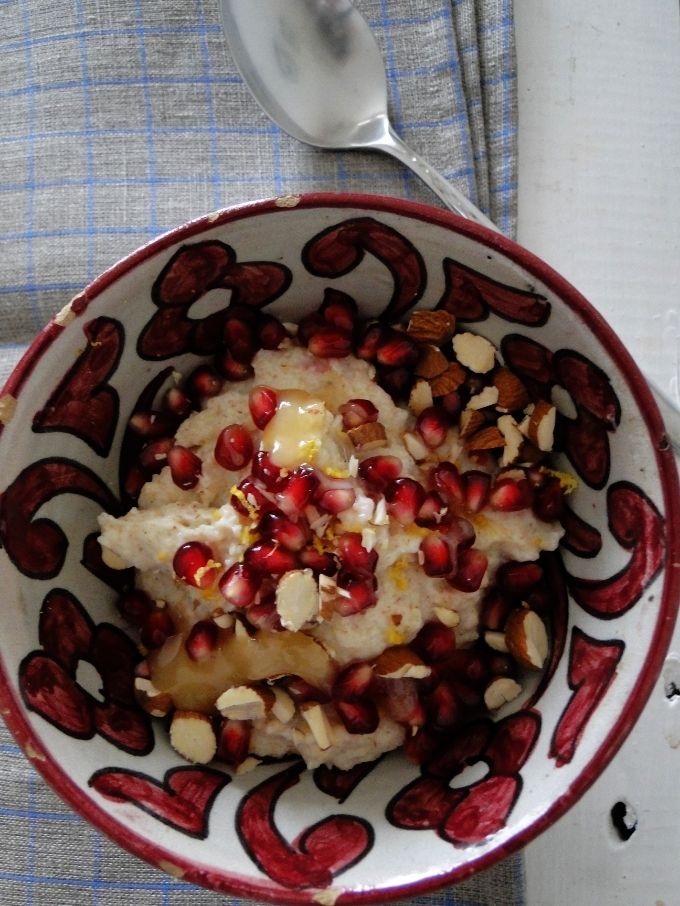 Oatmeal and I have a good thing going. It is never a bad idea to have plenty of rolled oats on hand. It means that you're never too far away from homemade granola, a big pot of stick-to-your-ribs oatmeal, or cookies spiked with chunks of chocolate.
I also know how to really make oatmeal. You might be wondering what could I possibly mean. Doesn't everyone know how to make oatmeal? Our world would be that much more delicious if the answer were yes.
Years ago I worked as a cook in Copenhagen. It was a weekend gig and, no surprise, I worked the brunch shift. Because Saturdays and Sundays I worked from 8-4, my weekend nights did suffer slightly (but hey! I was a student and one of the many perks of being a student is being able to treat weekdays like weekends). However, my weekends were that much more full of strong coffee (Scandinavian strong), cake, huge batches of freshly made hummus and individually deep-fried French fries now and then throughout the day.
It also taught me some good tricks. For example, an Icelandic co-worker taught me to put a knob of butter on a hot bowl of oatmeal. Brilliant.
Years later I become a loyal reader of Marion Cunningham's the Breakfast Book. She sure knew a trick or two about breakfast, but my favourite of hers is to toast rolled oats before cooking them (or adding them to a recipe for any kind of baked good). She suggests toasting them on a baking sheet in the oven until they crisp up and take some colour, but I tend to use the stovetop.
In my books butter is always golden, but I really love to melt some coconut oil (a generous tablespoon) in a pot, add rolled oats and let them cook for a minute or two before adding water and or milk.
That is just the first step for my oatmeal. The second step is dried ginger or maybe cardamom. The next is good maple syrup and the last is a mix of fresh fruit, dried fruit, nuts, seeds and maybe another little knob of coconut oil.
Like I said, oatmeal and I have a good thing going. However, sometimes I need a break from even good things and I'm currently calling that break fine semolina porridge.
I was recently testing a recipe for a semolina tart with chocolate ganache. It made me buy fine semolina and I'm sure glad I did.
Semolina is quite common in desserts here in Germany and the recipe I was testing was an Italian tart, where the filling is cooked semolina dotted with lots of fresh lemon zest. A semolina tart may not sound that sexy, but the filling made me even more excited than the chocolate ganache. This, of course, got me thinking about breakfast.
Since it is winter, pomegranates and honey and almonds are a winning combination, but do use any toppings that you like.
Breakfast Semolina Porridge
zest of 1/2 a lemon (preferably organic)
a handful of pomegranate seeds
a small handful of almonds, chopped
In a medium saucepan, bring the milk to a light boil over medium heat. Add a pinch of salt and reduce the heat so the milk is at a simmer. Add the semolina slowly and use a whisk to stir it into the milk. Whisk continuously until the semolina is thick and the consistency of porridge, about 7-10 minutes.
Remove from the heat and stir in the lemon zest. Serve right away, topped with honey, pomegranate seeds and whatever else you fancy.
Guten!