Although, one by one, the days are becoming warm enough to brave shoes without socks, the nights make it clear that it is not quite spring.
It is the one time of year where it makes sense to eat a salad out in the sun for lunch and then crank up your oven at night to make roasts, crisp up root vegetables, or just melt a lot of cheese on your stove top, add some white wine, eat it with bread and call it dinner.
In other words, it is the perfect time of year to make beans. Beans taste just as good at room temperature as they do hot from the pot. And they taste very good when cooked with red wine, rosemary and bacon, not to mention when matched with a glass of wine.
I came across this recipe over at the Casa Yellow, a blog that I think has writing that is equally as delicious as its recipes. Sarah wrote about a Melissa Clark recipe, one that forgoes the flavours that we usually pair with pinto beans (tomatoes, cilantro, spices and the like) and instead employs Mediterranean flavours. She is one smart lady.
The recipe begins with letting bacon, carrot, celery, garlic and onion sweat it out in the fat rendered from cooking the bacon for a couple of minutes ahead of the rest. Then you add the beans, water, salt and rosemary (or any other sturdy herb like sage or thyme) and let the beans cook.
But what makes these beans sexier than most is, while the beans cook, the recipe has you reducing red wine in another pot into a thickened syrup and then stirring it in to the beans.
My pantry may have a lot of different dried beans, but pinto beans are not currently part of that collection. So I used lighter coloured kidney beans that I bought in the Republic of Georgia. They did not let me down.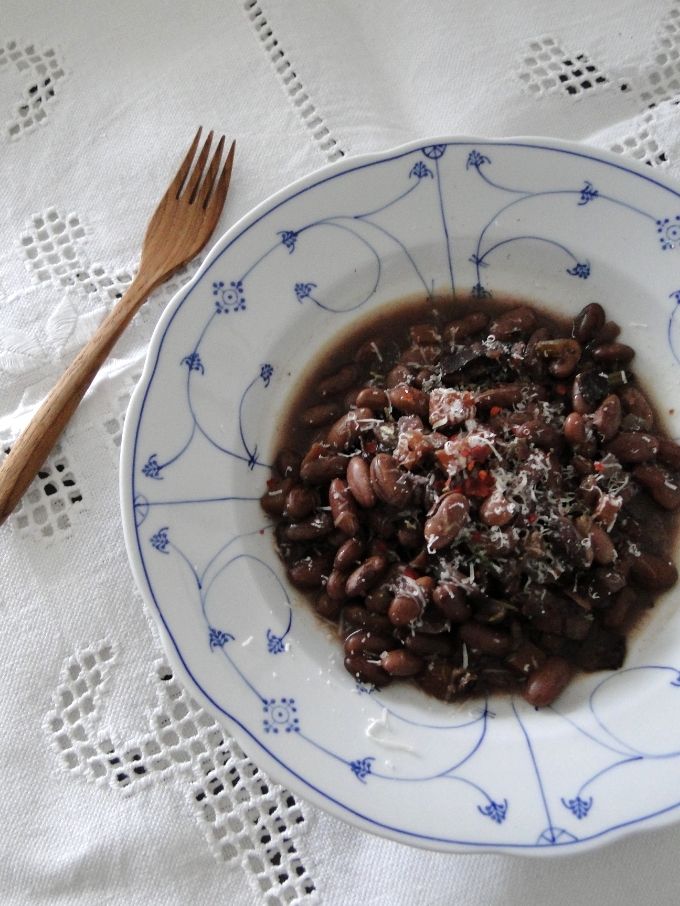 Red Wine Beans with Bacon
ingredients
1 cup dried beans, soaked for 4 hours or overnight
1 carrot, peeled and diced
1 sprig of fresh rosemary
a drizzle of good olive oil
a pinch of red chile flakes
In a heavy bottom-pot, add the diced bacon and cook over medium-high heat until the bacon begins to turn golden but isn't totally cooked, about 5 minutes. Add the carrot, celery, garlic and onion and stir occasionally until the vegetables become tender, about another 5 minutes.
Drain the beans that you've been soaking and give them a quick rinse. Add them to the pot, along with the rosemary, salt and water. Give everything a good stir and then let it come to a boil. Reduce the heat to a simmer. Let simmer gently until the beans are cooked through, about 45 minutes to 1 hour.
Pour the red wine in a small pot and then place it over medium heat. Once the wine comes to a boil, reduce the heat to a simmer and let cook until the wine has been reduced to about 1/3 of a cup. This takes about 20 minutes.
Once the beans are tender, remove the rosemary branch, add the reduced wine and stir well to combine. Bring the beans back to a simmer and let cook for another 10-20 minutes more for the flavours to meld.
To serve, spoon beans in a bowl (on their own or with polenta or rice or any grain). Drizzle with some olive oil and top with freshly grated Parmesan, black pepper and a pinch of red chile flakes.
Store leftovers in the fridge for a couple of days. Either serve warm or at room temperature.
Guten!
Remedy Quarterly just released a new issue around the theme of taste. Between stories about adventurous eaters and those who are afraid of mushrooms, I've written about the genealogy of taste and an Icelandic cake made with prunes.
The digital spring issue of Chickpea was also just released and the print issue will follow in just a few weeks. It is another beautiful issue, and one that will make you forget all about winter. Germans celebrate spring by obsessively eating white asparagus and, if you want to follow their lead, I have contributed a couple of vegan recipes for green sauces to drown your asparagus in: Wild Garlic Pesto and Frankfurt Green Sauce.
When I was in Delhi, I met up with owner of Mizo Diner, the only restaurant serving food from the state of Mizoram in the capital. If you're interested, you can read about how offering pork on the menu goes hand-in-hand with creating cultural awareness of India's North East over at MUNCHIES.