To understand food is to understand temperature - which foods taste best hot and which ones cold. To cook is a game of controlling, listening to and observing temperatures. To cook well is to know exactly when to turn the heat down, or add just another second or two of scorch.
I thought about temperature last night as I snacked on very cold grapes. They were straight from the fridge. In An Everlasting Meal Tamar Adler, always a source of great wisdom when it comes to food, argues that most foods taste best at room temperature. I mostly agree, but I do think that there are some foods that taste best when their temperatures are extreme, like these grapes. When cold, they are firmer, intenser. Instead of chewing, it feels like your teeth are making them burst.
I think that a stir fry is then on the opposite end of the spectrum. I try to eat it the moment I turn the heat off, when it still almost too hot. When ginger and garlic are involved (which they should always be), the sizzling heat makes the vegetables, like the asparagus I stir fried the other night, taste perky. Wait till things cool down and you run the risk of the vegetables tasting a little soggy, I think.
And then there is the decadent French dessert clafoutis that tastes best somewhere in between. Not too hot or not too cold, clafoutis tastes most like clafoutis (read: irresistible) when warm. Clafoutis, because of lots of eggs and, in this case, coconut milk, tastes like custard. The flavour may be rich, but the texture is light, which means that it is easy to eat half of a clafoutis without even realizing it. And, when served warm, one is tempted to eat it all. Why eat leftover clafoutis when you can eat warm, freshly-baked clafoutis?
This recipe comes from Sarah Britton's debut cookbook My New Roots: Inspired Plant-Based Recipes for Every Season. The book is a keeper, an absolute gem. Both the recipes and the design feel timeless. The rhythm of Sarah's ability to teach about food and what it does to the body while crafting recipes that are hard to get out of your head happens in a space that is far away from food trends or anxiety around eating. The whole book feels celebratory and inclusive. Some of the recipes might include a couple hard to find ingredients, but there are recipes for all - no matter the lifestyle you live when it comes to food.
I've already made a good dent in the book. I've made treats like Carrot Rhubarb Muffins served with Strawberry Chia Jam (a must this strawberry season - my beau refers to this jam as "liquified strawberries"), Freekeh Pancakes with Wilted Swiss Chard and Poached Eggs, Caramelized Fennel on Herbed Polenta (the best way to cook fennel, ever), Miso Sesame-Glazed Eggplant, Roasted Pumpkin with Black Rice and Tangerine Tahini Sauce, Salt 'N' Pepper Chocolate Chip Cookies, and Chunky Banana Bread Granola (Sarah writes that she has made many a granola before, but this recipe beats them all, and she is not kidding).
In other words, there are post-it notes both flagging pages and underlining recipe titles, recording adaptations and notes. Since the book is organized by season, I look forward to cooking my way through the rest of the seasons both this year, and many years to come. Bravo Sarah!
Sarah's clafoutis recipe calls for apricots, but when I make this clafoutis their debut at the markets in Munich was still a few weeks away, so I used strawberries instead. Strawberries and rhubarb is a safe combination, but always delicious nonetheless.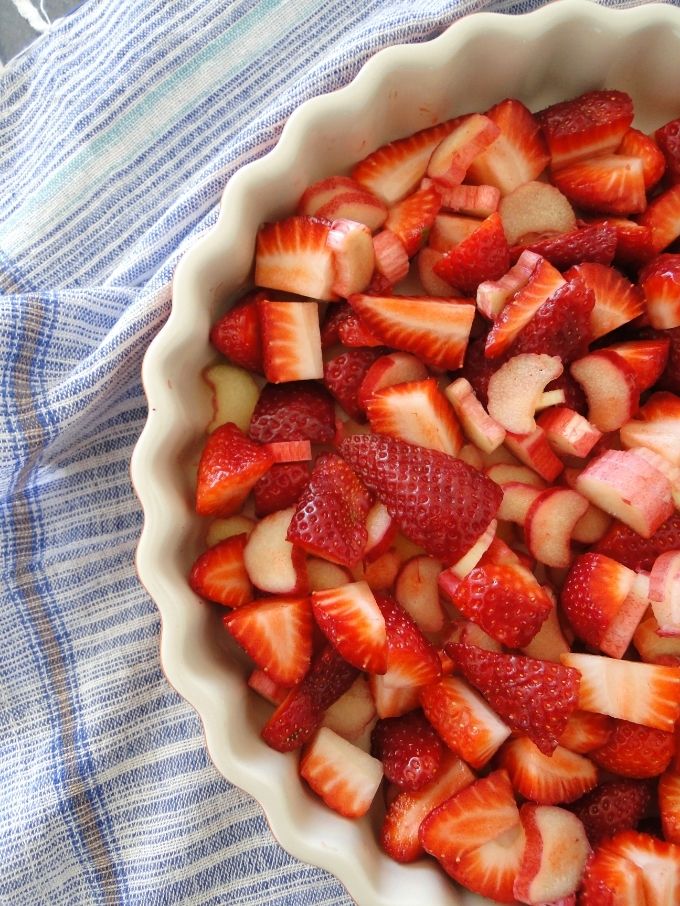 Strawberry Rhubarb Clafoutis
adapted from 'My New Roots' by Sarah Britton
3/4 cup (105 grams) whole raw almonds
2 3/4 cups (350 grams) strawberries
coconut oil, for greasing the pan
2 tbsp flour (Sarah uses brown rice flour to make it gluten-free, I used spelt)
3/4 cup (90 grams) unrefined brown sugar (Sarah uses coconut sugar)
1 vanilla bean, scraped or 1 tsp vanilla extract
1 cup (250 ml) full-fat coconut milk
Preheat the oven to 350 F / 180 C / gas mark 4.
Spread the almonds on a baking sheet and bake until fragrant, roughly 15 minutes. Once toasted, remove from the oven and set aside to cool. Keep the oven on.
While the almonds are roasting, cut the strawberries into halves or quarters, depending on their size, and the rhubarb into thin slices. Use a little coconut oil to grease the bottom of a tart pan (one that is about 9-inches or 23 cms). Scatter the strawberries and rhubarb in the pan.
Once the almonds have cooled down, place them in a food processor or blender and pulse until they are finely chopped. Do not over pulse or else you'll have almond butter! Add the flour, sugar, vanilla seeds or extract, eggs, egg yolks, coconut milk and salt, and blend until smooth.
Pour the batter over the fruit and bake for 45 minutes, until the top is golden brown. Serve warm.
Guten!